Housing
Gov. Hochul announces new financial assistance program for homeowners
New York is the first state in the country to receive the federal funding.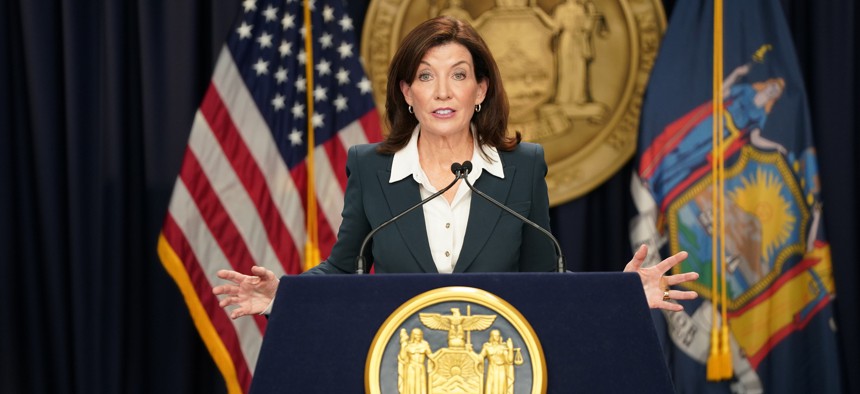 Gov. Kathy Hochul, flanked by state lawmakers and Rep. Jerry Nadler, announced a new program on Monday that will help support needy homeowners who fell behind on payments during the pandemic.
The program, dubbed the New York State Homeowner Assistance Fund, will distribute $539 million to low- to moderate-income homeowners, Hochul announced at a Monday afternoon press conference. 
"There are many, many homeowners who are suffering just as well (as renters), those who are living on the margins to start and lost their income because of no fault of their own, because of the pandemic, and got behind on their payments or were not able to make other payments to be able to live in their home," Hochul said, while thanking Nadler, along with Sens. Chuck Schumer and Kirsten Gillibrand for pushing the program. 
The state applied for the $10 billion federal program in August and was notified on Nov. 15 that New York will be the first state to receive the funding. The state's Division of Housing and Community Renewal will begin accepting applications for the program on Jan. 3, and the program will be managed by the nonprofit Sustainable Neighborhoods LLC.
Eligible applicants include those with household incomes at or below 100% of the Area Median Income who are at least 30 days behind on monthly housing payments, including mortgages, property taxes, and water or sewer bills, along with those who are behind on maintenance fees for co-ops or condos. Applicants can receive up to $50,000 in the form of a five-year, non-interest forgivable loan, officials said.
The program is the latest in a series of big-dollar assistance funds that have characterized the early months of Hochul's tenure. Upon taking office, she inherited the $2.4 billion, federally funded Emergency Rental Assistance Program that had stalled under former Gov. Andrew Cuomo after its creation in the state budget. Tenant advocates and lawmakers credit Hochul's administration for finally getting that money out after months of delay, though most say the governor was wrong to close applications and some contend that the program still has issues. 
Hochul similarly successfully secured distributed payments from the $2.1 billion Excluded Workers Fund, also created as part of this year's budget, to provide unemployment assistance to undocumented workers locked out of traditional unemployment. The program's rollout was sluggish under Cuomo, but it significantly picked up pace once Hochul took office. The Homeowner Assistance Fund now marks the first such state program conceived after she took office.
Hochul touted the existing programs during Monday's announcement, and said "rent relief payments quintupled" after the rollout of the $2.4 billion Emergency Rental Assistance Program.
The state also provided $125 million in assistance to landlords whose tenants did not participate in the rental program, she noted.
Nadler applauded the U.S. Treasury Department for prioritizing New York in the new homeowner fund, which was created through the American Rescue Plan Act signed into law by President Joe Biden on March 11.
"This program, created through the American Rescue Plan, will help New York families stay in their homes," he said. "While I am continuing to fight to ensure co-op and condo owners are included in FEMA assistance, I'm thrilled that this program will cover them from day one. I want to thank Governor Hochul for working so tirelessly to get this funding secured, and I look forward to continuing to work with her to pull New York out of this pandemic."
Powered By
NEXT STORY: Will New York Democrats push a progressive climate agenda this session?