Education
City Council Speaker Adrienne Adams wants New Yorkers to finish their college degrees
She said 'keep your eyes on the council,' promising to hold Eric Adams' administration accountable.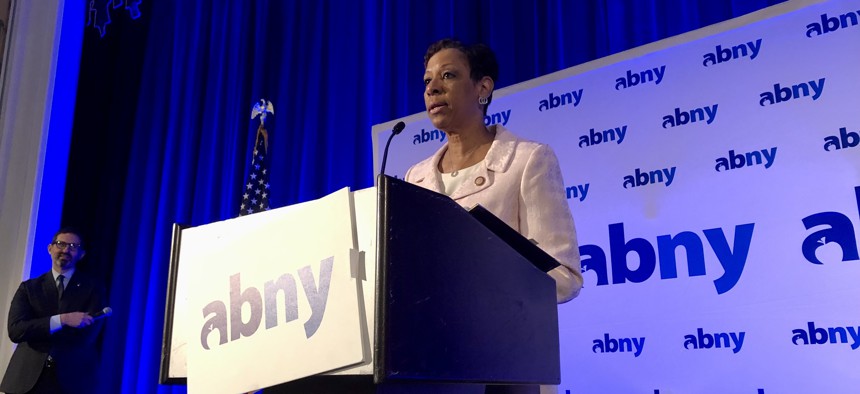 New York City Council Speaker Adrienne Adams wants to bring adults back to school, announcing a plan Wednesday to get the 700,000 New Yorkers with some college credits but no degree back into classes and earning diplomas.
Dubbed the CUNY Reconnect Initiative, Adams pledged to use the upcoming city budget, her first as speaker, to get them into classes at the City University of New York. 
"We must help create and recruit these New Yorkers back into CUNY, providing the necessary supports of financial aid, child care, pre-enrollment counseling and flexible scheduling that facilitates their success," Adams said. "This would provide an incredible boon for many New Yorkers, many working families who have lost advancement opportunities through no fault of their own, but often due to economic, family and health-related circumstances and other circumstances."
The initiative is based on a January report from the Center for an Urban Future, a think tank focused on growing the city's economy. It noted that Tennessee implemented a similar program with an annual budget of about $22 million.
Adams' program was short on details, but more information – and a price tag – were expected to be included in the speaker's preliminary budget response report, which should be out on Friday.
However council members from across the political spectrum co-signed the idea on Twitter from Republican Minority Leader Joe Borelli to progressive Democrat Chi Ossé. Council Member Rita Joseph, who chairs the Education Committee and attended the speech, called it a "game-changer" that would complement the New Deal for CUNY, legislation that would massively boost funding for the CUNY schools and make tuition free.
Adams was speaking at a power breakfast hosted by the Association for a Better New York, a civic group for the city's business community. While much of the city's political class has been focused on Mayor Eric Adams in the first three months of his tenure, Speaker Adams has been keeping a decidedly low profile while the new council class ramps up. This speech at the New York Hilton Midtown was one of her first big speeches since taking office in January, and she focused on how she'd create an equitable economic recovery from the COVID-19 pandemic. Adams emphasized that she was the first Black council speaker and the first from outside of Manhattan in two decades, and that would shape her perspective. "When we invest in ensuring all communities are strong and have the same opportunities, we can improve public safety and ensure our entire city's success," she said.
To that end, Adams reiterated her support for the Clean State bill before the state Legislature that would seal New Yorkers' criminal records after they finished their sentences, and she said the city needed to focus on removing the barriers to employment and housing for New Yorkers with criminal records. She pointed to the state's plan to give the first retail marijuana licenses to people who have been convicted of a marijuana-related offense as "a demonstration of the approaches we need to take towards restorative economic opportunity."
Adams also touted the mayor's plan to expand the Summer Youth Employment Program to 100,000 slots and baseline that funding for future years. She also called for better coordination with workforce development programs for older New Yorkers, including apprenticeship programs for the trades.
While the speaker wasn't the mayor's top pick to lead the council, the two are generally aligned politically, and Adrienne Adams has been relatively limited in her criticism of the mayor and his agencies so far. But she may be sharpening her knives ahead of the preliminary budget response. On Wednesday, the speaker reiterated her criticism of the mayor's decision to create a carve-out of the COVID-19 vaccine mandate for professional athletes and performing artists.
"We can't prioritize athletes over concession workers," she said to applause, "firing the service worker but giving an exemption to those who've already attained economic success. We can't fire the city workers who sacrificed so much to protect us at the height of the pandemic, but then let the wealthy celebrity avoid the mandate."
The comments will likely be well received by those hoping for robust oversight of Mayor Adams' administration from the City Council, and Adams closed her remarks teasing that there would be more to come. "(This council) will hold agencies accountable for their treatment in our communities who have been underserved for so long," Adams said. "Keep your eyes on the council, because the council is going to keep their eyes on the agencies that are accountable to you and to your community."