Budget
With time running out, progressives turn to activist tactics on the NY state budget
Sleeping in the Capitol for immigrant health care, going on a hunger strike to protect bail reform, blocking escalators calling for affordable housing: Progressives are trying it all.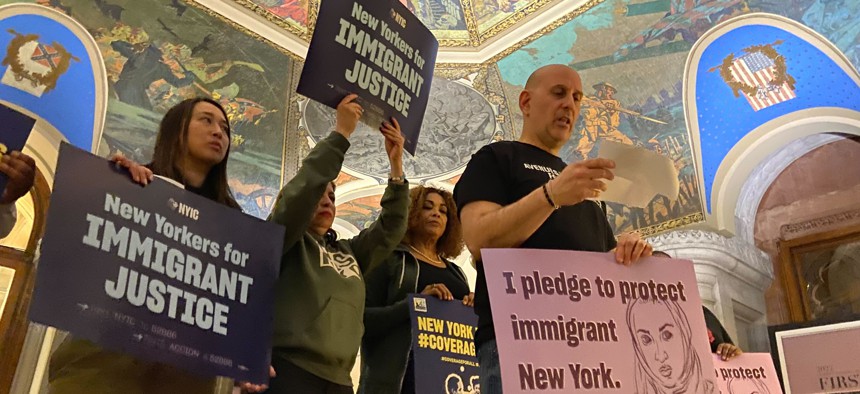 While Albany leaders negotiate a state spending plan behind closed doors, progressives are deploying a range of activist tactics in support of progressive causes ahead of an April 1 deadline
A group of Assembly members crashed the War Room in the state Capitol (for the second year) Tuesday night in support of expanding health care access to undocumented people. State troopers arrested several progressive activists – including lieutenant governor candidate Ana Maria Archila – hours earlier after they blocked a key escalator in the Capitol while rallying against efforts to replace a controversial housing subsidy program. Assembly Member Latrice Walker has been on hunger strike for nine days while opposing changes to cash bail. 
Recent direct actions highlight how the political left is trying to affect a state budget that might bring them mixed results on top issues like immigration and bash bail. Their success won't be known until there is a budget deal between Gov. Kathy Hochul, state Senate Majority Leader Andrea Stewart-Cousins and Assembly Speaker Carl Heastie, which is expected sometime in the upcoming days. 
Legislators who attended the War Room sleep-in noted how their direct actions have followed more conventional approaches to the budget on proposals like "Coverage for All," which would help low-income undocumented people get state-funded health insurance. "We've met with the governor. We've held press conferences. We've held rallies," Assembly Member Jessica González-Rojas told City & State. "What else will it take? Our immigrant New Yorkers have suffered for too long." 
Assembly Members Yuh-Line Niou, Marcela Mitaynes, Harvey Epstein, Yudelka Tapia, Manny De Los Santos and Michaelle Solages, who chairs the influential Black, Puerto Rican, Hispanic & Asian Legislative Caucus, were among those who slept in the Capitol Tuesday night. 
Constituent letters read at the event attested to the difficulties many undocumented people have in securing health care. "I have been uninsured and experiencing zero or very limited access to health care since 1997," said a letter from a woman named Reyna read by Mitaynes Tuesday. Reyna wrote that was told by one hospital that she could not address a lump in her breast because she could not afford care. "Public hospitals have waiting limits, and private clinics are out of my financial reach." 
Both chambers of the state Legislature backed "Coverage for All" in the nonbinding, one-house budget resolutions that passed earlier this month. Hochul has signaled a willingness to negotiate on the matter, but she and lawmakers remain far apart on the potential costs of the proposal.
Progressives appear to have less of an edge, compared to "Coverage for All," on some other controversial policy fronts. The governor and moderate lawmakers are still pushing proposed changes to bail reform, Raise the Age (a state law that diverted people under age 18 away from the adult criminal justice system) and a state law that facilitates the involuntary commitment of people living with mental illnesses. "I will fight until the bitter end," Walker tweeted earlier this week on the seventh day of her ongoing hunger strike to block changes to bail reform. 
A Tuesday protest on the first floor of the Capitol, which partially blocked access to the Legislative Office Building across the street, might also fall short of scuttling a gubernatorial proposal to replace the controversial 421-a program for housing developments with a new tax break opposed by the political left. Assembly Member Phara Forrest Souffrant, who was once arrested at the Capitol at a housing protest before she won election to the Legislature, spoke to the activists. But was not among those arrested Tuesday afternoon, she told City & State. 
Some legislators have chafed at how lefty colleagues have brought direct action tactics into the halls of power, but some of the efforts appear to have been successful. Assembly Member Marcela Mitaynes did a 13-day hunger strike last year in support of an Excluded Workers Fund that eventually received $2.1 billion in the budget despite some doubts at the time. Direct actions like that not only raise awareness about activists' own efforts, they also leave relatively junior legislators with a sense that they too have a little power. "It was after feeling useless in budget negotiations that I decided to join the hunger strikers," Mitaynes said in a text Wednesday morning. "They were on Day 10 and were starting to lose press attention."