Policy
Federal judge dismantles New York's new gun restrictions
A Syracuse judge on Thursday struck down several provisions of the state law limiting who can carry a gun in public.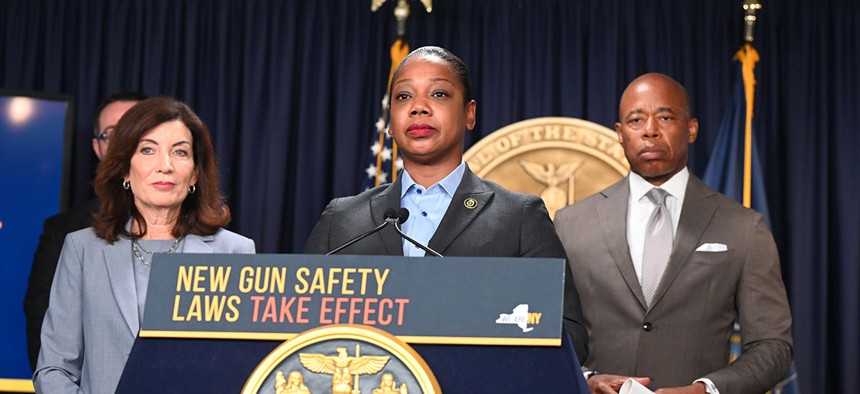 A federal judge said Thursday that portions of New York's new law restricting who can carry a gun in public and where can not be enforced – a ruling that marks a victory for gun-rights advocates and a blow to Democratic state lawmakers who passed the legislation this summer.
Syracuse Judge Glenn Suddaby issued the order in response to a lawsuit filed by six New York members of Gun Owners of America. The order takes effect in three days, giving Gov. Kathy Hochul's administration time to appeal, something she said Thursday the state plans to do. "While this decision leaves aspects of the law in place, it is deeply disappointing that the Judge wants to limit my ability to keep New Yorkers safe and to prevent more senseless gun violence. We are working with the Attorney General's office to review the decision carefully and discuss next steps in an appeal," Hochul said in a statement issued shortly after the ruling was made public.
The law, which took effect on Sept. 1, was passed in response to the Supreme Court's June 23 determination that the state's previous requirement that an applicant show "proper cause" to obtain a concealed carry permit introduced an unconstitutional degree of subjectivity into the licensing process. 
The Thursday ruling grants a temporary restraining order to the plaintiffs by barring licensing agencies from requiring permit applicants to submit a dossier of their social media history, along with four character references and contact information for people who live with the applicant. Suddaby also limited the list of sensitive locations where guns are prohibited under the state law, including Times Square, libraries, public parks, private businesses and mass transit. Suddaby specifically said that the provision could remain in place for government buildings, schools, places of worship and at protests.
"Although historical analogues certainly exist prohibiting carrying firearms in specific places, no historical analogues have been provided prohibiting carrying firearms virtually everywhere, as the (Concealed Carry Improvement Act) does," Suddaby wrote in the 53-page ruling. 
Suddaby's order follows a ruling he issued in September that cast doubt on the constitutionality of numerous aspects of the law. The social media provision could potentially violate the First and Fifth Amendments, he wrote, and the legislation still gives licensing officers "open-ended discretion" to determine who can obtain a permit. 
While the September ruling provided ammunition for Republican lawmakers and gun-rights advocates who had expressed plans to peel back the state's new restrictions, Suddaby denied the initial motion based on procedural standard. 
GOP members on Thursday cheered the latest decision. State Senate Minority Leader Rob Ortt called it "a victory for the Constitutional rights of all New Yorkers," he said in a statement that blamed Democrat-backed criminal justice reform for rising gun crime. "Instead of appealing today's decision, and continuing their unconstitutional political assault on New Yorkers' freedoms, the Governor and her Legislative allies should close the revolving door of violent, repeat offenders they opened with their pro-criminal agenda."