New York City
How NYC's Code Blue emergency notice aims to protect homeless people
When temperatures drop, the city tries to eliminate barriers to sheltering people – but advocates worry about police involvement.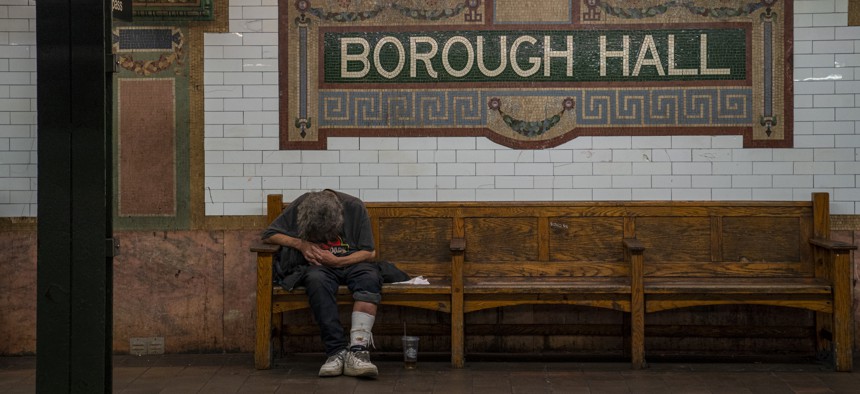 This month, freezing temperatures descended over New York City for the first time this season. Stores teemed with bundled shoppers buying winter gear. Harsh wind carved beneath bridges. Bats, stunned by the cold, fell into the grass in Central Park. And homeless outreach teams fanned out across the city trying to direct vulnerable people indoors. Through it all, many unsheltered New Yorkers weathered the conditions the best they could outside, bracing themselves for future cold stretches.
Any time temperatures reach 32 degrees Fahrenheit or below between 4 p.m. and 8 a.m. – wind chill included – New York City activates an emergency notice called "Code Blue." While this is in effect, the shelter intake process is simplified, meaning people are able to get access quicker. The city also significantly ramps up its efforts to steer anyone experiencing homelessness indoors during these periods.
Last week brought the first Code Blue of the season. Read on for more info on how the emergency notice works and what the best actions are to help vulnerable New Yorkers this winter.
The stakes
Every winter, thousands of homeless New Yorkers struggle to survive on the streets. Cold temperatures, snow and freezing sleet-like rain can be life threatening – 16 homeless people died last year due to the cold, according to a report from Coalition for the Homeless. And while the city deploys additional resources to connect vulnerable people to shelters during a Code Blue, some homeless New Yorkers say they don't feel comfortable entering the city's shelter system. These individuals face especially difficult decisions during the winter, often shuffling between overhangs and scaffolding to avoid the worst of the elements, according to Jacquelyn Simone, policy director at the Coalition for the Homeless. 
The overnight closure of the subway system during the height of the COVID-19 pandemic forced many homeless New Yorkers into the street who had previously relied on stations and trains for a warm place to sleep. Advocates for the homeless highlighted that policy's impact at the time. And are saying again that New York City Mayor Eric Adams' and Gov. Kathy Hochul's Subway Safety Plan and other recent policies have heightened some of the dangers for homeless people who don't want to enter an official shelter by pushing them into sometimes unfamiliar locations. 
 Simone said the Adams administration's efforts of clearing homeless encampments in an attempt to direct people into shelters can make the work of outreach teams more difficult, because high-risk people are harder to locate during a Code Blue if they've been displaced from a regular spot. Potentially harsh treatment during sweeps might also make people more hesitant to engage with the nonprofit or city staff trying to get them to come into an emergency shelter during dangerous conditions. 
"Outreach teams might not be able to locate people – people might be in places that are less obvious and visible as a survival technique to try to avoid repeated sweeps," Simone said. "We're concerned that those policies and the tenor of the administration when it comes to unsheltered homelessness will have real consequences as outreach teams are trying to encourage people to come indoors."
A spokesperson for the Department of Homeless Services told City & State that city agencies have a process in place to inform outreach teams when an encampment is cleared. 
How Code Blue works
While New York City already has a legal obligation to provide refuge to anyone under its right to shelter mandate every night of the year, Code Blue goes a few steps further by removing some of the procedures that can complicate the full shelter intake process. People returning to the shelter system, for example, can access additional shelters beyond their assigned one, meaning they have the flexibility to avoid going back to a facility they'd previously "made a conscious decision to leave," Simone said. 
The city also says that drop-in centers are operated 24 hours a day with the intention of accepting as many people as possible, and unsheltered homeless New Yorkers are sometimes given transportation directly to low-barrier housing options like safe havens and stabilization beds during a Code Blue.
Teams from the city Department of Homeless Services and Department of Social Services and partner organizations also fan out across the city to make "regular, repeated contact" with particularly vulnerable individuals on Code Blue priority lists in hopes of encouraging them to come indoors. According to the DHS spokesperson, these teams work year-round to build trust with unsheltered individuals, regularly checking in on them, learning their names, and letting them know where they can find resources – Code Blue just increases the intensity of those efforts given the life or death stakes at hand.
Privately funded shelters like The Bowery Mission, which operates seven shelters in Manhattan, also amplify their work during a Code Blue. James Winans, CEO and president of The Bowery Mission, said more people typically want to come in when the weather is cold outside. During Code Blue, shelter buildings are kept open during the day in addition to their normal overnight use. Those hours give staff more time to "deepen that relationship" and "hopefully help motivate folks to make a move from homelessness into something more stable," Winans said. 
Early indicators show it's likely to be a very demanding winter in regards to the number of people seeking shelter, according to Winans. In total, The Bowery Mission has overnight space for about 275 people, 124 of which are designated for emergency shelter. The rest are used for longer term programs. The day centers that open up during a Code Blue fit 80 people. 
"This weekend was really the first time we've been operating Code Blue protocol and very quickly our overnight shelter and our day centers are full. I am concerned that as the winter wears on the demand may increase to the point that we are unable to welcome everybody inside during the day or overnight," he said, adding that staff will likely refer people to the city's daytime warming centers if this occurs.
Stressing that the city has a legal and moral obligation to provide shelter to anyone who seeks it, the DHS spokesperson told City & State there are currently zero concerns about there not being enough space in the shelter system this winter. While data showed a record breaking number of homeless adults living in the city's shelter system during the fall, that situation was unprecedented given the influx of asylum-seekers into the city. Code Blues are called each year and city officials are once again prepared to handle it, according to the department.
How to help
If you see someone experiencing homelessness who is in need, the city recommends contacting 311 via phone or mobile app and requesting outreach assistance. Simone however cautioned that those calls are automatically redirected to 911 when a Code Blue is in effect. She said Coalition for the Homeless and other advocates have expressed concerns to the Adams administration about this process given how "it's become impossible to disentangle the 311 response from the criminalization and the policing of homeless people." Simone said anyone who wants to help unsheltered New Yorkers should learn which nonprofits in their borough do street outreach, and plan to inform those organizations when they see someone in need during a Code Blue. 
DHS contends that having that call routed to the New York City Police Department during a Code Blue is necessary given the severity of the situation. City outreach teams and partner organizations are still leading the charge of connecting with vulnerable unsheltered New Yorkers, but they can only do so much on their own and the NYPD has the infrastructure to mobilize very quickly, according to the department. 
Simone also encouraged a human-centered approach – going up to people who might need aid to ask if they need anything, buying them a hot beverage or just letting them know that the weather is forecasted to reach dangerous levels.
"If I know Code Blue is in effect and I see someone on the street corner  I'll go up and just check in on them and see if they are OK and want to come inside," she said. "Those of us who have access to technology and phones are aware if there's a big blizzard that's going to hit for example, but people who are the most vulnerable on the streets might be very disconnected from those communication channels."
Helping can even be as simple as adding a few extra items to your bag before leaving the house, according to Winans of The Bowery Mission. He pointed to printing resource cards that describe local services and carrying around things like an extra pair of gloves or a hat as examples. 
"You may encounter somebody who's seated outside and it's apparent that they don't have a home, but their hands are raw or their heads uncovered," Winans said. "Just having that to offer even if a person isn't willing to move from their spot or seek help helps keep someone safe."
Powered By
NEXT STORY: Advocates expect Hochul to sign bitcoin mining moratorium