Campaigns & Elections
Could public campaign finance unlaunch in New York?
As behind-the-scenes budget conversations continue, rumor has it the campaign reform might be in danger of being reversed.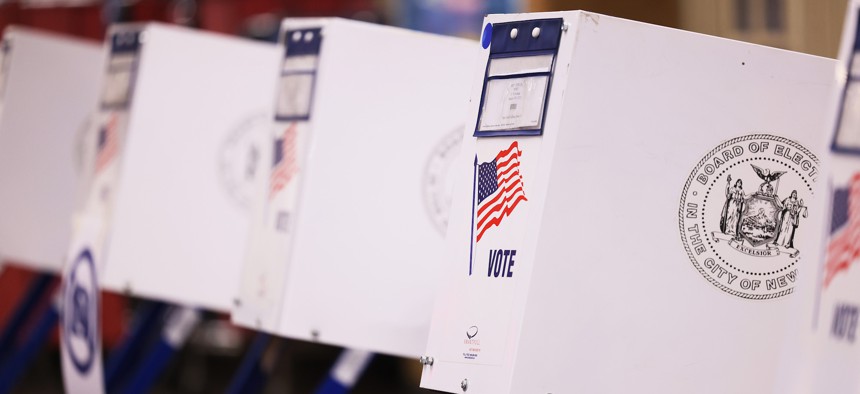 Even as New York politicos recovered from the general election last year, preparations for the next election cycle had already started. Namely, a brand new statewide public campaign finance system officially launched on Nov. 9, meant to pay out cash to qualifying candidates running for the Legislature in 2024 and statewide office in 2026. But new reporting suggests that despite the program's official launch, legislative leaders may push to postpone payouts for two years even as lawmakers and legislative hopefuls have already begun to sign up. 
The prospect of delaying the new public campaign finance system is one that has come up since the start of session, according to two legislative sources. Spectrum News reported that the discussion entered the budget conversation as Albany officials hash out a state spending plan due by April 1. Gov. Kathy Hochul had included $25 million to fund the fledgling program as part of her executive budget proposal.
Despite talks of delay, the program has already gotten underway, with former Assembly Members Barbara Lifton and Brian Kolb heading up the Public Campaign Finance Board as chair and vice-chair. As early as December last year, the board had already begun certifying candidates who have signed up to participate in the matching funds program for the 2024 election. A total of 18 have submitted the necessary paperwork, 12 of whom have received certification from the board. Those include incumbents like state Sen. Jabari Brisport and Assembly Member Catalina Cruz. In fact, Assembly Member Alex Bores has spent $539.29 in qualified expenditures, according to public records.
Under the new system, candidates who opt to participate can get qualifying donations matched by public dollars. Small donations between $5 and $250 are eligible to get matched at a rate of 6-to-1 for statewide office. That means that a maximum donation of $250 would qualify for $1,500 in matching funds, resulting in a total of $1,750 for that candidate. Those running for legislative office would get money at a decreasing rate of 12-to-1 up to $50, 9-to-1 for the next $100, and 8-to-1 for the final $100. The cap on state funds for statewide office is $3.5 million per election, $375,000 for state Senate per election and $175,000 for the Assembly.
The public campaign matching system has been years in the making. Approved by a commission in late 2019, its recommendations became binding on Jan. 1, 2020 even though the program would not officially launch until nearly three years later. Good government advocates and supporters of public campaign finance have touted it as a way to reduce corruption by reducing the influence of big-dollar donors lowering the barrier to entry for candidates who may not have the fundraising prowess of those with ties to the donor class. New York City has operated a public financing program since 1988. Opponents have argued that taxpayer money should not pay for lawmakers' elections.
The board does not have a schedule of payments yet, but its website states that the earliest that candidates in a primary election will receive public money is "30 days after petitions/nomination certifications have been filed." That means that as of now, the state would not start disbursing funds until spring of next year even for the 2024 legislative elections. Albany leaders could effectively cancel the program for the current cycle if they agree not to provide funding. But given that funds would not go out until fiscal year 2025 (as opposed to the fiscal year 2024 lawmakers are currently negotiating), officials in essence could have an entire extra year to iron out any last-minute issues that have arisen.
Asked about the potential of delaying public campaign financing for two years on Tuesday, state Senate Majority Leader Andrea Stewart-Cousins would neither confirm nor deny whether serious discussions on the issue are part of budget negotiations.
"There are obviously conversations that are being had," Stewart-Cousins told reporters. "We have not, as a conference, had a broad conversation, but I am aware of a variety of issues that people have brought up." She said that redistricting of Assembly districts, which will affect next year's elections, is "part of" the issues that have come up.