Criminal Justice
NYC comptroller says old criminal convictions cost city residents nearly $2.4 billion in annual wages
The Legislature only has a few more days left to pass the Clean Slate Act, which would seal old criminal convictions.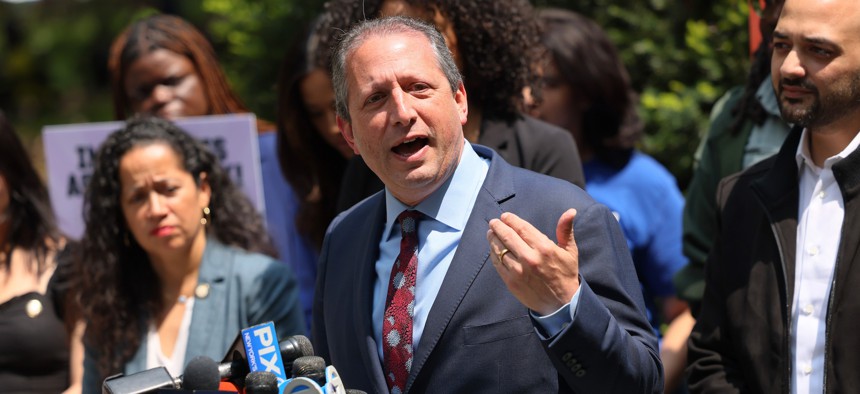 With just a few weeks left before the end of a session, it still remains unclear if the Clean Slate Act, which would expunge old misdemeanor and felony convictions, will make it past the legislative finish line this year. Meanwhile, a new report by New York City Comptroller Brad Lander – shared exclusively with City & State – found city residents are missing out on billions of dollars in wages without passage of the bill.
"Passing the Clean Slate Act would close the employment gap for New York City's communities of color and half a million New Yorkers would in turn contribute to the economic landscape of our city," Lander wrote in a statement. "Gaining employment is a proven way to stop the revolving door of our carceral system and move towards a system of true justice and economic freedom."
The report from the comptroller's office estimates that more than 500,000 New York City residents with past felony or misdemeanor convictions would be eligible to have their criminal records sealed under Clean Slate. Nearly 80 percent of those individuals are Black or Latinx, and more than 400,000 of them are of "working age." The report then cites research showing that people with criminal convictions earn on average $5,000 to $6,000 less per year to conclude that old criminal convictions that would be sealed by the Clean Slate bill are responsible for a total of nearly $2.4 billion in lost wages.  
In an interview with City & State, the bill's sponsor, Assembly Member Catalina Cruz, said the comptroller's report underscored what supporters of the bill have long argued. "New Yorkers who have a criminal record and could benefit from Clean Slate are missing out on money that's important for their family, important for their survival and important for the economy of the state," Cruz said.
State Sen. Zellnor Myrie, who is sponsoring the Senate version of the bill, said the comptroller's report confirmed the bill is about economic well-being, in addition to fairness and justice. "Formerly incarcerated New Yorkers should have a fair chance to secure a job, housing and education after they've served their time. Clean Slate will stabilize our communities, reduce recidivism and grow our economy," he said.
Criminal justice advocates also celebrated the findings in the report. "As the Comptroller's report demonstrates, the Clean Slate Act is an urgent issue of economic justice, opportunity, and development," said Katie Schaffer, director of advocacy and organizing at the Center for Community Alternatives.
The bill would seal the criminal records of many people convicted of certain felonies or misdemeanors (excluding sexual offenses) once they became eligible. If passed, this would apply to formerly incarcerated individuals three years after the imposed sentencing for misdemeanor crimes and seven years for felonies – presuming the individuals refrain from committing additional crimes. The bill has gained popularity since it was first introduced in 2020, though it has never passed both chambers. The current version of the bill has 27 co-sponsors in the state Senate and more than 60 co-sponsors in the Assembly.
Last year, there was optimism for the bill's passage after Gov. Kathy Hochul mentioned it in her State of the State address. The state Senate went on to pass the bill, but it failed to make progress in the Assembly. This session, the bill's sponsors made notable changes to the bill which allow certain entities, including some levels of law enforcement and the state Education Department, to have access to a person's sealed criminal records in hopes of getting it passed. Labor unions – such as the influential 32BJ and Hotel and Gaming Trades Council – made a big push for Clean Slate in an open letter sent to state legislative leaders in March. The New York State Business Council has also signaled support for the bill, as have major corporations like Microsoft, Verizon and JP Morgan Chase.  
The bill has not yet passed either chamber this session, though legislative leaders have said they hope to pass it. While speaking with reporters on Tuesday, state Senate Majority Leader Andrea Stewart-Cousins indicated the Democratic conference is looking to pass the bill in the Senate this year. And Assembly Speaker Carl Heastie also gave the bill a nod earlier this month. "We will definitely consider Clean Slate before the end of session… It helps public safety. It helps deal with the issues of a workforce," Heastie said.
When asked whether or not there is still a chance for the bill to get passed before the end of session, with just a few weeks left, Cruz said she is working with the governor and legislative leaders to ensure their commitment to move the bill forward. 
"Three days in Albany could be a month in the real world. So we have less than three weeks of session left – and that's a long time," the Assembly member said.