Labor
20,000 city jobs would stay vacant under Adams' hiring freeze
Facing mounting asylum-seeker costs on top of other budget shortfalls, the mayor plans to use the tool for the first time.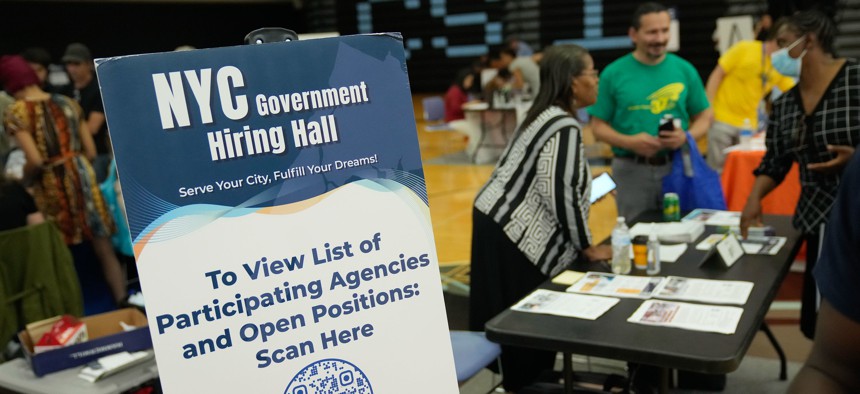 No one is jumping with joy at news of another round of budget cuts from Mayor Eric Adams' administration. 
For months, Adams has been ramping up calls for federal support to help shoulder the costs of providing shelter to the tens of thousands of asylum-seekers who have come to New York since last spring. A missive from the administration this week advised that without more support, city agencies will have to cut their budgets by 15% through next spring because of the city's spending on asylum-seekers, which the city projects will reach $12 billion by the end of fiscal year 2025, widening existing budget gaps.
The directive instructs city agencies to identify cuts without resorting to layoffs and minimizing disruption to services, starting with a 5% budget cut that all city agencies will be expected to make by this November's budget modification, followed by 5% cuts in each of the next financial plans in January and April.
The cuts come as unwelcome news to agencies that have already undergone several rounds of budget reductions in the previous budget cycles. But already understaffed city agencies could be hit especially hard thanks to a hiring freeze that will go into effect on Oct. 1 as part of the savings initiative. This will be the first time Adams has deployed a hiring freeze. 
As of next month, agencies won't be able to hire for open positions unless they are related to public health, public safety or revenue generation. For just those exempt positions, agencies will be allowed to hire on a one-to-one basis, meaning that a role can be filled only after a current employee leaves. Which roles fall under that umbrella of critical positions will be determined by City Hall and the Office of Management and Budget. 
Some observers warned that a hiring freeze is too blunt an instrument to use to find savings – particularly when there are already nearly 21,000 vacant positions across city agencies, according to City Hall. Existing understaffing has already disrupted key city services and operations like the delivery of food stamps and affordable housing production.
"I don't know what else to say except it sucks," an employee at the Department of Social Services, who was granted anonymity in order to speak openly, told City & State. "I'm sure valuable programs will be cut and attrition will lead to more work divided amongst fewer people."
Henry Garrido, the executive director of the public sector employee union District Council 37, also warned that lower staffing levels would lead to a decline in services. "While the influx of asylum seekers continues to present imminent challenges to our city's budget, we cannot pretend as though we can deliver the same level of servicing with less staff and less funding," Garrido said in a statement on Monday. "It is times like this, when we face severe challenges, that we should invest in services to support and protect our most vulnerable, not reverse course and cut back."
The Department of Social Services is among the agencies that have suffered from staffing shortages since the COVID-19 pandemic, as has the Department of Buildings, the Department of Small Business Services, the Department of City Planning, the Department of Environmental Protection and more. The shift to remote and hybrid work in the private sector has also elevated competition for lawyers, IT professionals and others who can fetch much higher salaries outside city government and work in more flexible arrangements. (Notwithstanding a small remote work pilot program that began earlier this year, city employees have largely been required to work in the office full-time.) 
The DSS employee acknowledged, however, that the lack of support to the city for asylum-seekers puts the city in a difficult position. "I want to say there are better solutions and I'm loath to give Adams any credit but I also don't know what else there is to do about the asylum seeker/migrant issue, given the circumstances," the employee told City & State.
New York City was already facing a large budget gap for fiscal year 2025. The Citizens Budget Commission, a fiscal watchdog, estimates that the city will be facing a $13.8 billion budget gap in fiscal year 2025, less than half of which would be due to asylum-seeker costs. Expenses were already growing more quickly than revenues, in part due to collective bargaining costs, contributions to pensions and expanded spending for city programs, said Ana Champeny, vice president for research at the CBC.
While the CBC said that newly announced budget cuts are the appropriate step to take right now, Champeny warned that a hiring freeze like the one the administration has planned is too broad an approach. "I think from our point of view, it's a little bit too blunt in that you are not identifying the areas where you have a valid need to bring on more employees to be able to continue to run city programs (and) identifying areas where you do have vacancies that you don't need to fill," she said. "I think we would prefer a little bit more of a nuanced and strategic approach to hiring."
"It's a hard situation to say to somebody, 'freeze,' when maybe you desperately need this other person to be an investigator or a specialist in COVID or something," said City Council Member Gale Brewer, who added that she's concerned about staffing levels at all agencies.
"If you're going to put a hiring freeze on top of already existing staffing shortages, who's going to be there to do the work?" asked Jennifer Jones Austin, executive director of the anti-poverty advocacy group FPWA and the chair of the NYC Racial Justice Commission and the Board of Correction under Bill de Blasio. "I'm not sitting in City Hall right now, so I don't know everything that is happening, but I need help in understanding the logic here."
City Hall declined to comment on whether a hiring freeze would further challenge already understaffed city agencies, but Adams has repeatedly warned that city services will be impacted if the city doesn't receive help in paying for the costs of sheltering asylum-seekers. Those warnings have grown more extreme recently, with Adams saying last week that the issue of the migrant crisis "will destroy New York City."
Whether the prospect of steep budget cuts and hiring freeze will make any difference in getting New York City that much needed financial support remains to be seen.