Politics
The survival guide for New Yorkers going to the Republican National Convention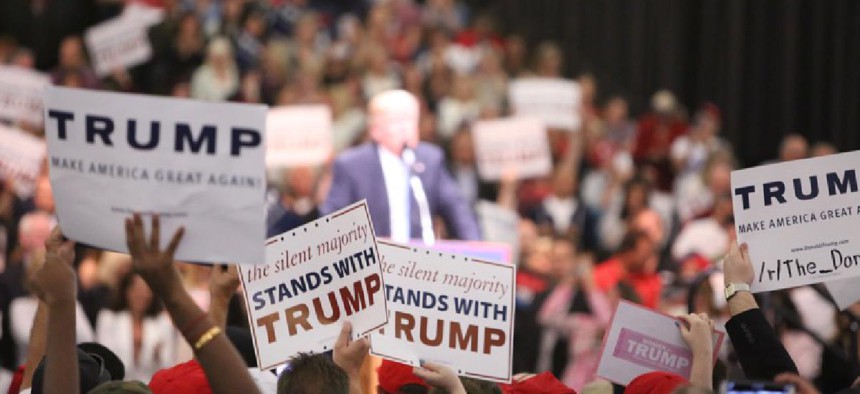 In a presidential cycle that has defied expectations, perhaps the biggest surprise – Donald Trump – is about to become his party's standard-bearer. In Cleveland, which is hosting this week's Republican National Convention, the stage is already set for the coronation of the presumptive nominee. As some 50,000 GOP delegates, elected officials, advisers, journalists and others flock to the swing state for four days of policy-making, politicking and partying, City & State has the inside scoop on how to get there, where to go and what to do.
Getting there
Most delegates are flying into Cleveland's Hopkins International Airport, which is about 12 miles outside the city center. The airport has taken steps to increase transit options into Cleveland, including more rental cars, faster processing for taxicab pickups, and staging areas for charter buses and limos as well as ride-sharing services like Uber and Lyft – although some have warned of surge pricing. And as always, visitors can catch a Greater Cleveland Regional Transit Authority train for a direct connection to downtown. Head to the lower level of the airport's terminal complex, buy a ticket for $2.25 and catch the Red Line for a 30-minute ride to Tower City Station. While at the Tower City Station hub, head to the customer service center to pick up a special RNC seven-day unlimited pass for just $20. Of course, some delegates from Western New York can just hop in a car and drive to Cleveland, which is closer to the Empire State than you might think. From Buffalo, it's about three hours along I-90.
Getting around
If you're driving around town, tune into local radio for traffic updates or download the OHGO app. But with parking at a premium, The Regional Transit Authority recommends utilizing its commuter rail lines, which should run without delays. Security zones surrounding the convention area will be enforced, streets will be closed and traffic congestion is expected, with buses re-routed and trolleys running more slowly as a result. Once you're downtown, much of the action will take place within walking distance. Local volunteers will also be on hand to help visitors get around.
Where to stay
If you don't already have a room (an estimated 5,000 are already booked downtown), you are probably out of luck. Try again in the next host city in 2020!
What to do?
The main convention area is Quicken Loans Arena, home of the NBA champion Cleveland Cavaliers (and a few additional sports teams you've probably never heard of). To get in, you'll need a credential as either a delegate or a journalist. Just a few blocks away from "The Q" is the FirstMerit Convention Center, which is hosting the convention's media center.
At the main event, a number of marquee names in Republican politics are expected to speak during the sessions, including House Speaker Paul Ryan, Senate Majority Leader Mitch McConnell and Sen. Ted Cruz, as well as the vice presidential nominee. Members of Trump's family, including his daughter, Ivanka, and his wife, Melania, are expected to speak as well. Other party luminaries, like Mitt Romney and the Bush family, have said they will not attend. Traditionally the nominee speaks on Thursday, the final night of the convention, but Trump has defied norms before.
In addition, more than 1,000 events are reportedly planned around the city. Plus, a number of celebrities are expected, so keep your eyes out for former college basketball coach Bobby Knight and former NFL quarterback Tim Tebow (reportedly convention speakers), recording artist Kid Rock (who will be performing) and Caitlyn Jenner (who is calling for LGBT acceptance at a separate event).
What to see

Need a break from all the politics? Cleveland's most well-known tourist destination is the Rock and Roll Hall of Fame, with highlights like Jimi Hendrix's guitar and the suit John Lennon wore for the Sgt. Pepper photo shoot. It overlooks the Lake Erie shore a little over a mile from Quicken Loans Arena. Also nearby are the Great Lakes Science Center and The Flats, a revitalized waterfront industrial neighborhood. And just in time for the RNC is the renovated Public Square, a historic plaza that had fallen into disrepair.
Staying safe
Trump himself suggested that there could be violence during the convention. While his remarks were in the context of a possible contested convention, concerns about clashes with protesters remain, especially in the wake of altercations and confrontations at other Trump campaign events. However, Cleveland officials announced a "preparedness plan" and have promised to maintain the peace, and they will be assisted by state law enforcement and the Secret Service. Officials have introduced limits on demonstrations as well, restricting them to certain areas, enforcing set parade routes and requiring marches to end by 5 p.m. on Monday and by 2:30 p.m. the rest of the week. But some groups, like Black Lives Matter, have indicated that they will not comply with the restrictions. And while many organizers say their demonstrations will be nonviolent, both law enforcement and activist groups are bracing for the possibility of mass arrests.