New York State
Which Cuomo loyalists were booted from office – and which ones remain?
During Gov. Kathy Hochul's first 45 days in office, she promised to remove the former governor's allies from state government.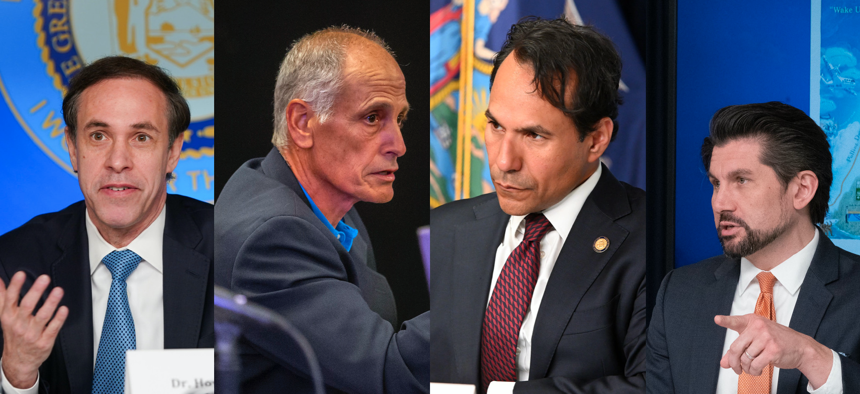 Kathy Hochul has reached the 45-day mark of her time in office, the unofficial deadline she gave herself to get her administration off the ground. In a bid to differentiate herself from her disgraced predecessor and signal a real change in Albany, she pledged to rid her administration of every person named in the state attorney general's report about former Gov. Andrew Cuomo's alleged sexual harassment. Hochul had a bit of a head start as many prominent members of the Cuomo administration left with him, including former Secretary to the Governor Melissa DeRosa, senior adviser Rich Azzopardi and former Department of Financial Services Superintendent Linda Lacewell. A month and a half in, Hochul has largely made good on that promise and purged the Second Floor of many Cuomo loyalists. But that doesn't mean she has fully cleaned house, with a number of Cuomo holdovers remaining.
Who's gone?
Howard Zucker
Easily one of the most high-profile and controversial Cuomo administration officials that Hochul inherited, former state Health Commissioner Howard Zucker announced his resignation effective as soon as the governor found a replacement. Although Zucker seemed to indicate he wanted to keep his job after Cuomo left, making comments about his newfound freedom to share information, he didn't make the cut. A constant presence at Cuomo's COVID-19 briefings, he was involved in the state's efforts to obscure the true toll of the pandemic in nursing homes. Now, former New York City Health Commissioner Dr. Mary Bassett has taken over, a move by Hochul that was widely lauded.
Larry Schwartz
Another high-profile Cuomo loyalist, Larry Schwartz is a longtime confidant of the former governor who served as his enforcer on the Metropolitan Transportation Authority board and played an integral role in the state's hospital and vaccine strategy during the height of the pandemic. Many transit advocates called for his replacement on the MTA board, something he had said would not happen. When asked about his position in the past, Hochul cryptically said that he was "not a part of my administration." She cleared up the confusion on Day 45, when she announced Schwartz would step down – although not until the Legislature confirms his replacement. That means he'll get to stick around until at least January.
Michael Hein
Former Office of Temporary and Disability Assistance Commissioner Michael Hein ended up in the hot seat when his agency, tasked with getting nearly $3 billion in rental assistance out the door, offered desperate tenants and landlords nothing but delays. Hein is the former Ulster County executive and a Cuomo ally appointed to head the agency in 2019. He was reportedly near the top of Hochul's list for the chopping block and reportedly left his post last week. The Hochul administration confirmed to City & State that Hein had resigned.
Steve Cohen
Yet another longtime Cuomo aide, Steve Cohen had been implicated in the attorney general's report as part of the effort to discredit Lindsey Boylan, the first woman to accuse the ex-governor of sexual harassment. At the time, he was chair of Empire State Development. He resigned from the post in August, not long after Hochul took over, and also left his job as a member of the Commission for Judicial Nomination, which vets applicants for the state's top court. Cohen remains on the board of the Port Authority and co-chairs the Gateway Development Commission, but a Hochul spokesperson told City & State after publication that he would resign from both positions once replacements are found.
Letizia Tagliafierro
Former state Inspector General Letizia Tagliafierro, yet another Cuomo appointee with a long history as an ally, stepped down last month. She had come under scrutiny in recent years over how her office handled a leak from the state Joint Commission on Public Ethics to the former governor. He had somehow found out how commissioners voted in a private session regarding an investigation into his former top aide Joe Percoco. The probe came back inconclusive, but investigators failed to interview several key people, including Cuomo himself, before drawing their conclusions.
Norman Birenbaum
With the Office of Cannabis Management finally up and running after delays under Cuomo, it seems that his pot czar Norman Birenbaum is getting the boot, Hochul's administration confirmed. He's not as lucky as former Cuomo Assistant Counsel Jason Starr, a key part of the ex-governor's pot team who was appointed as the chief equity officer at the Office of Cannabis Management. At the end of the session this year, Cuomo pushed to get Birenbaum appointed as executive director of the new cannabis agency, a non-starter for lawmakers. He decided not to nominate anyone else, so the position wasn't filled until Hochul took over.
Who's staying?
Robert Mujica
Cuomo's longtime budget czar, Hochul confirmed that she is holding on to Robert Mujica in the same role, much to the dismay of some progressive lawmakers. Not only was he a part of Cuomo's inner circle who frequently appeared next to the former governor at press conferences, Mujica also previously served the state Senate Republicans, something many Democrats didn't like. Political observers watched closely to see what became of Mujica, recognized as one of the most powerful people in the state, even if the average voter may not be familiar with him. He also worked on Cuomo's memoir, which earned the former governor a $5.1 million book deal. But others also acknowledged that few know the ins and outs of the budget better than Mujica and view him as a smart choice for Hochul to keep as she heads into her first budget season as governor.
Jay Jacobs
Not actually part of her administration, Hochul has indicated she has no intention to replace state Democratic Committee Chair Jay Jacobs, a close Cuomo ally who just this week endorsed her. As the de facto leader of the party, Hochul has the power to appoint a new state Democratic leader. Given Jacobs' ties to Cuomo, and his early endorsement of Hochul, some observers felt that he should have also been purged as part of the effort to remove agents of the former governor from state government and politics.
Jim Malatras
Hochul doesn't have the final say in this matter, but she has given no indication that she intends to ask for SUNY Chancellor Jim Malatras' resignation. Prior to taking that role, Malatras had a long history of working for Cuomo and his ties to the former governor was one of his best selling points. But as SUNY chancellor, Malatras continued as a confidant for the governor and even had a hand in drafting a report from the administration on nursing home deaths that obscured the numbers. He also worked on Cuomo's controversial pandemic memoir. But his name never appeared in the state attorney general's report on sexual harassment, so despite his Cuomo ties, it seems Hochul is fine with keeping him around.
Rick Cotton
At the Port Authority, Hochul confirmed that she's keeping Cuomo ally Rick Cotton on as the agency's executive director. He has served as a strong proponent for Cuomo's controversial AirTrain to LaGuardia Airport, a project widely hated by local lawmakers and transit advocates. Still, Hochul said that Cotton agreed to defer to her on major projects, a notable promise after the new governor cast doubt on the future of the AirTrain and all but declared it dead due to a lack of support.
Basil Seggos
Never really part of Cuomo's inner circle, Department of Environmental Conservation Commissioner Basil Seggos largely avoided controversy during the former governor's time in office. And he seems to be basking in the administrative change as Hochul has kept him on, notably taking strong stances against a new bitcoin mining operation upstate and a new power station in Queens that environmentalists oppose. He touted the Cuomo line and worked directly for him before becoming commissioner, but Hochul likely saw no need to replace a competent agency head just because of who appointed him.
Rossana Rosado
Subject to legislative confirmation like Schwartz, Secretary of State Rossana Rosado had a degree of job security even if Hochul wanted her gone, which doesn't seem to be the case. Rosado, a former newspaper editor and publisher, has kept a low profile in government and also was not a part of Cuomo's inner circle. Funnily enough, he needed to formally submit his own resignation to her before he left office. And Rosado was excited to see New York's first female governor take over, so she seems comfortable where she is.