Campaigns & Elections
Analysis: Jumaane Williams shifts dynamics in governor's race
Williams is courting voters on Hochul's turf and threatening James' turnout in all-important Brooklyn.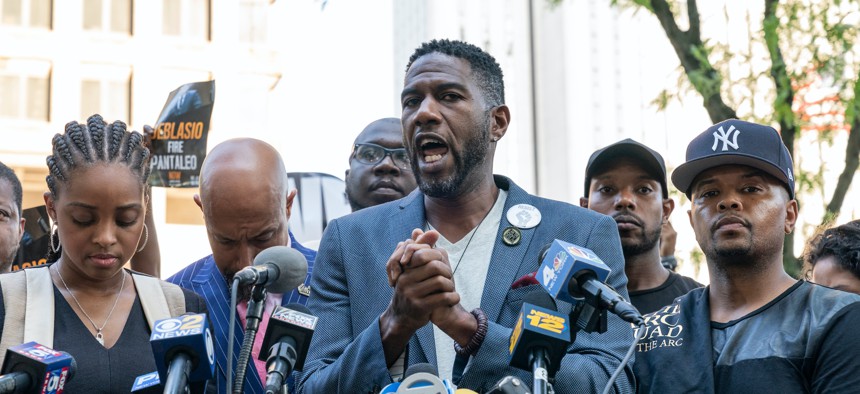 New York City Public Advocate Jumaane Williams confirmed monthslong speculation that he is running for governor in a video announcement released late Monday. Early polling suggests his official entry into the 2022 Democratic primary could benefit early front-runner Gov. Kathy Hochul by siphoning votes from state Attorney General Letitia James, another popular Black Brooklynite with progressive bonafides. 
Williams and James will be competing for Democratic votes in Brooklyn, a division that could bode well for Hochul. But Hochul is vulnerable as well on her side of the Democratic spectrum. Her ability to net enough support upstate and on Long Island would be heavily impacted by others entering the race, such as Suffolk County Executive Steve Bellone and Rep. Tom Suozzi of Long Island, both white, male, suburban moderates and possible contenders.
Williams can't be completely counted out. Hochul has an early lead in a recent Marist College poll for next year's primary, but Williams has proved before he can compete with her in a statewide race. While he lost to Hochul in the 2018 Democratic primary for lieutenant governor, he outperformed expectations, beating her in New York City with a more than 70,000-vote margin in Brooklyn. 
But any wins for Williams over Hochul in Brooklyn could be offset by James – who is favored by 28% of Marist poll respondents, compared to 15% for Williams – meaning it's crucial for him to make inroads outside of New York City.
Already, Williams has invested time courting voters on Hochul's upstate turf, namely Buffalo, her hometown where the left wing of the party is increasingly mobilized. While Hochul sat on the sidelines of the contentious Buffalo mayoral race, Williams supported the Democratic nominee India Walton, a self-described democratic socialist backed by the Working Families Party.
Williams, who leans farthest left of the three candidates, made several visits to upstate towns this summer, including Buffalo, Syracuse and Rochester. He made a nod to his travels in his launch video, while also highlighting the challenges he's overcome living with Tourette syndrome.
"As I move around our state, I can see that we all want similar things, face similar obstacles, struggle against the same entrenched systems," Williams said in the ad, titled "Always Moving." "There is a movement building in New York, a courageous progressive movement that challenges the powerful and helps restore that power to the people. A movement I'm proud to be a part of."
Hochul, meanwhile, has also made moves that could lure voters away from the other two top contenders. Selecting state Sen. Brian Benjamin, who is Black, from Harlem and a criminal justice reform advocate, as her lieutenant governor was seen as an attempt to diversify her image. 
Williams is somewhat of a perpetual candidate. In addition to the primary race for lieutenant governor in 2018, he was listed on the general election ballot that year as the Working Families Party candidate for state Sen. Simcha Felder's seat. Earlier that year, he also ran for New York City Council speaker, a competition won by current Speaker Corey Johnson.
The campaign experience has given him both exposure and insight into how he fares with voters across the state. At the same time, Williams has been criticized for his decision to run for governor weeks after winning reelection as public advocate.
"If you are running for governor, there's also the fact that you would be distracted campaigning for governor," Dr. Devi Nampiaparampil, the Republican nominee for public advocate in this year's general election, said in a recent debate with Williams.
Williams has argued the overlap is simply a matter of timing. 
It's not the first time the effectiveness of the public advocate's role has been called into question, even when it's officeholder isn't running an active campaign. Established to be a government watchdog and investigator, the public advocate has no voting power on City Council, no guaranteed budget and no designated duties in the City Charter.
The public advocate can, however, introduce legislation. Williams has said he has passed more laws than any other public advocate, including bills to address housing inequities, racial and economic disparities in the criminal justice system and construction safety, among others.
Historically, the job is seen as a stepping stone to higher office. It's next in line to the mayor's office and has been held by multiple other confirmed and possible candidates in the governor's race. James was public advocate from 2013 to 2018, the year she was elected state attorney general. Williams, then a city council member of eight years, took the office in 2019 after winning a special election. Mayor Bill de Blasio, who is also weighing a run for governor, held the post prior to James.
Williams' election to public advocate meets another goal of the office's creators: to elevate people of color in city politics. James became the first Black woman to hold a citywide public office when she was elected public advocate.
"One of our goals was minority opportunity to get a sort of platform to reach for higher office, to get citywide visibility," Eric Lane, who served as the executive director and counsel of the Charter Review Commission when it formed the role in 1989, previously told City & State. Despite the intent to promote inclusion and diversity, most of the city's public advocates have been white.
Without a job description established by city charter, the officeholders have chosen varying strategies when it comes to serving as a check and balance with the mayor's office. Some public advocates, including the city's first, Mark Green, along with de Blasio and James, have taken a hard look at the performance of mayors serving during their tenures, while others, such as Betsy Gotbaum, who worked under former Mayor Michael Bloomberg, have had more amicable relationships with mayors.
Williams was one of the most outspoken voices among critics of de Blasio's handling of protesters and police brutality during demonstrations last summer following the police killing of George Floyd. 
Williams, an organizer, activist and self-described democratic socialist, has also used his platform to criticize Hochul in recent months. 
"The bar from Cuomo is pretty low," Williams told The New York Times in October, referring to Hochul's record since she became governor in August. Williams declined to attack James, the paper reported.
Powered By
NEXT STORY: March toward good cause eviction continues in Poughkeepsie