Campaigns & Elections
The endorsements for Democratic candidates for New York governor
Who has endorsed in the 2022 race to lead the Empire State?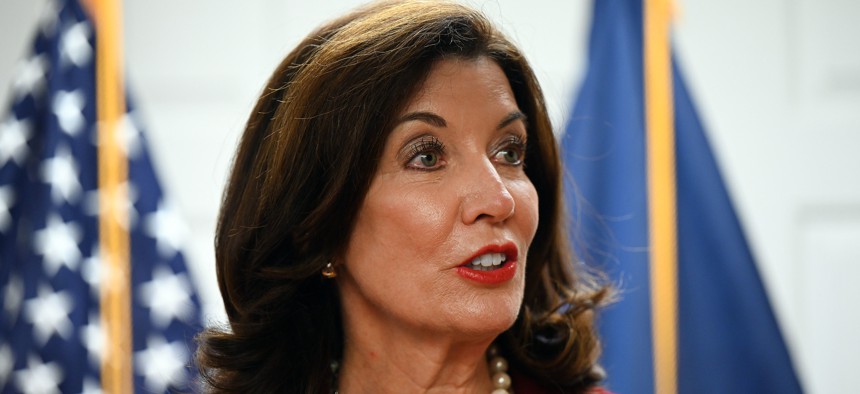 Gov. Kathy Hochul, state Attorney General Letitia James and New York City Public Advocate Jumaane Williams have officially declared their candidacies for governor – and that means they are already super busy recruiting allies for the June 2022 primary. They face a long list of potential rivals in the Democratic primary to run against whoever wins the Republican race.
Endorsements signal to voters a candidate's ideological positioning and demonstrate the breadth, depth and nature of their support. A particularly popular endorser can help mobilize voters.
We scoured press releases, social media and candidates' websites to compile a list of the most current endorsements, as of Nov. 22.
Kathy Hochul, incumbent governor
Organizations: 
Cattaraugus County Democratic Committee, Chautauqua County Democratic Committee, Emily's List, Erie County Democratic Committee, Genesee County Democratic Committee, Livingston County Democratic Committee, Niagara County Democratic Committee
Elected officials:
Rep. Brian Higgins, State Sens. Tim Kennedy and Diane Savino; Assembly Majority Leader Crystal Peoples-Stokes, Assembly Members Pamela Hunter, Catherine Nolan , Peter Abbate, Jr., Danny O'Donnell, Bill Conrad, Monica Wallace, Karen McMahon, Steve Stern, Taylor Darling, Deborah Glick, Donna Lupardo, Harry Bronson and Albany Mayor Kathy Sheehan.
Other public figures: 
State Democratic Party Chair Jay Jacobs, NAACP New York State Conference President Hazel Dukes, Albany County Democratic Committee Chair Jake Crawford, Broome County Democratic Committee Chair Barbara Fiala, Monroe County Democratic Committee Chair Zach King, Suffolk County Democratic Committee Chair Rich Schaffer and at least 20 other local committee chairs.
Letitia James, state attorney general
Labor: 
Transport Workers Union International
Organizations: 
Democratic Attorneys General Association, Higher Heights for America, Collective PAC
Elected officials: 
State Sens. Kevin Parker, Jessica Ramos and James Skoufis; Assembly Members Nathalia Fernandez, Alicia Hyndman, Kimberly Jean-Pierre and Nily Rozic; Bronx Borough President-elect Vanessa Gibson; Manhattan Borough President-elect Mark Levine
Jumaane Williams, New York City public advocate
Elected officials:
New York City Comptroller-elect Brad Lander, Brooklyn Borough President-elect Antonio Reynoso; Hudson Mayor Kamal Johnson and Hudson Common Council Majority Leader Tiffany Garriga