Campaigns & Elections
How 2021 elections could preview important 2022 races in New York
Do Republicans stand a chance anymore? Could Democratic incumbents foil leftist challenges?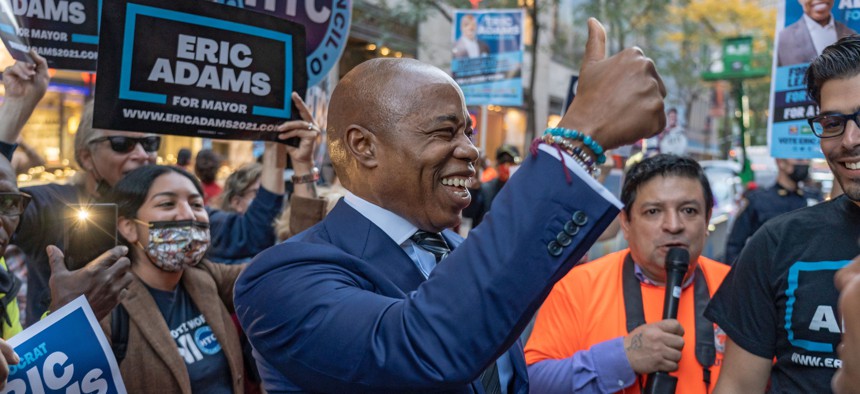 There are a lot of important races to watch across the state in this year's general election on Tuesday. But 2021's mostly local contests could seem like small potatoes compared to what's coming next year: races for governor and state attorney general, redistricted legislative contests, and control of the House of Representatives possibly hinging on New York voters, to name a few. But all these local races – as well as the five statewide ballot initiatives – will say a lot about the political zeitgeist as a year like no other in state politics draws to a close. 
Gov. Kathy Hochul is in a surprisingly strong position a little over two months after replacing the scandal-plagued Andrew Cuomo, who might be eyeing how well other political moderates do Tuesday as he ponders his political future. Left-leaning gubernatorial wannabes like Jumaane Williams meanwhile might get a boost from a surprisingly strong showing by progressives in races like the mayoral contest in Buffalo. 
This year's elections will also test the effectiveness of Republicans' various efforts to claw their way back to political relevance. Democrats strengthened their hold over the state Senate by flipping multiple seats last year that have historically been held by the GOP. That could begin to change if Republicans' opposition to bail reform helps them win key races Tuesday while also defeating all the ballot initiatives. 
What to make of it all? Here are some ways that this year's elections could serve as a preview to next year's races. 
Buffalo mayor tests progressive strength
When lefty challengers like Reps. Alexandria Ocasio-Cortez and Jamaal Bowman and state Sen. Julia Salazar won their primaries, the relatively moderate incumbents they defeated more or less conceded. That's not happening in Buffalo, where Mayor Byron Brown is fighting tooth and nail to win a write-in campaign against Democratic nominee India Walton. Brown is hoping to turn the race into a referendum on democratic socialism in the Democratic party – and downstate progressives helping Walton seem to see it that way too. This could be a test of whether socialist policies are as scary to voters as moderate Dems think they are. And a win for Brown could inspire similar primary losers to Never Give Up. 
Nassau district attorney tests Republican messaging
Long Island's Nassau County has long been considered a political bellwether for the state – or even the nation. Democrats have been on a winning streak there, flipping the county executive seat and winning state Senate races while holding onto Congressional seats. But Republicans have bet big against bail reform, making opposition to the policy that put fewer people in jail awaiting trial the key focus for Anne Donnelly in her race against state Sen. Todd Kaminsky for the district attorney. Republican Bruce Blakeman, running against Democratic incumbent Laura Curran for Nassau County Executive, is campaigning on the same message, even if it might not stick. Consider it a practice run for 2022, when the state GOP will be looking to halt Democrats' winning streaks in other areas too. 
Ballot proposals test one-party rule
It's not just Nassau – the Republican and Conservative Parties have been running a "just say no" campaign against the ballot proposals this year. But they really just care about proposals 1, 3 and 4, which would make some changes to redistricting that would effectively favor Democrats and would make voting easier, which would also effectively favor Democrats. This could further weaken Republicans' chances in 2022, but it's also giving party leaders a base on which to question the results of future elections, as so many of them did with President Joe Biden's 2020 win. "It's almost as if Democrats are working to legalize rigged elections," New York Republican Party Chair Nick Langworthy said, according to the Staten Island Advance.
Staten Island races test Dems on The Rock
The Staten Island borough president hasn't been a Democrat since 1989. And the mid-island council seat has never been repped by a Democrat in its current form. But the party is giving some spirited challenges this year, in the form of Mark Murphy for BP and Sal Albanese for City Council District 50. Still, the real prize is the Congressional seat, which Democrats desperately want back from Rep. Nicole Malliotakis in 2022. Redistricting will likely hurt her reelection chances. A weak GOP showing in these races – even if they win – could spell further bad news for the incumbent. 
Eric Adams tests the "face of the Democratic Party"
Spend too much time analyzing what Adams' win in the Democratic primary for New York City mayor means for the direction of the party, and you'll probably end up sounding foolish. Adams is an idiosyncratic candidate, and the ranked-choice voting primary for an open seat won't be replicated anywhere in 2022. However he's declared himself "the face" of the party, so expect Adams – as well as his allies in the state legislature – to be pointing at voter turnout and (expected) margin of victory in the general as evidence of his mandate to lead and get his policies implemented.