New York State
James drops out, mask mandates return and Malatras resigns
Rounding up the week's political news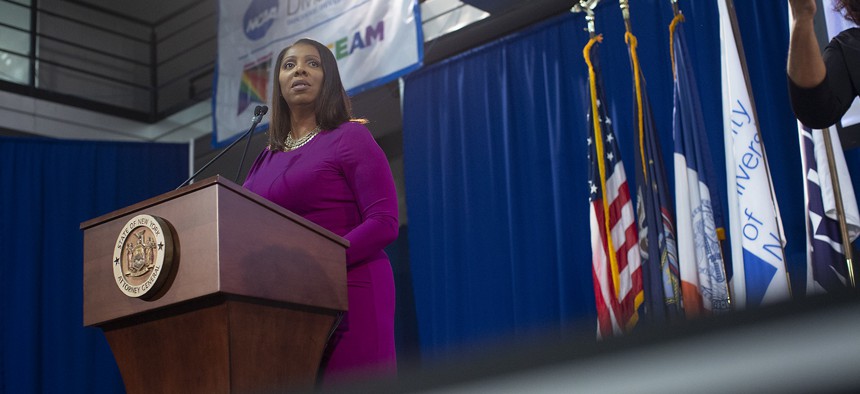 In a true sign that nature is healing, SantaCon (unfortunately) has returned to New York City. Droves of rowdy, drunken people dressed as Santa Claus will once again flood the streets of Midtown, the East Village and surrounding neighborhoods, creating nightmarish conditions for any New Yorker going about their day. So be merry and beware as one of the worst days in the city returns after a pandemic break. Keep reading for the rest of the news from this jam-packed week.
James drops out
State Attorney General Letitia James announced that she would seek reelection rather than continue her bid for governor. Her decision came as a surprise and shook up not just the race for governor, but the competition for her seat, which most assumed would be empty. Gov. Kathy Hochul loses the candidate who most saw as her staunchest competition. Although it certainly doesn't guarantee her election, the move does widen Hochul's path to victory. A Siena College poll that came out the same week had the governor with a comfortable 18 percentage point lead over James, her closest competitor, with other declared candidates even further behind. Shortly after James said she was dropping out, Rodneyse Bichotte Hermelyn, the leader of the Brooklyn Democratic Party, announced her support for Hochul. James' reentry into the race for attorney general was bad news for those who sought to replace her, a crowded field that was expected to grow.
Mask mandate returns statewide
Hochul announced a new mask mandate across the state modelled after rules implemented in New York City. Under the new guidance, people must wear masks in all indoor public settings unless the business or venue has instituted a vaccination requirement. The mandate takes effect on Dec. 13 and goes through Jan. 15, when the governor and state health commissioner will reassess it. The move comes as COVID-19 cases surge upstate, and as hospital capacity issues led to the suspension of elective surgeries in about 30 hospitals.
New York City approves noncitizen voting
New York City took a major step toward becoming the largest city in the nation to permit noncitizens to vote in municipal elections after the City Council passed legislation to enable it. Although Mayor Bill de Blasio has expressed reservations about the bill, he has given no indication he would veto it. Under the bill, green card holders, those with work visas and Deferred Action for Childhood Arrivals recipients would be able to vote in the races for mayor, City Council, public advocate, comptroller and borough president. It's estimated to affect between 800,000 and 900,000 people.
SUNY chancellor resigns
After a growing number of people demanded that he step down, SUNY Chancellor Jim Malatras submitted his letter of resignation, effective Jan. 14. Although not directly involved in former Gov. Andrew Cuomo's response to allegations of sexual harassment, documents released by the attorney general's office revealed that he made disparaging comments about one accuser – Lindsey Boylan – when she tweeted in 2019 about the Executive Chamber being a toxic place to work. Additional reporting also came out about allegations that Malatras himself fostered a toxic work environment before taking on his role as chancellor. Combined with the fact that he was a close Cuomo ally who was deeply involved in the former governor's COVID-19 response, some state lawmakers and student groups wanted to see Malatras go. Although he had the backing of the board of trustees – his bosses – and Hochul declined to call for his ouster, Malatras said that the work of SUNY must go on "undistracted," echoing the words of his former boss when he resigned as governor.
SoHo rezoning clears key hurdle
A New York City Council committee voted to move along a controversial rezoning of SoHo and NoHo in Manhattan, the last major neighborhood rezoning of de Blasio's tenure. Despite opposition from wealthy residents of the neighborhoods and advocates for affordable housing, the upzoning cleared one of the final hurdles to getting approved. Unlike past rezonings, which have often happened in lower-income communities, this one would impact the wealthy enclave of SoHo, which has among the highest rents in the entire city. However, opponents said that it also included parts of immigrant communities in Chinatown and failed to ensure that adequate affordable housing will actually be built.
The nation's largest school district has a new leader
New York City Mayor-elect Eric Adams announced that he has chosen David Banks as his new schools chancellor. A longtime Adams ally, Banks comes in as a respected educator who founded the Eagle Academy for Young Men public school network. He takes over from Meisha Porter, who held the position for a few months after former schools Chancellor Richard Carranza stepped down. Banks comes into the role at a time when New York City schools are still dealing with the effects of the COVID-19 pandemic and getting students back up to speed. He also inherits, along with Adams, controversial decisions made by de Blasio around school admissions as well as gifted and talented programs that the new administration may reverse or change.
Powered By
NEXT STORY: The CCRB just got a little more powerful