Politics
SUNY Chancellor Jim Malatras announces resignation
His connections to ex-Gov. Andrew Cuomo have led to calls for his ouster in recent days.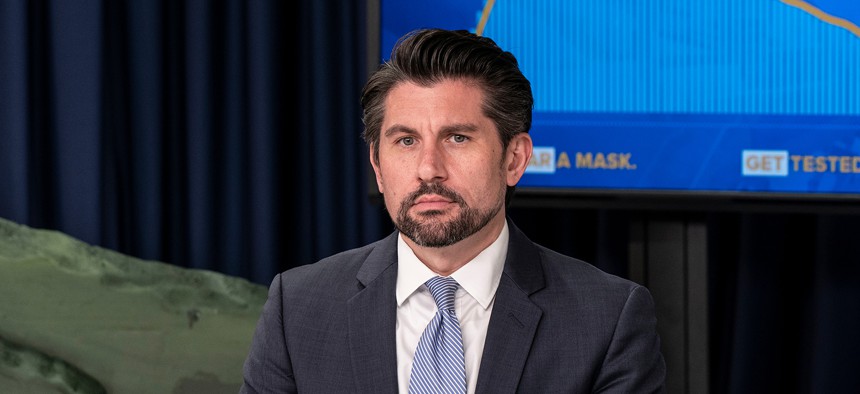 SUNY Chancellor Jim Malatras has announced his resignation, effective Jan. 14.
The embattled leader of the 64-campus university system has faced growing calls for his ouster in recent days following revelations of past comments he made about Lindsey Boylan, a former staffer to ex-Gov. Andrew Cuomo who has accused him of sexual harassment and fostering a toxic work environment. While Malatras had apologized for the comments, the ongoing controversy ultimately proved too difficult for the longtime political insider to overcome. 
A SUNY spokesperson did not respond to a request for comment by publication time about who would be acting chancellor next month or what the process would be for finding a permanent replacement, but members of the SUNY Board of Trustees were scheduled to meet midday Thursday. "This is a time for a new beginning," Bradley Hershenson, a voting ex-officio member of the board and president of the SUNY Student Assembly, said in an interview. "We're excited for the opportunity to work with the Legislature, to work with the board on a search process and be involved in that process."
A national search for a new chancellor – a process notably skipped when the Board of Trustees decided to hire the longtime Cuomo ally last year – was hardly on the SUNY agenda for 2022 – at least until recent events intervened. Transcripts released by the state attorney general's office last week showed that Malatras had used profane language in text messages he sent to Cuomo staffers in 2019 after Boylan tweeted about her "toxic and demoralizing" tenure as a gubernatorial economic development aide. "Malatras to Boylan: Go f__ yourself," Malatras, who was president of SUNY Empire State College at the time, said in one message. In another one, he floats the idea of releasing past work "cray" (sic) emails that would undermine her credibility. 
Additional reporting in recent days details how Malatras would use similar language with colleagues while leading Empire State College and the Rockefeller Institute of Government. "You have a f---ing bad attitude on everything, lady," Malatras told one employee of the institute in a 2017 recording obtained by the Times Union. "You drive people crazy!" This comes after a March expose by ProPublica highlighted the role that Malatras had in allegedly helping Cuomo cover up data showing the number of nursing residents who died of COVID-19 in nursing homes. 
While Cuomo would eventually resign from office in August, Malatras – who was director of state operations when he left the administration in 2017 – remained in place. SUNY Board of Trustees Chair Merryl Tisch, a prominent donor to Democratic elected officials, remained a key ally until the end and even called legislators in recent days to urge them against joining the growing calls for his resignation. Gov. Kathy Hochul signalled that she had no interest in using her own influence over the university to get Malatras fired. "I'm going to make an overhaul of the SUNY system part of my State of State," she told reporters this week. "Continuity at this point is important." Yet, the governor was singing a different tune by Wednesday night when she called Tisch to say Malatras needed to go, according to the New York Post. 
During an unrelated press conference, Hochul confirmed that she had called Tisch Wednesday evening to discuss "the future of the SUNY system, and how we can ensure we have the focus that we need, the undistracted attention on making this the world-class university system it should be." The governor did not say whether she told Tisch that Malatras should resign. She still did not offer her own personal opinion of Malatras or his decision, but said that she is "inclined to work behind the scenes" rather than to "stand out and make proclamations and statements."
Students, faculty and others were still pushing even as Hochul declined to take a position. More than two dozen state lawmakers had signed onto a letter released Wednesday expressing their opposition to Malatras remaining on the job. While his bosses had said nothing new publicly about making him quit, the embattled chancellor evidently decided by early Thursday that things might be easier in the end if he resigned sooner rather than later given the likelihood that the controversy would continue to drag on for some time. "Recent events surrounding me over the past week have become a distraction," he said in a statement released Thursday morning. "I believe deeply in an individual's ability to evolve, change, and grow, but I also believe deeply in SUNY and would never want to be an impediment to its success."