This Week's Headline
Omicron in New York and new AG transcripts released
Rounding up the week's political news.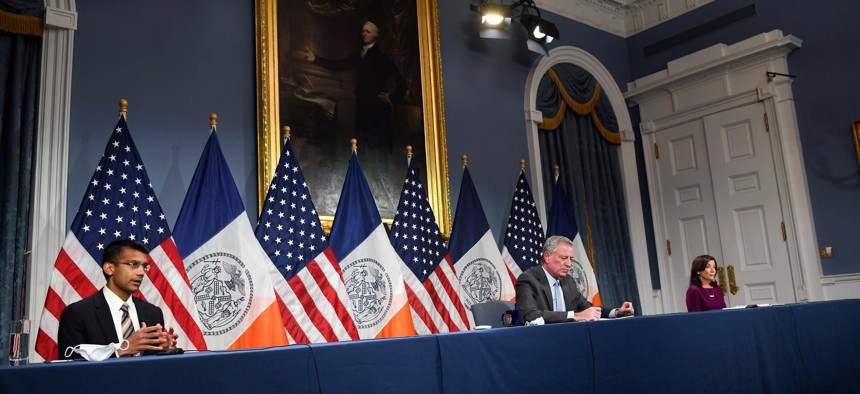 Thanksgiving is over, the trees are lit and it's officially Christmas time in New York City! It may seem odd, but 2022 is only a month away – try not to think about that fact too hard so as to enjoy the festive spirit. The second Christmas in a pandemic, the city is certainly more bustling and busy this time even as new COVID-19 cases begin to increase again. And despite being the end of the year, usually a time to unwind and enjoy time with friends and family, the news just won't stop. Keep reading for the latest jam-packed week of news.
Omicron comes to New York
About a week after health officials in the United States detected the first case of the omicron variant of the coronavirus in the country, Gov. Kathy Hochul and New York City Mayor Bill de Blasio announced that New York had found five cases in the state. Four are in the city, while the fifth is on Long Island in Suffolk County. The news came just hours after a Minnesota man who had recently visited New York City for a well-attended convention tested positive for the variant, prompting concern. Both Hochul and de Blasio urged New Yorkers to remain calm, insisting the news is no need to panic as all five cases are mild and that both the city and state are prepared to deal with the new variant. They declined to institute new mask mandates even as the overall number of COVID-19 cases rises across the state, but continued to emphasize the importance of getting the vaccine and booster and wearing masks. The news also came on the same day that new state Health Commissioner Dr. Mary Bassett made her first public appearance on her second day on the job. She offered full-throated support of Hochul's strategy around the pandemic so far.
More AG transcripts released
State Attorney General Letitia James's office released another trove of transcripts and documents, as well as video interviews, from her office's investigation into allegations of sexual harassment made against former Gov. Andrew Cuomo. She made thousands more pages public, offering further insight into the investigation and, through new documents from his inner circle of advisers, Cuomo's response to the allegations. Notably, this latest release included investigators' interview with the former governor's brother Chris Cuomo, a prominent anchor at CNN. That and new evidence detailing the extent to which he was involved in his brother's response to the scandal prompted CNN to suspend him indefinitely from the network where he had been hosting a weekday primetime show.
More moves in the race for governor
Rep. Tom Suozzi, a moderate from Long Island, officially jumped into the gubernatorial race, after months of speculation that he would. He pitched himself as a "common-sense Democrat" with significant experience as an executive and a lawmaker willing to work with anyone in order to get things done. A moderate, he'll likely draw from the same pool of suburban voters as the incumbent Hochul, potentially creating a clearer path forward for progressives like James or New York City Public Advocate Jumaane Williams. Suozzi also defended Cuomo's response to the pandemic while criticizing Hochul's greater deference to local officials. Meanwhile, more endorsements rolled in for other candidates. James received the support of Westchester County Executive George Latimer, a significant force in a key suburban county. Hochul also got Westchester endorsements from other county power players including Yonkers Mayor Mike Spano. In New York City, Williams received the backing from the 504 Democratic Club, a citywide club focused on disability rights, while laying out his first major policy positions on disability and accessibility issues. 
Powered By
NEXT STORY: Who's on Eric Adams' Transition Committee?