Campaigns & Elections
Which Democrats are running for lieutenant governor?
The list of candidates will likely expand as the fields solidify in other statewide races.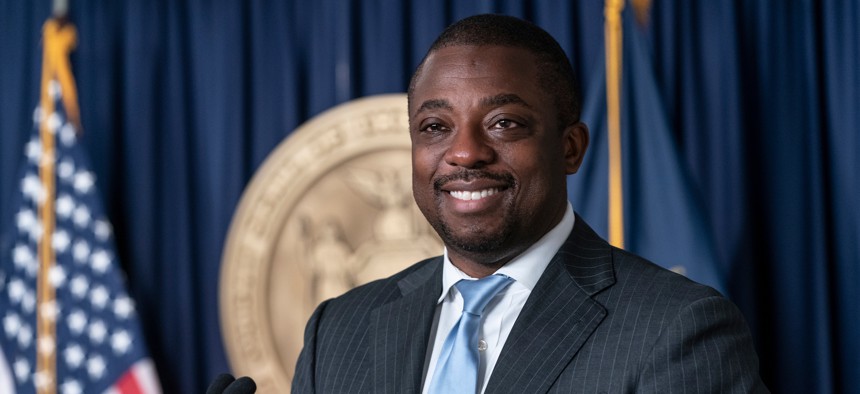 State Attorney General Letitia James' exit from the 2022 gubernatorial field has shaken up other statewide races, including the Democratic Primary for lieutenant governor.
Lt. Gov. Brian Benjamin is currently running unopposed for a full term in office as lieutenant governor next year but other prominent Democrats have toyed with the idea of jumping into the race, though some might be less inclined to do so now that James is unavailable as a running mate. 
The No. 2 post in state government offers little formal power beyond serving as the official president of the state Senate. However, past lieutenant governors like now-Gov. Kathy Hochul and former Gov. Mario Cuomo have moved on to bigger things. That makes the position a tempting proposition for any politician looking to make a change. 
Republicans face a big voter registration disadvantage in New York and have not won a statewide election in nearly two decades. That suggests whoever wins the 2022 Democratic primary for lieutenant governor will also prevail in the general election next November. 
Here are the people who appear to be in the mix for the 2022 Democratic primary for lieutenant governor. 
Running
Lt. Gov. Brian Benjamin
The former state senator rose to statewide office following a lackluster performance in the 2021 Democratic primary for New York City comptroller. His travels as Hochul's partner in power are helping him expand his network of political supporters upstate. State campaign filings show he is currently the only candidate in the race. Sounds like we got an early front-runner despite ongoing questions about his relationship to an indicted donor.
Possibly Running
Westchester Executive George Latimer
The "Lawn Ranger" has helped keep the northern New York City suburbs blue despite Republican gains in other areas of the state. His recent endorsement of State Attorney General Letitia James in the governor's race might have helped him become lieutenant governor if only she had stayed in the race. 
State Sen. Alessandra Biaggi 
She was among the first people threatening a primary against ex-Gov. Andrew Cuomo. The two-term state senator from the Bronx, whose family name offers her some extra name recognition, has not said much in recent months to suggest she would run for governor at this point. There are examples, however, of her toying with the idea of campaigning for lieutenant governor, though her future plans remain unclear for sure.  
Assembly Member Ron Kim
Hochul almost lost reelection a few years back to a challenger who envisioned making the lieutenant governor post a state-level equivalent of New York City public advocate. That is the type of approach that Kim might take if he jumps in the race for lieutenant governor. The Queens lawmaker has a much higher profile now, following his various tangles with Cuomo over nursing homes, so he might have a better chance at success at the statewide level next year than he did during his unsuccessful 2019 bid for public advocate . 
Not running
Suffolk County Executive Steve Bellone
After reportedly flirting with an LG run alongside James, the three-term county leader has clarified that he won't be running for that job, or governor, or any statewide office this year. Looks like he'll get to continue being the "last of the New York centrists" at least through the end of next year – especially given the 2021 shellacking experienced by other Democrats on Long Island.