News & Politics
A timeline of Andrew Cuomo's comeback attempt
The former governor is still trying to be politically relevant after resigning amid multiple scandals last year.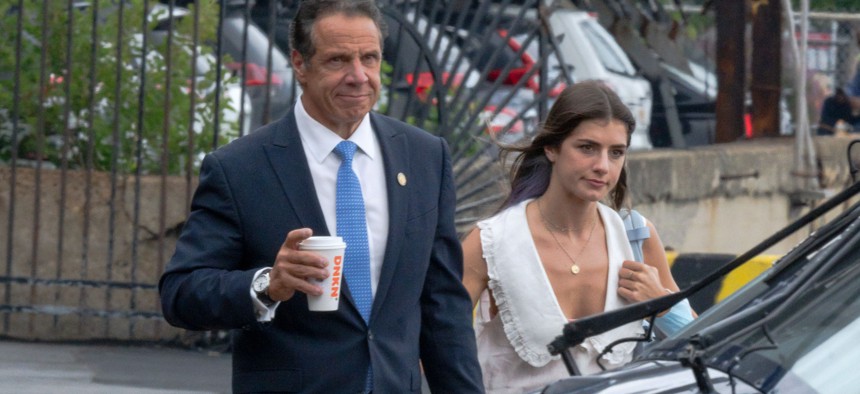 Ex-Gov. Andrew Cuomo never planned on going anywhere despite resigning in disgrace amid a cloud of scandal. He made that much clear even before he officially stepped down on Aug. 24. "I'm not disappearing," he told New York magazine at the time. He has since continued his efforts to rehabilitate his public image while downplaying the circumstances that nearly made him the first governor in a century to be impeached and removed from office.  
The former governor has largely avoided signs of contrition while assailing a litany of women who have accused him of sexual misconduct. He has also claimed to be the victim of a conspiracy by unscrupulous investigators who sought to overthrow the results of a democratic election. Sounds like another Queens boy we know ... 
An early March appearance at a Brooklyn church demonstrates that Cuomo is getting ready to take his self-serving version of history directly to New Yorkers after months of speculations about his political future. A video released by Cuomo touting his accomplishments in office March 14 is one more example.
Yes, Cuomo has admitted to questionable behavior while gaslighting the public about the legal standard of sexual harassment that he helped codify. Yes, it sure looks like his administration did a lot to hide the true COVID-19 death toll in nursing homes. Yes, his brother Chris lost his job at CNN following Cuomo's fierce efforts to remain in office despite calls for his impeachment. No, Cuomo does not think he needs to wait a few years like other disgraced politicians to begin a quest for public redemption. 
Here are some of the key dates in Cuomo's monthslong attempt at a political comeback as of April 8, 2022.
August 2021
Aug. 10 – Cuomo announces that he will resign from office, effective Aug. 24.
Aug. 13 – An interview with New York magazine quotes Cuomo saying he will not "disappear" following his impending loss of power.
Aug. 24 – Gov. Kathy Hochul officially succeeds Cuomo.
September 2021
Sept. 21 – Attorney Rita Glavin attacks state Attorney General Letitia James and women accusing Cuomo of sexual misconduct in a preview of subsequent months. 
Sept. 28 – Captain the dog appears publicly with Cuomo from an undisclosed location months after Cuomo reportedly tried to abandon him while vacating the Executive Mansion. 
October 2021
Oct. 26 – A Times Union columnist notes the emergence of a Cuomo "Big Lie" about being denied due process despite the fact that he willingly resigned. 
November 2021
Nov. 4 – Substack journalist Michael Tracey outlines the purported questions of credibility concerning some of the women accusing Cuomo of sexual misconduct. 
Nov. 12 – The New York Post reports Cuomo is considering a run for his old post of state attorney general. 
Nov. 22 – The Assembly releases its impeachment investigation report concluding Cuomo harassed multiple women, was "not fully transparent" with nursing home data, and used public resources for personal profit.
December 2021
Dec. 23 – Nassau County prosecutors decline to prosecute Cuomo for a 2019 incident involving an unnamed state trooper. 
January 2022
Jan. 4 – Albany County prosecutors drop forcible touching charges against Cuomo related to an alleged incident with a former staffer at the Executive Mansion in Albany.  
Jan. 7 – Cuomo shows his face at a virtual court hearing.
Jan. 18 – State campaign finance filings show Cuomo allies profiting from his ongoing efforts. 
Jan. 20 – Glavin tells WAMC that Cuomo is "not going to let this go, because he can't."
Jan. 27 – Cuomo opines in a written statement on the legacy of "fairness" represented by Dr. Martin Luther King, Jr. 
Jan. 31 – The last of a handful of local criminal investigations of Cuomo is dropped after the Oswego County District Attorney declines to prosecute him over an allegation of unwanted touching in 2017. 
February 2022
Feb. 2 – New York City Mayor Eric Adams joins Cuomo for a private dinner in Midtown Manhattan. 
Feb. 6 – The Wall Street Journal cites "political operatives" who say Cuomo is considering a run for attorney general. 
Feb. 7 – Cuomo declines to rule out a run for public office while claiming he has been "vindicated" after prosecutors declined to charge him criminally. 
Feb. 9 – State Attorney General Letitia James gets endorsed for reelection by the powerful 1199 and 32BJ unions as talk continues about a possible primary challenge by Cuomo.
Feb. 22 – A Siena College poll shows registered voters believe state Attorney General Letitia James' account of alleged sexual misconduct over Cuomo by a nearly 3-to-1 margin. 
Feb. 22 – Glavin announces intent to file a misconduct complaint about James with a state Supreme Court attorney grievance committee.
March 2022
March 3 – Former New Jersey Gov. Chris Christie joins Cuomo for lunch in Midtown Manhattan.
March 6 – Cuomo assails cancel culture at a Brooklyn church in his first public speech since resigning.
March 7 – An idea for a second Cuomo appearance from the pulpit arises following an invitation from the controversial former City Council Member Rev. Ruben Diaz Sr. 
March 10 – Emerson Poll finds Hochul leading Cuomo by four points in a prospective Democratic primary. 
March 14 – A new video touts Cuomo accomplishments in office while obscuring the "mistakes" that led to his fall from power.
March 17 – Cuomo speaks at the New York Hispanic Clergy Organization in the South Bronx.
March 28 – A Siena College poll shows Hochul leading Cuomo by eight points in a hypothetical match up in the Democratic primary for governor. 
April 2022
April 5 – Cuomo dines with Adams in Midtown Manhattan again. 
April 7 – Politico New York reports Cuomo was not among the five confirmed candidates for the June Democratic primary for governor, but he theoretically has until April 11 if signatures were sent by mail.