News & Politics
A new LG and abortion rights in jeopardy
Rounding up the week's political news.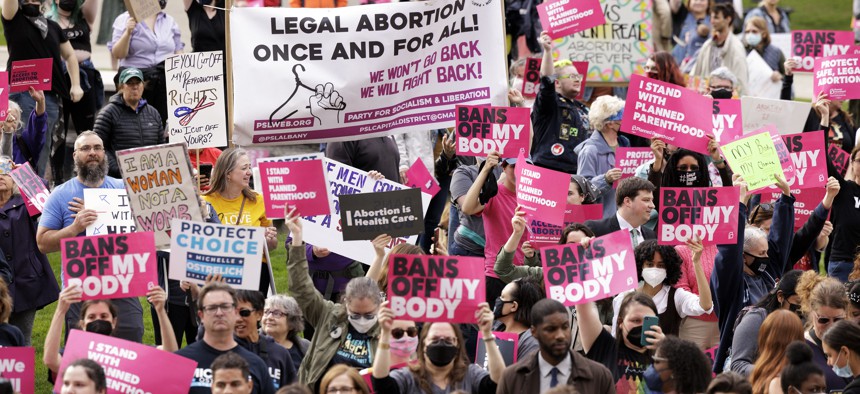 News moves fast in Albany. Blink and you'll miss something major. One week, the state Senate refuses to take up a bill to get the recently resigned former lieutenant governor off the primary ballot. The next, New York has its third LG in less than a year and a new candidate in the race for that position. But it's not just Albany news that moves fast – it's been a nonstop week for redistricting to abortion rights. Keep reading to get caught up on it all.
Adams gets a taste of NYC hate
Five months into his tenure, New York City Mayor Eric Adams has begun to disappoint New Yorkers, an inevitability for most mayors that the city loves to hate. A new Quinnipiac University poll found that Adams' rating on how he handles crime plummeted since February, dropping from 49% to 37%, ultimately leaving him with a negative approval rating there. His ratings across the board dropped to varying degrees, from his handling of the coronavirus pandemic to his grasp on homelessness. On the latter, Adams also received a negative rating, with only 31% of New Yorkers feeling he has done well addressing homelessness. The poll came out shortly before new statistics on sweeps of homeless encampments ordered by the mayor showed that fewer than 40 people had actually accepted an offer of shelter in the six weeks since the sweeps began.
New York gets (another) new LG
New Yorkers welcomed their third lieutenant governor in less than a year as Gov. Kathy Hochul announced that Rep. Antonio Delgado would serve out the rest of former Lt. Gov. Brian Benjamin's term. Benjamin left the position vacant when he resigned amid an indictment on federal corruption charges. Delgado also replaced Benjamin on the June primary ballot, something made possible thanks to a bill the state Legislature passed. Introduced at the behest of the governor, the bill changed election law to permit a candidate to withdraw from the ballot if they get indicted, as Benjamin had, reopening a very narrow window of opportunity to remove someone from the ballot. It faced fierce opposition even among Democrats, who didn't like the idea of changing the rules in the middle of an election cycle just to help Hochul get a new running mate, only narrowly passing the state Senate. Delgado's impending appointment will necessitate his resignation from Congress, leading to a special election. Already, a few Democrats have expressed interest in the seat, including Ulster County Executive Pat Ryan and state Sen. Michelle Hinchey. 
Abortion rights activists take to the streets
After a U.S. Supreme Court draft opinion overturning the landmark Roe v. Wade decision ensuring a person's right to get an abortion, people turned out in support of abortion rights. Though only a draft opinion, it revealed that a majority of the court is prepared to eliminate a 50-year-old right and set a new judicial precedent with regards to reproductive rights, as well as the broader right to privacy. Hundreds gathered in Manhattan's Foley Square, joined by prominent officials like state Attorney General Letitia James, who shared that she had an abortion and said it was a decision she felt no shame about. In Albany, state lawmakers rallied with the governor, Planned Parenthood and activists in support of abortion rights. 
Redistricting still unsettled
Democrats made a last ditch effort to keep congressional lines they drew, despite a state judge deeming the lines unconstitutionally gerrymandered. But it got off to a poor start when a federal judge denied their request for a temporary restraining order to keep the primaries on June 28 with their lines. Meanwhile, a state judge held a hearing that offered those who submitted redrawn maps to make their case and presented the public with its first look at the court-appointed specialist who will ultimately decide what the districts will look like.
Rent hikes coming to affordable units
After years of either small increases or complete freezes, the Rent Guidelines Board voted to allow up to a 6% rent hike for stabilized apartments. While landlord groups lobbied for the greater increase, arguing that years of largely flat rents did cover rising real estate costs, renters fearful that their rent will become financially unfeasible strongly protested against it. Renters and housing advocates said that steep rental increases for the over 2 million stabilized tenants could accelerate displacement and worsen the city's homelessness crisis.