News & Politics
Adams flares up on bail, asylum seekers arrive from Texas, monkeypox declared state emergency
Rounding up the week's political news.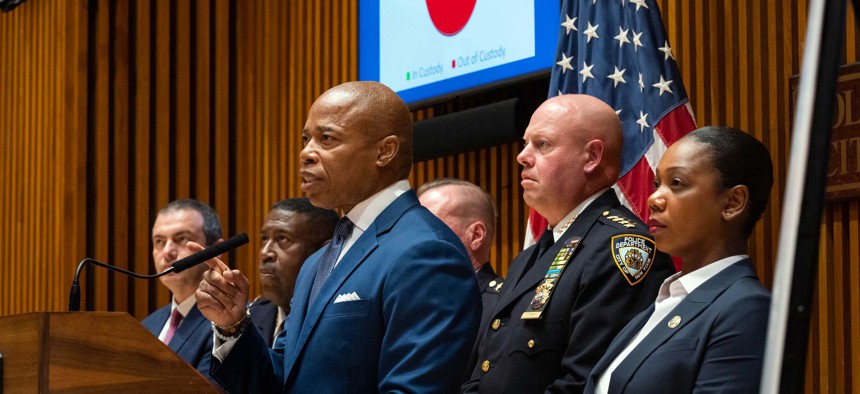 A loose big cat was captured after wandering the streets of Islip, Long Island, this week. After they identified it as a Eurasian lynx, caretakers at an animal sanctuary named him Leonardo de Catprio. Though Leo appears large now, he's actually expected to get significantly bigger – not unlike New York's budget. Read on for less exotic news.
Adams won't back down on bail
New York City Mayor Eric Adams wants Albany lawmakers to further roll back bail reform, and he's not backing down even as he gets the cold shoulder from fellow Democrats. After state officials made it clear they would not hold a special session to address his concerns, Adams turned to the data in an attempt to change some minds. He presented statistics meant to bolster his claim that the 2019 bail law has contributed to increased crime in the city. But Adams got pushback on those claims for lacking context. Assembly Speaker Carl Heastie weighed in, effectively calling Adams out for saying he sent Heastie the data that illustrated his concerns when Heastie's office did not receive the data. Gov. Kathy Hochul also threw cold water on the mayor's argument, saying that the recent changes to the bail law gave judges much more discretion in setting bail and that many simply were not utilizing it.
NYC school budget tossed by judge
School funding in New York City took a significant step closer to being restored when a Manhattan Supreme Court judge sided with parents on Friday in a lawsuit challenging the school budget. Partly due to decreased enrollment, the New York City Council initially passed a school budget that was reduced by about $215 million from the previous fiscal year. Parents and teachers successfully sued, arguing that the City Council didn't have the authority to do so without approval from the Panel for Educational Policy. Adams' administration said it would appeal the ruling.
Elections heating up 
With the August primaries drawing nearer and the November general election just around the corner, elections for Congress and governor are beginning to take shape. At the statewide level, Siena College released the first poll for the governor's race, unsurprisingly showing Hochul with a comfortable lead over her Republican opponent, Rep. Lee Zeldin. Polling shows that abortion rights remain popular among the vast majority of voters in the state, which may contribute to Zeldin's less than stellar performance with women in this first poll. At the primary level, candidates for the 12th Congressional District faced off in their first debate, with Reps. Carolyn Maloney and Jerry Nadler, as well as attorney Suraj Patel, taking the stage. Both sitting lawmakers had some gaffs, with Nadler accidentally saying he led the impeachment of "Bush" rather than Donald Trump, while Maloney said she didn't believe that President Joe Biden would run for reelection when asked if she would support him. That required not one, but two follow ups in the days following the debate to do damage control and ensure that she would support Biden if he ran again.
Migrants arrive in NYC after being bused from Texas
The number of people seeking refuge in New York City homeless shelters continued to rise, and the political standoff between Adams and Republican Texas Gov. Greg Abbott has escalated. After Adams announced that he believed the cause of the increase was migrants being sent from border states, the Texas governor had denied sending people anywhere but to Washington, D.C., and invited the New York City mayor to visit the southern border. When he was rebuffed, Abbott sent some 50 migrants by bus from Texas to New York City. "His continued use of human beings as political pawns is disgusting, and an embarrassing stain on the state of Texas," Adams' spokesperson told the New York Post.
Monkeypox is officially an emergency
Officials with New York City, the state and the federal government all declared states of emergency on the rapidly spreading monkeypox virus last week. On July 29, Hochul signed an executive order designating the virus as a state disaster emergency, saying that doing so will allow more health care professionals to administer vaccines. On Aug. 1, Adams followed that up with a state of emergency declaration in New York City, partly in an attempt to get the federal government to fast-track the approval of vaccines. President Joe Biden's administration didn't immediately do that, but it declared monkeypox a national health emergency on Aug. 4, opening up more funding and resources to fight the virus, which causes painful lesions on the skin and spreads through close, usually sexual, contact. New York was once again the center of an outbreak: It had about 1,750 of the country's 7,100 cases as of Aug. 4, according to the Centers for Disease Control and Prevention.