This Week's Headline
Gun laws take effect and flood protections lag on Ida anniversary
Rounding up the week's political news.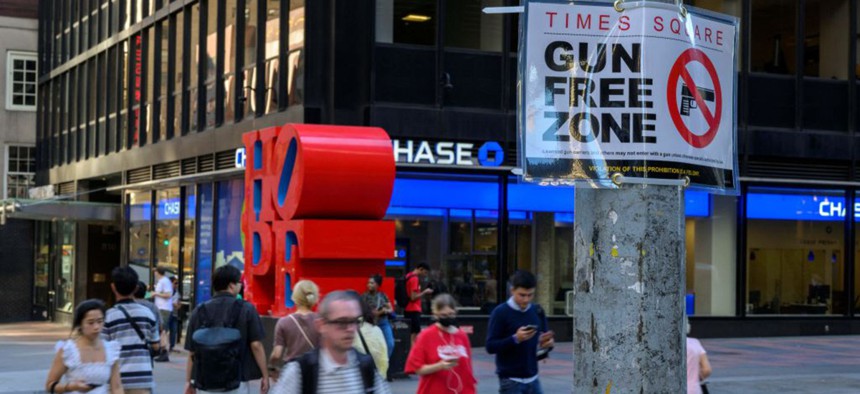 A New York senator wants to set the record straight: He's never had any intention of depriving dairy lovers of whipped cream. 
State Sen. Joseph Addabbo Jr. felt it necessary to make this clear after a slew of stores began asking customers to present their IDs when purchasing whipped-cream canisters, barring all under the age of 21 from taking the coveted ice cream topping home. Why? Because a new state law intended to prevent the harmful inhalation of nitrous oxide among teenagers was misinterpreted by some stores to be a sweeping ban on purchasing whipped-cream canisters for all under the age of 21. The law, which Addabbo sponsored while it made its way through the Legislature, actually prohibits the small gas chargers – whippets – from being sold to youth, not the whipped cream itself. Still, the miscommunication spread like wildfire after a string of stores posted signage to inform customers that they'd begin ID'ing for whipped cream. Let's hope Addabbo's clarification spreads ten times as fast – for the sake of whipped cream lovers and retailers alike. Read on for more of the biggest headlines from last week. 
New York gun laws snap into place
A new state law bans the carrying of guns in sensitive areas like government buildings, playgrounds, libraries, parks – and Times Square. Attention on this new measure, however, has brought the actual boundaries of Times Square into dispute. The city's map that illustrates the boundaries where the strict limit on guns will take effect consists of about three dozen blocks – areas that some New Yorkers haven't considered actually part of Times Square. The City Council recently met to discuss new legislation to officially define the area's parameters. This is just one aspect of the state's new Concealed Carry Improvement Act, which New York leaders passed in response to the Supreme Court's June ruling that New York's existing permit requirements were unconstitutional. The act also requires people who want to carry concealed weapons to complete 16 hours of training and provide character references and in the weeks before this took effect, the number of people applying for concealed-carry permits has soared to unprecedented levels. 
One year since Ida, what's changed? 
It's officially been a year since the remnants of Hurricane Ida swept across the New York metro areas, flooding streets, basement apartments and other low-lying areas and killing a total of 50 people in New York and New Jersey. New York City was hit especially hard as record rainfall sured into the streets, overwhelming the sewer system. Many people lost their homes and still bear deep financial and emotional wounds from the disaster. But while New York leaders took to the streets during the Thursday anniversary to commemorate the loss, not that much has really changed. Basement apartment tenants across the city still face many of the same dangers that they did last year after a bill that would have legalized and regulated basement apartments stalled in the Legislature last session. The threat of climate change continues to loom. Still, at least a little progress has been made on other fronts. New York City Mayor Eric Adams announced that the city has taken steps to build more resilient, green infrastructure like curbside rain gardens to absorb stormwater if – and when – it comes.
No hope for Rikers
Days after Public Advocate Jumanne Williams, City Comptroller Brad Lander and Council Member Carlina Rivera visited Rikers Island and announced conditions had slightly improved at the troubled jail complex, another incarcerated person died. Michael Nieves was the 13th person to die this year and the third suspected of taking his own life after being held on Rikers Island – a staggering toll that has continued to grow even as the city has done its best to implement reforms in hopes of staying off a federal court takeover. Three corrections department employees were suspended in wake of his death after reports surfaced that they failed to act for at least 10 minutes after Nieves slit his throat with a razor. Also on the incarceration front, two-thirds of the New York City Council have attached their names as co-sponsors of legislation that would ban solitary confinement in New York City jails. 
The 10th District congressional race continues?
The high-profile race for New York City's 10th Congressional District may not be over just yet. In the days since Democratic nominee Dan Goldman won with 26% of the vote, many progressive New Yorkers have lamented what could have been. Assembly Member Yuh-Line Niou – who came in a close second – is reportedly considering a rematch in the general election as the progressive Working Families Party candidate. Given how deep the district's Democratic support runs, this could be done without opening a path to a Republican victory, still, Niou's path forward would be an uphill one.