News & Politics
New York State Police deployed to Puerto Rico to help with Hurricane Fiona recovery
Gov. Kathy Hochul said Monday 100 troopers were on their way to the island to assist with cleanup efforts.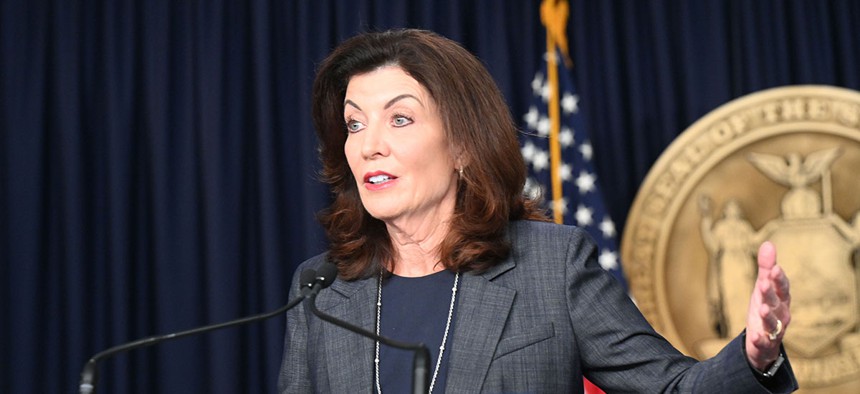 The New York State Police has deployed 100 troopers to Puerto Rico to help with the response to Hurricane Fiona, Gov. Kathy Hochul announced Monday. 
The aid comes after Gov. Pedro Pierluisi made the request to Hochul in a phone call on Sunday evening for Spanish-speaking law enforcement officers. The troopers will help with traffic-related cleanup efforts, including the removal of debris and barriers in roadways, Hochul said. New Jersey State Police are also working to send officers to the island, according to Hochul.
The island has been battered by winds of up to 100 mph and some areas have seen as much as 30 inches of rain over the past 24 hours. More than 1 million people were without power as of Monday afternoon, as the storm made landfall in the Dominican Republic. Some regions, particularly in southern Puerto Rico, are at risk of landslides and mudslides, and a significant portion of critical infrastructure has been destroyed, including roads and bridges in rural mountain areas. 
New York will also send drones to the Dominican Republic, per the request of President Luis Abinader, to help survey the damage, Hochul said. 
"But most importantly, here's the message: We will be there for the long-term recovery. We know from the Maria experience this is not fixed in a day or a week or a month. It takes a sustained, concerted approach and we have experience with our own hurricanes now . . . so we are more experienced in hurricanes than we ever thought we would be," Hochul said, referring to the state's commitment to Puerto Rico.
New York has a long history of assisting Puerto Rico in times of need. After Hurricane Maria in 2017, the New York Power Authority helped rebuild the island's power grid and modernize it to protect it from future storms. The authority, along with Con Edison and a number of national laboratories, formed a task force to study ways to revamp the system, including by using more renewable energy sources and microgrids.
"This time we are hoping the road that was paved to this point will lend itself to a better response, a less long-term impact, but we don't know that. We don't know just yet how resilient all those measures are and whether they're going to be operationalized in a way that's very good," Hochul said Monday, referring to Puerto Rico's electric system.
New York City Mayor Eric Adams on Sunday also expressed his willingness to lend support to Puerto Rico, tweeting "We call Puerto Rico our sixth borough, and tonight we are keeping our fellow Americans in Puerto Rico in our hearts and prayers. We stand ready to provide support and aid in the days ahead."