News & Politics
NYC struggles to accommodate asylum-seeker influx and Joe Biden comes to Poughkeepsie
Rounding up the week's political news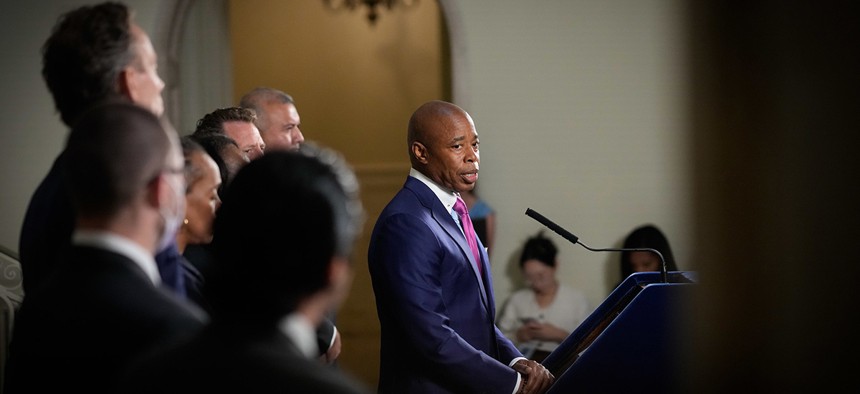 It's that time of year again for the big campaign bucks to start pouring in – and pouring out. New campaign finance disclosures began trickling out from candidates on Friday ahead of the November election. For Gov. Kathy Hochul, that means a look at just how much more eye-popping her fundraising numbers – which have already left political observers with empty eye sockets – can get. With her latest haul, the gov has now brought in over $46 million since August 2021 when she took office. Large sums from donors with business before the state certainly didn't hurt. But Rep. Lee Zeldin's not worried. He has billionaire Ronald Lauder funneling cash into super PACs that his campaign is totally not coordinating with. But that's just Friday, so much more happened during the rest of the week.
Migrant tent shelter relocated
Even as New York City officials continue to receive criticism for their plan to house asylum-seekers in tents, Mayor Eric Adams announced that the location of those tent shelters will move from Orchard Beach in the Bronx to Randall's Island between northern Manhattan, Queens and the Bronx. The move came amid concerns over flooding at Orchard Beach. Although Adams initially said he would not move the tent city after the parking lot in question did flood with several inches of rainwater, he quickly changed course. But the new site on Randall's Island still has the risk of flooding even as the Adams administration cited its lower risk compared to Orchard Beach. Not long after that, the mayor announced a state of emergency over the migrant crisis as the city continued to struggle to house the nearly 20,000 asylum-seekers who had recently come to New York. He called on both state and federal lawmakers to provide additional assistance, like passing legislation that would permit the migrants to find work immediately rather than wait the six months currently required.
New York City redistricting moves ahead
The once-in-a-decade redistricting process in New York City is finally moving forward after recent controversy over draft plans. Just a few weeks ago, the commission tasked with coming up with and approving new City Council district lines before they get sent to the mayor and lawmakers voted to reject the proposed map. The commission finally approved a new set of district lines, the third version of the proposal since July. The vote means that the City Council now has the opportunity to either approve or reject the proposed lines themselves before Adams receives the map for the final say. Despite the surprise rejection several weeks ago, the new map the commission has passed along only contains minor tweaks compared to the previous version. 
Family of Daniel Prude reach settlement with Rochester
Two years following the death of Daniel Prude at the hands of Rochester police, his family has reached a $12 million settlement with the city. Although the city of Rochester does not accept any liability for Prude's death, the settlement closes the books on the police killing that rocked the upstate city when evidence of a police cover-up emerged. In 2020, police responded to calls about Prude, who was suffering from a mental health crisis at the time. They pinned him to the ground and covered his head with a hood. A medical examiner ruled his death a homicide with the cause of death complications from asphyxiation. Police initially suggested a drug overdose led to Prude's death, and it took five months for details surrounding the deadly police encounter to emerge.
Major upstate jobs initiatives announced
President Joe Biden made a trip to the Hudson Valley to announce a $20 billion investment from IBM into its manufacturing plants in Poughkeepsie and surrounding areas. Once a major manufacturing hub, years of disinvestment have left Hudson Valley communities economically struggling. IBM's new commitment promises to bring many of those lost jobs back to the region. Earlier that week, U.S. Senate Majority Leader Chuck Schumer also announced a $100 billion Micron Technology microchip factory just outside of Syracuse, another significant new source of manufacturing jobs, this time in central New York, to spur economic development in parts of the state that have suffered from loss of such jobs in recent decades. The two announcements represent the latest upstate economic development initiative in a long line of them, often with major companies making promises that did not always pan out, or that ended in scandal as with the now infamous Buffalo Billion.