Politics
How partisan politics have changed the atmosphere of the New York City Council
Council members, once known for their reputation for getting along, have shown more partisanship and rancor over the past year.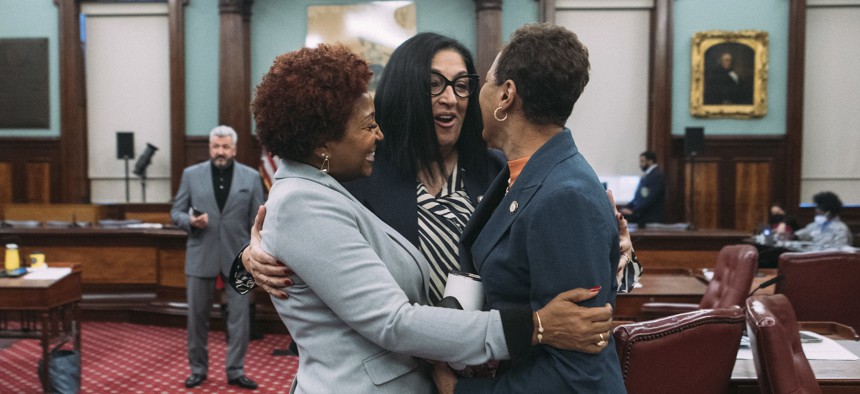 Two days after defecting to the Republican Party in December, New York City Council Member Ari Kagan gave a short speech on the floor in the chamber, explaining his reasons, like how he "became sick and tired of these soft on crime and tough on police policies." Sitting next to him was Council Member Althea Stevens, whose facial expressions were caught on camera – first stifling laughter, then as eyes widened in shock, and disdain, at each new piece of his statement. 
A party switch like Kagan's is rare, historically. But this one comes amid a new atmosphere in the City Council, of growing partisanship and open rancor among members. The City Council, like a minor league version of the U.S. Senate, has traditionally prided itself on a spirit of comity – no doubt benefited by the Democrats' overwhelming numerical dominance in the body. But now the conservative contingent is growing and may even grow more following this year's elections. There's a sense that the council isn't quite a one-party legislature anymore. Along with that, some conservatives are carrying culture war battles into the council and meeting there a growing socialist contingent that doesn't hesitate to push back. And partisanship seems to have only escalated over the past year.
In fact, when 2022 began, the Women's Caucus was bipartisan. The City Council was majority-women for the first time in history, and all 31 of them were members of the caucus. But the three Republican women who started the year as members asked the chair to be removed from the caucus on July 14. That was the same day the Women's Caucus was credited with helping pass an abortion rights legislative package responding to the U.S. Supreme Court's ruling overturning Roe v. Wade. 
The Republican women didn't make a big deal of it – they didn't release a statement, and in fact, their collective resignation has apparently gone unreported until now. But spokespeople for Council Members Joann Ariola and Vickie Paladino separately told City & State that the women felt that the caucus' Democratic leadership was releasing pro-abortion statements without consulting all the members first. 
Don't be surprised this is taking place in a majority-women, female-led legislature – research shows women who serve as elected officials are just as partisan as men. And in fact, it seems to be the women leading the way, when it comes to open criticism of colleagues. Ariola appeared on Fox News in October in a segment slamming Council Member Tiffany Cabán. Ariola called her Democratic colleague a "chaos inciter" and didn't push back when host Jesse Watters called Cabán "dumb" and "gang affiliated." Cabán told The New York Times she received violent online threats after the interview aired.
Paladino, too, more than anyone, has fanned flames by picking up criticism of Drag Queen story hours, much of it based in anti-LGBTQ hate, and running with it, calling it "child grooming." She also showed her opposition to COVID-19 vaccine mandates by refusing to show proof of vaccination to enter the council chamber for the first few meetings of the year. She attended virtually, before she was granted a waiver. Months later, she claimed she was a victim, telling a story that colleagues threw things at the screen when she appeared remotely at a meeting. The Daily News found no proof that ever happened.
Paladino denied she's leading the charge, saying "that's a sad thing," and that members just need to get to know her personally, and they'll be surprised. "I'll do whatever I can to make this city go tick-tock," she said. "But we've got to meet in the middle. So that means compromise has got to come from the left. As well as compromise – I think the right bends a lot, because we're such a minority."
Council Member Chi Ossé, a progressive gay Democrat, was the target of online hate from Paladino's followers in June. She didn't discourage it, and doubled down, saying she'd been targeted too, by being called a "nazi" for her opposition to drag queen story hour. Her Twitter account later criticized him as "private school kid who's never had a job." He fired back, calling her "a vile bigot." Asked this month about Paladino saying people need to get to know her better, Ossé didn't seem interested. "She's a lunatic," he told City & State.
To start, blame politics after Trump
Many insiders point to the national political atmosphere, after the presidency of Donald Trump, when explaining the shift. "I think we've always prided ourselves on having a more collaborative spirit than other places," said Council Member Keith Powers, the majority leader. Sure enough, Ariola, a member of the minority party, chairs a committee. Council Member Joe Borelli, the minority leader, sits on the budget negotiating team. And Republican votes are sought after in the speaker race. None of this happens in Albany, or in Washington. "But I think the tone all across the country now is very electrified," Powers continued. "And I think it's not a surprise that would take place a bit here on the City Council as well."
With a four-year election cycle and the power of incumbency, it may have taken longer for the council to reflect larger political trends, like Trumpism and the rise of the Democratic Socialists of America. Now it's here, and, there's a sense of change, from the former centrist Republicans to a new guard. As one lobbyist who asked for anonymity told City & State, "Jimmy Oddo is a different Republican than Vickie Paladino." Oddo, who served in the council through 2013, now works in Democratic Mayor Eric Adams' administration.
Others cite different reasons for the growing partisanship. More social media-savvy members, playing to Twitter. COVID-19 limiting opportunities for the members to get to know each other at the beginning of the term. Or to political consultant Ryan Adams, the factionalism is a result of people trying to find their place amid turnover in the governor and mayor's offices. "People are going to trust their friends and the organizations that came out for them in the face of a power vacuum," he said. "Socialists aren't only going to back socialist electeds and causes, but they are definitely going to go to bat for their friends in the face of attacks."
While far-right members like Paladino have been elected, so have a handful of democratic socialists, meaning the ideological diversity of the council as a whole is arguably wider now than it has been at any time in modern history. There's a revitalized Progressive Caucus, eager to push against the moderate Mayor Adams. And the Republicans have even more power than their numbers suggest. The Common Sense Caucus is now eight members strong, including nominal Democratic Council Members Bob Holden and Kalman Yeger, who most often align with Republicans. 
A little partisanship may not be so bad
This growing sense of partisanship isn't inherently a problem. A little more political debate could even be a good thing for the body, where public debate is rare, and bills are only brought to the floor if they're guaranteed to pass (with one random recent exception). 
The speaker, however, seems to disagree. Adrienne Adams has shared a draft of rule changes with the members, as Politico first reported. Among them is a rule that would raise the threshold of votes needed to move a bill over the speaker's objections, in some rare cases, from seven to nine. Members of both the Common Sense Caucus, and some of the most progressive members, saw that as a move to limit their influence. Another change would prohibit members from calling each other out on the floor, to discourage personal attacks. 
Adams downplayed the proposed rules and suggested that the partisanship is just a reflection of the wider world. "Certainly we have differences, that's to be expected," she said at a December press conference. "But as far as particularly partisan, this council looks like the country looks, in a lot of different ways. There are ways that the country comes together, and there are ways that the country has their differences."
But no observers actually want the council to reach the levels of rancor found in, for example, the U.S. House of Representatives. And Borelli says he has tried to avoid that. Since city government is more focused on service delivery, you can't be quite as partisan and ideological as you could be in Washington, the Republican leader told City & State. "There's no shouting at clouds and punting in municipal government." 
Still, there's no question the council's character has changed. "You have a more empowered conservative bloc and a more empowered progressive bloc. The only outcome is essentially, more partisan fracture," he said. 
But cross-party relationships aren't gone yet from the council – especially when it comes to Borelli, who has worked hard to be friendly, even if his support for Trump or Republican gubernatorial candidate Lee Zeldin was shocking to most of his colleagues. While City & State was interviewing the Republican leader on the floor of the council chamber, Democratic Council Member Diana Ayala walked up to Borelli. "You going around trying to snatch our member in the middle of the night? Trying to grow the GOP?" It was all in good fun, followed with a hug and a kiss on the cheek.