Politics
New York Republicans target Bragg ahead of potential Trump indictment
When news dropped that the Manhattan district attorney's office could bring criminal charges against the former president, New York Republicans took aim at a familiar opponent.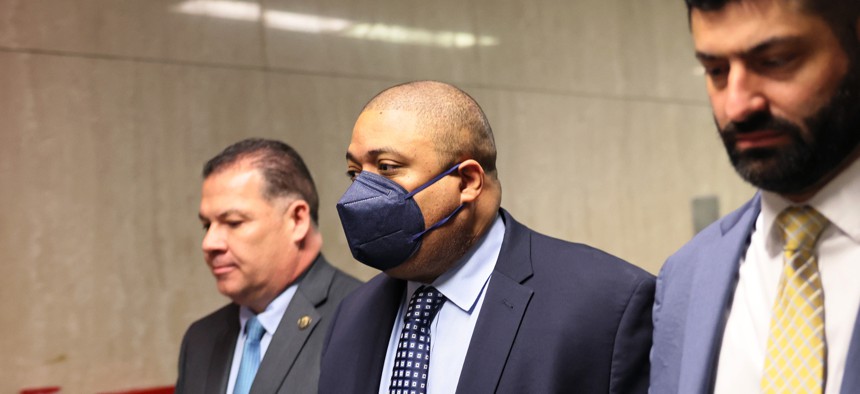 New York Republicans have never been fans of Alvin Bragg. In fact, the Manhattan district attorney – who ran as a criminal justice reformer and became the first Black attorney elected to the post – is a frequent target for the GOP lawmakers and leaders who decry New York City as slipping into its crime-ridden past and argue the fault for a spike in major crimes lies in part with "soft on crime" district attorneys. 
But news that Bragg's office could bring criminal charges against former President Donald Trump in relation to hush money paid to adult film performer Stormy Daniels prior to the 2016 election has given New York Republicans fresh ammo to condemn their least favorite New York City Democrat. 
Bragg entered office last January with a controversial memo that told prosecutors to only seek jail or prison time for the most serious crimes. The move was met with swift political backlash, and the office eventually revised some of those guidelines. But many Republicans continue to denounce the office as soft on crime.
Those going after Bragg included Trump's fiercest supporters, like Rep. Elise Stefanik, who in a Monday interview with C-SPAN called the Manhattan official "the most radical" district attorney New York could have. Stefanik also confirmed that she had spoken with Trump earlier on Monday morning. "We talked a lot about how what I've heard from his supporters across my district and the country is (that) he's never been in a stronger position in terms of rallying that support," Stefanik said, adding that she and Trump also discussed the efforts of some Republican committee chairs to probe the DA's investigation. 
The Manhattan District Attorney's office has responded to a letter from three Republican congressional committee chairs that calls on Bragg to testify before Congress on what they called "a politically motivated prosecutorial decision." "We will not be intimidated by attempts to undermine the justice process, nor will we let baseless accusations deter us from fairly applying the law," a spokesperson for Bragg said in a statement on Monday. The spokesperson also responded to other criticisms of the office's work on crime, pointing to a decline in shootings and homicides in Manhattan under Bragg. On Wednesday, the district attorney's office – and Democratic Manhattan Borough President Mark Levine – also pointed to additional statistics showing declines in other crimes in Manhattan; as of March 19 this year, rape was down 37.3%, robbery was down 6.1%, and burglary was down 19.1% over the previous year.
Like Stefanik, New York City Council Minority Leader Joe Borelli suggested that a potential indictment could galvanize Trump's supporters. "I'm not sure how Bragg can have his staff beg for funding at the council the same week he's spending countless dollars on a political target," Borelli wrote in a text to City & State, referencing a City Council budget hearing on public safety that took place on Monday. "There better be a there there, because if not, (Bragg) has handed Trump the White House."
But Ed Cox, the reelected state GOP chair who recently said the state party won't endorse Trump (or his opponents) in the 2024 Republican presidential primary, also had harsh words for Bragg. (After all, even Florida Gov. Ron DeSantis criticized Bragg for going after DeSantis' own would-be presidential primary rival.) "This is a blatant political scheme by Alvin Bragg to play to his liberal Manhattan base by smearing, tearing down and demeaning former President Trump," Cox said in a statement.
"Regardless of how you feel about President Trump, it's hard to see this prosecution as anything other than being politically motivated," New York Assembly Minority Leader Will Barclay added in an emailed statement. "We're talking about a former President and candidate for the White House. If the Manhattan District Attorney is going to pursue a case like this, it needs to rise to a level of significance that doesn't seem to be present here."
Those condemning a potential indictment of Trump also included Republican Reps. Nicole Malliotakis and Nick Langworthy. Some Republican members of New York's congressional delegation had yet to comment publicly on the possible charges as of Tuesday afternoon, including Reps. Nick LaLota, Brandon Williams, Michael Lawler, Anthony D'Esposito, Andrew Garbarino and Marc Molinaro. "A charge has not been brought yet and Congressman Molinaro is not speculating about what could be in it," a spokesperson for Molinaro wrote in an email.
Here's what else New York Republicans are saying about the potential indictment of President Donald Trump. 
Fierce Trump supporter and House Republican Conference Chair Elise Stefanik was quick to defend the former president and characterize the potential indictment as a political attack. "Being from New York, I think Alvin Bragg in particular is the most radical (district attorney) you can ultimately get to," Stefanik said in an interview with C-SPAN on Monday. 
"Alvin Bragg is virtually the absolute worst district attorney in America," Langworthy said in a Monday interview with right-wing outlet Newsmax. "He won't keep Manhattanites safe, he won't prosecute violent criminals. But now he wants to create a banana republic and make a mockery of the judicial system with this ridiculous charge of former President Trump."
"The American people don't give a damn about this situation," Langworthy added. 
"Rogue DA Alvin Bragg has let serial criminal offenders with lengthy rap sheets go FREE causing NYC's streets to rage with soaring crime but is targeting a former President for political reasons. Politicizing and weaponizing our justice system is both dangerous & disgraceful," the Staten Island Congress member tweeted on Saturday.
"Alvin Bragg may very well be the most dangerous, divisive, incompetent, and compromised District Attorney in America. On Day ONE, my FIRST action as Governor would have been to tell Bragg he was being fired," Zeldin, who lost last year's election to Gov. Kathy Hochul, tweeted on Saturday.
"This is, again, looking for a crime and a reason to get Trump," upstate Republican Rep. Claudia Tenney told Newsmax on Tuesday.
New York City Council Member Joe Borelli
"I'm not sure how Bragg can have his staff beg for funding at the council the same week he's spending countless dollars on a political target. There better be a there there, because if not, he has handed Trump the White House," Borelli wrote in a text to City & State. 
New York City Council Member Ari Kagan
"Instead of protecting public safety in NYC by charging criminals with robberies, assaults, hate crimes & rapes, @ManhattanDA wants to become famous by political prosecution of @realDonaldTrump. This is dangerous, divisive, incompetent & shameful ABUSE OF POWER!" Kagan, a former Democrat who registered as a Republican late last year following council redistricting, tweeted on Sunday.
New York City Council Member Inna Vernikov
Whether you love, hate, or are indifferent to @realDonaldTrump, an impending arrest & prosecution by @ManhattanDA should anger YOU if you love our CONSTITUTION. @ManhattanDA's WEAPONIZING our criminal justice system for political gain, to score political points w/ YOUR tax $. Instead of focusing on criminals who are stealing, assaulting & murdering people, he's focused on the former US Pres. who's also a candidate for President. This isn't China or USSR! Instead of doing his job, @ManhattanDA's further dividing our country & making us pay for it!" the southern Brooklyn Republican wrote on Twitter.
"Alvin Bragg has already abdicated his basic responsibilities by releasing criminals back onto the streets to wreak havoc on New York's citizens and minority communities in particular," Cox wrote in a statement. "He has brought further disgrace to his office with this political game."
Former New York City Republican mayoral candidate Curtis Sliwa is circulating a (symbolic) petition to remove Bragg from office.