Politics
Trump indicted in Manhattan
A Manhattan grand jury voted to indict the former president for charges related to a hush money payment to a porn star.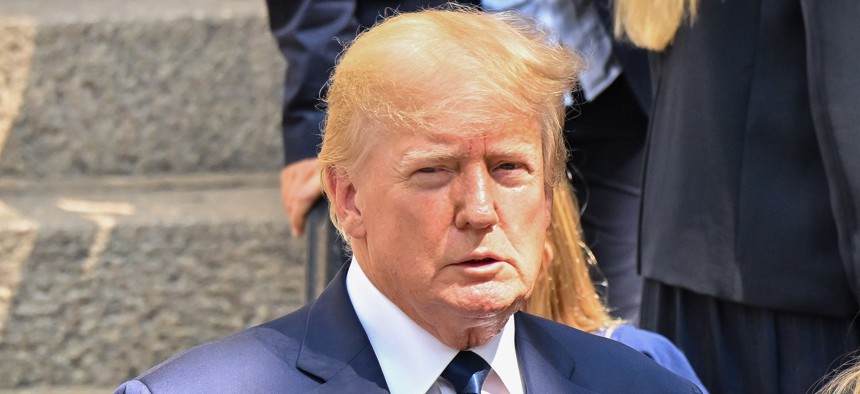 It wasn't his incitement of an attack on the U.S. Capitol, or activity related to either of his two impeachments, for that matter. It wasn't the shady financial dealings of the Trump Organization or his holding onto classified documents after he left office. 
In the end, it's his alleged involvement in hush money paid to porn star Stormy Daniels that could land former President Donald Trump in handcuffs.
A Manhattan grand jury voted to indict former President Donald Trump in connection to hush money payments made to adult film actress Stormy Daniels in 2016, The New York Times reported on Thursday. A Manhattan grand jury has reportedly been hearing testimony on the case since January. The charges were not public as of Thursday afternoon. A lawyer for Trump confirmed that criminal charges against the former president were filed.
Trump called the indictment a "political persecution" in a rambling statement first reported by the Times' Maggie Haberman on Thursday afternoon. "The Democrats have lied, cheated and stolen in their obsession with trying to 'Get Trump,' but now they've done the unthinkable – indicting a completely innocent person in an act of blatant election interference," Trump said, adding, "I believe this witch hunt will backfire massively on Joe Biden."
The move brings weeks of speculation about a looming indictment to a close and sets off what will likely be an unprecedented turn of events as Trump seeks reelection to the White House. 
Manhattan District Attorney Alvin Bragg's investigation into Trump's potential involvement in hush money payments was first started under former Manhattan District Attorney Cyrus Vance. Bragg, who ran as a criminal justice reformer in 2021, earlier abandoned a separate probe into the Trump Organization.
A lawyer for Trump told NBC News that the former president is expected to surrender in New York early next week. In a statement, a spokesperson for Bragg's office said that an arraignment date would be officially disclosed later. "This evening we contacted Mr. Trump's attorney to coordinate his surrender to the Manhattan D.A.'s Office for arraignment on a Supreme Court indictment, which remains under seal," the statement read.
In typical Trump fashion, the former president took control of the narrative early, announcing that he was expecting to be arrested earlier this month. His fundraising numbers spiked as Republicans in the House and Senate got behind him with attacks on Bragg. Outside the New York County Supreme Court in Manhattan, media vans lined up and small protests intermittently broke out over the past two weeks, occasionally becoming heated.
The development marks a historic first indictment of a sitting or former U.S. president. While Trump stirred up his base with predictions earlier this month that he would be arrested on a specific date – Tuesday, March 21 – that date came and went. Several media outlets reported this week that the grand jury was set to break for a month, setting back expectations of a potential indictment.
Over the past two weeks, New York elected officials have said that they are prepared for protests that might arise following Trump being criminally charged – protests that Trump himself has explicitly called for. "We are always ready. The NYPD does an amazing job of just really dealing with any type of incident that takes place in the city and there's a lot of speculation," New York City Mayor Eric Adams said in an interview on Pix 11 on Sunday, when asked about the potential for protests if Trump is indicted. "We're just going to be ready no matter what happens."
New York Republicans started to react swiftly on Thursday evening, with many on the right echoing Trump's argument that the investigation and indictment amounts to political persecution, and focusing their criticism on Bragg. "If Alvin Bragg's newly secured indictment of President Trump looks like a political prosecution, sounds like a political prosecution, and reeks like a political prosecution, then that's exactly what this is and precisely how most of America will view it," Zeldin, who while running for governor last year promised to fire Bragg if elected, tweeted.
Democrats slowly started to react to the news too. "Just like every other criminal defendant, Donald Trump has long-standing constitutional rights to a trial by jury, to confront his accusers and to legal counsel," Democratic Rep. Dan Goldman, who served as lead counsel to Democrats during Trump's first impeachment before his election to Congress last year, said in a statement. "If he believes that the legal basis for his indictment is unfounded, he can make that argument to a judge, who decides the law."
Yusef Salaam, a member of the Exonerated 5 and a candidate for New York City Council, also released a brief statement following the breaking news on Thursday. Trump infamously called for the death penalty for five young Black and Latino men, including Salaam, who were wrongly convicted of a rape in Central Park in 1989.
Salaam's one-word statement: "Karma."
This is a developing story.
Powered By
NEXT STORY: The state of state budget talks: 'the middle of the middle'