Politics
Democratic Queens DA candidate courting far right Republicans
George Grasso is challenging Melinda Katz from the right – and said Democratic political clubs won't have him.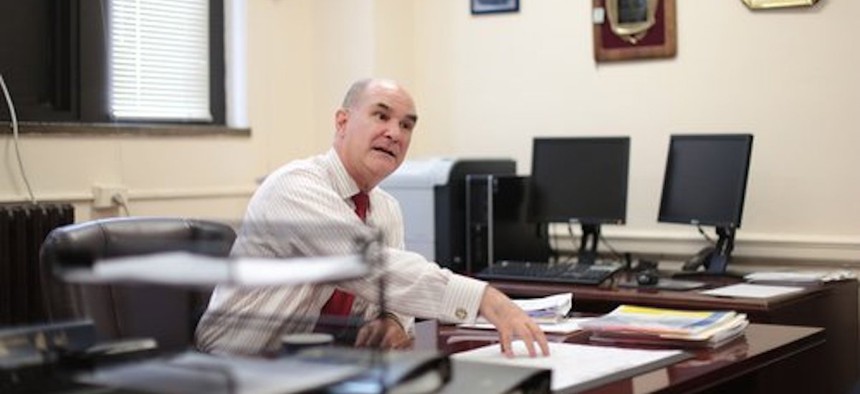 Retired Judge George Grasso has an interesting strategy as he runs in the Democratic primary against Queens District Attorney Melinda Katz: attending Republican club meetings. 
Grasso was a featured guest at the March 2 meeting of the Queens Village Republican Club. That's a club that has embraced the "MAGA" side of the modern Republican Party – inviting members to a D.C. rally "to show our support to the J6 patriots jailed unjustly;" sending members to the New York Young Republican gala keynoted by Rep. Marjorie Taylor Green and Donald Trump Jr., and even specifically posting praise for club president Gavin Wax's speech calling for "Total War;" and honoring New York Post reporter Miranda Devine at a recent gala for her reporting on Hunter Biden's laptop.
Grasso also spoke to the Central Queens Republican Club on Jan. 20. That club has also defended Donald Trump and criticized the House of Representatives Committee investigating the Jan. 6 riot at the U.S. Capitol.
And one of Grasso's biggest campaign donors, giving $10,000, is Michael Ricatto, a Republican who hung a huge banner outside his Kew Gardens home calling President Joe Biden's election the "death of democracy" and "the beginning of socialism." Ricatto's backing was first reported by the Queens Eagle. 
Grasso, a former police officer, is welcoming the support from anyone. "If he wants to be a Trump supporter, but he wants public safety? I'm running for public safety for everybody. Not just Democrats, not just people who voted for Joe Biden," Grasso said. Don't be mistaken about Grasso's own position. "I will tell you this quite emphatically and unequivocally: I am not a Trump supporter!" he said. "I don't even think of him as a Republican… I see him as an authoritarian."
But that hasn't stopped Grasso from playing to Republican clubs that are intensely loyal to the now-indicted former president. He said he reached out to "every Democrat club in Queens" even before he went to any Republican club, introducing himself and asking to speak. He didn't get any bites, and one club even told him not to bother – they had already endorsed Katz. 
"So for any Democrat, especially a Democrat who's involved with the party organization, to criticize me for going to one of those clubs?" he said. "I'm going to describe that in two words: rank hypocrisy. Invite me to your club! I'll come tomorrow." 
That underscores Grasso's uphill battle in the Democratic primary, scheduled for June 27. Grasso appears to be Katz's only opponent based on Board of Elections filings. And Katz is running with the full power of incumbency. She got early endorsements from most of the power players in the borough including 1199 SEIU, the Hotel Trades Council, Queens Democratic Party leader Rep. Greg Meeks and Queens Borough President Donovan Richards, and her campaign reported more than $1.2 million on hand in January (including, it should be noted, billionaire Trump defender John Catsimatidis and his wife Margo, who have a history of playing nice with local Democrats). 
But Grasso's campaign can't be entirely written off. He reported more than $230,000 on hand in January, and was endorsed by former NYPD Commissioner Bill Bratton, who is still an influential voice on policing. The political environment also seems to be shifting in Grasso's favor, as someone running to the right of Katz. Even as a Supreme Court judge – many of whom are hesitant to share political opinions – Grasso was an outspoken critic of bail reforms meant to keep fewer people locked up pretrial. 
Katz has also called for adjustments to the laws, and counseled Gov. Kathy Hochul on the adjustments that were made in 2022. But Grasso said Katz hasn't pushed hard enough, and should be tougher on people accused of low-level crimes. That could be a compelling argument to voters in 2023, as more conservative candidates have seen growing success across the city and suburbs amid rising crime rates. That may help explain why no progressive has emerged to challenge Katz from the left – even as Democratic Socialist and abolitionist public defender Tiffany Cabán lost to Katz by just 60 votes in 2019. 
Grasso said he's a lifelong Democrat, but he's also planning to petition to get on a third party line for November. Would he run as a Republican? He isn't petitioning for the line, but the 65-year-old who lives in Little Neck didn't rule out taking the party line if it was offered. He hasn't had "any serious conversations with Queens Republicans" as far as getting the line, and said he has "no idea what the Republicans may or may not do." A Queens GOP spokesperson told City & State that Michael Mossa, an attorney from Howard Beach, is the endorsed candidate for both the county Republican and Conservative parties. But Grasso has a big head start – Mossa hasn't filed a campaign committee as of March 31 and his interest in the job hasn't yet been reported. So Grasso will work with Queens Republicans, but he does draw the line somewhere. "George Grasso is the opposite of George Santos," he said, "everything I tell you is verifiable."
Powered By
NEXT STORY: NY bills specifically targeted at Donald Trump