Homelessness
Eric Adams touts homelessness progress as veto battle brews with the City Council
The mayor said his action to expand rental assistance has helped hundreds of families. Meanwhile, the City Council prepares for a veto override to expand assistance further.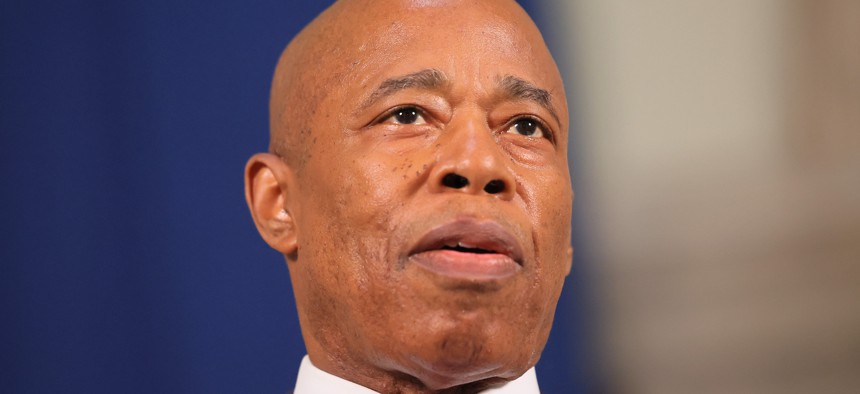 New York City Mayor Eric Adams touted what he described as historic progress moving homeless New Yorkers into permanent housing Tuesday – even as an ongoing battle with the City Council over housing voucher eligibility went largely unmentioned.
Nearly a month after nixing a longstanding rule that required people to stay in the shelter system at least 90 days before they could become eligible for other city housing assistance, Adams said over 500 previously ineligible households are now able to receive rental assistance vouchers and are working with the Department of Social Services to get matched with permanent housing. He also pointed to broader successes like a 17% increase in shelter exits to permanent housing during fiscal year 2023. Those gains were made as the shelter population doubled in size with the arrival of tens of thousands of asylum-seekers. 
Of course there was an elephant in the room during the mayor and DSS Commissioner Molly Wasow Park's announcement – one that went unmentioned until reporters pressed the mayor on it. The New York City Council had passed a package of legislation that went further than the mayor's emergency rule change on housing relief. The Council voted to permanently eliminate the 90-day rule and expand eligibility for rental vouchers several weeks before Adams issued his emergency order. While both actions do away with the 90-day rule, the City Council's approach also significantly expanded access to cityFHEPs (which stands for city fighting homelessness and eviction prevention supplement) vouchers, allowing anyone under a certain income level who is at risk of homelessness or eviction to qualify. Adams vetoed the council's package on June 23, arguing that the bills would come at great cost to taxpayers and further complicate New Yorkers' ability to find affordable housing. The City Council, having passed each of the bills with enough votes to override a mayoral veto, is gearing up for a vote to try and override the veto on Thursday. 
When questioned about that potential override vote, Adams said he's had several conversations with the council where he's tried to show them why their package "was problematic," but he can't speculate on what they're going to do other than that his administration will take action after. He again claimed that the council's package would create a situation where people living in shelters were having to compete with those behind on rent for the already "limited supply of housing."
"I cannot overemphasize that we have people with cityFHEPs vouchers right now that are looking for places to live. The worst thing we can do is add more to that population," Adams said. "Our call is to continue to put people in housing."
In a statement released after Adams' announcement, a spokesperson for the City Council said that while members are glad that the council and advocates' efforts spurred city leaders to take action, the scale of the crisis "demands more meaningful solutions."
"The council passed the most significant policy reforms to address homelessness within our city in years by improving access to CityFHEPS that can also proactively avoid evictions. The mayor's argument that using vouchers to prevent evictions creates more competition for current voucher holders makes no sense," City Council spokesperson Rendy Desamours said. "Every New Yorker kept in a current apartment subtracts from those entering the shelter system and searching for new apartments with vouchers. It is the mayor's approach of forcing more people into shelters in order to be eligible for vouchers that will create more competition in a limited housing supply."