Campaigns & Elections
New policy group spends big on D'Esposito attack ads
Formed in February, Empire State Voices has targeted several New York Republicans in swing districts – and it's not clear who's funding them.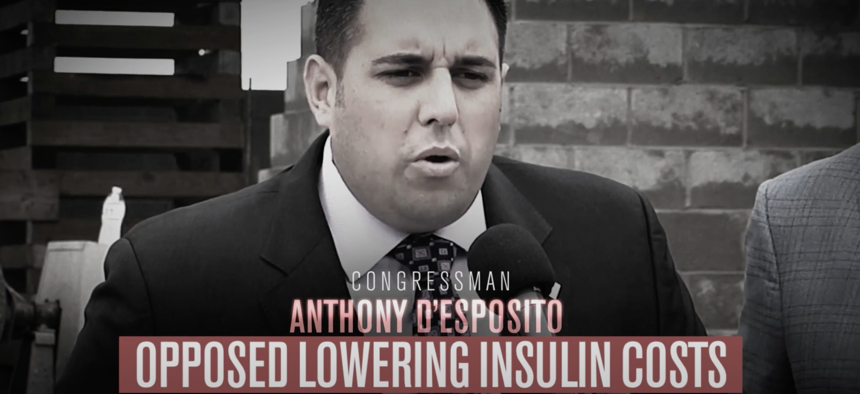 The 4th Congressional District is one of several battlegrounds that Democrats and Republicans alike will likely pour millions into in the fight to win back Congress. Democrats specifically have already said they intend to spend $45 million on six seats across the state. But a policy advocacy group is getting an early start with a seven-figure ad buy targeting Republican Rep. Anthony D'Esposito for opposing legislation that would lower prescription drug costs.
Empire State Voices, a nonprofit formed in February focused on affordable housing, health care costs and access to benefits, shared the first ad it plans to run in the Long Island market as part of year-long media effort targeting D'Esposito. It features a mother and daughter from the village of Uniondale, which is in the 4th District. The daughter, Alexis, describes the costs associated with her Type I diabetes, even with health insurance, while the mother Olivia denounced D'Esposito's position in Congress. "No one should have to choose between paying the bills and life-saving medicine," Olivia said in the ad. "Tell D'Esposito: 'Stop voting to raise our costs.'"
D'Esposito has not taken any direct votes since taking office this year related to drug costs, but said on the campaign trail last year that he opposed the Inflation Reduction Act of 2022, which allowed Medicare to directly negotiate drug prices with pharmaceutical companies to lower prices both for recipients and across the board. On his campaign website, D'Esposito said that he would "ensure that federal health care policy… lowers the cost of prescription medications," although he has received criticism from Democrats for his silence over a lawsuit challenging the Medicare negotiation provision of the Inflation Reduction Act. 
Democrats have also criticized Republicans for their passage of the Limit, Save, Grow Act during debt ceiling negotiations, which D'Esposito voted for. The left has said the bill would increase costs related to housing, child care and food by decreasing the amount of grant money going to New York, while Republicans argued it would rein in spending.
Although it targets a Republican member that Democrats have already put a bullseye on, a representative of Empire State Voices' said the ad campaign is not directly related to the election, nor is it partisan. "We're not fighting for a party, we're fighting for New Yorkers," said Maria Martinez, executive director of Empire State Voices. Martinez previously worked on campaigns for former mayoral candidate Scott Stringer, Sen. Elizabeth Warren and former Rep. Sean Patrick Maloney, according to her LinkedIn account. The group said its purpose is to "educate people in New York on important economic issues and call on legislators to act on those issues." Though the group said it "does not engage in partisan electoral activity," the ad does not paint a favorable picture of D'Esposito ahead of what many expect will be a contentious election cycle next year.
Empire State Voices is a 501(c)4 nonprofit, meaning it does not have to disclose its donors. And since the ad campaign is considered issue advocacy rather than electoral advocacy, the group is not registered with the FEC either. Although it is not inherently a partisan organization, it has so far only targeted Republicans: D'Esposito, the Hudson Valley's Rep. Marc Molinaro and Syracuse's Rep. Brandon Williams.
D'Esposito already faces at least four Democrats vying to take him on next year.