Albany Agenda
Democratic socialists look to make inroads in the Bronx
The DSA plans to endorse challenges to incumbent Assembly Member Michael Benedetto in the East Bronx. They're also eyeing seats in Queens and Central Brooklyn.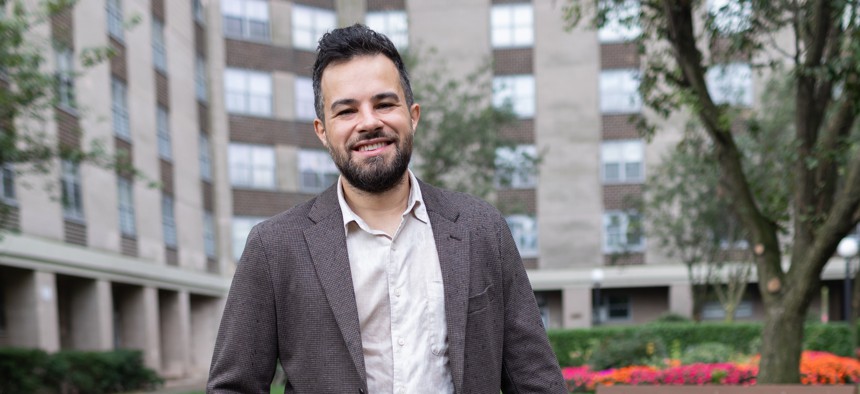 The New York City chapter of the Democratic Socialists of America is planning to endorse progressive challengers to incumbent Democratic Assembly Members Michael Benedetto in the East Bronx and Stefani Zinerman in central Brooklyn.
In Benedetto's district, the DSA is set to endorse Jonathan Soto, a DSA member and public school parent who previously ran against Benedetto with the backing of the Working Families Party (but not DSA) in 2022. In Zinerman's district, DSA is set to endorse Eon Huntley, a DSA member who plans to launch his campaign in early December. 
The endorsements are not yet official; NYC-DSA's Electoral Working Group voted to recommend the endorsements following a candidate forum on Nov. 9, but they still must be formally approved by votes of the organization's Bronx/Upper Manhattan and Central Brooklyn branches later this month and then ratified by the Citywide Leadership Committee in early December.
Benedetto, the chair of the Assembly's Education Committee, has represented Assembly District 82 since 2005. The district currently encompasses a swathe of northeastern Bronx neighborhoods, including Co-Op City, Throggs Neck and City Island. The district is majority-Latino, but its politics are complex. It's part of New York's 14th Congressional District, represented by progressive standard-bearer Rep. Alexandria Ocasio-Cortez. But the southern half of the district overlaps with New York City Council District 13 – which just ousted Democratic Council Member Marjorie Velázquez and elected Republican Kristy Marmorato to the City Council.
Soto has been looking to unseat Benedetto for years. He first told City & State of his plans to challenge Benedetto in 2019, though he did not actually end up running in the 2020 cycle. He did run in 2022, with endorsements from both the Working Families Party and Ocasio-Cortez, and received 36% of the vote to Benedetto's 56%.
If elected, he plans to join the "Socialists in Office" bloc in Albany, which currently includes five Assembly members and three state senators.
A major focus of his campaign is education and what he sees as the problems with Benedetto's support of mayoral control of the schools system.
"Benedetto, as the education chair, has really failed, in not only ensuring a great quality education, but has been complicit in defunding it through his support of mayoral control of schools," Soto told City & State.
In addition to protecting public education, Soto's priorities are housing (including support of Good Cause Eviction), labor protections and climate resiliency. 
Benedetto is not worried about Soto's latest challenge. He told City & State that while he welcomes competition – it's a democracy, after all! – he believes that his constituents will reject Soto's extreme views.
"I will rest on what I've done for my community," he said. "I think Soto is completely out of step with the beliefs of people in this community. He's a 'defund the police,' 'abolish the police' candidate who is at odds with the people in my community. It's a shame, but he certainly has the right to run."
Grace Mausser, who oversees NYC-DSA's candidate recruitment, told City & State that DSA believes Soto can win the district with a strong enough ground game. The key is to run up the score in Co-Op City, which contains more than half of the district's Democratic primary voters – including many who are fans of Ocasio-Cortez.
"I think the path to victory lies through Co-Op City," she said. "And that has really strong – the district as a whole, but especially Co-Op City – has really strong union ties. There's a lot of people there who believe in workers' rights, who care about education issues that Benedetto has been really terrible on as chair of the Education Committee. … It's a good place to capitalize further on his name recognition, to partner with AOC and to really excite Democrats in that district who are tired of an establishment guy who doesn't speak to what excites them."
Mausser also said that Soto could benefit from the racial dynamics in the race, since Latino voters may favor a Latino candidate like Soto. (Benedetto is Italian American.) "It's both strategic and a moral imperative for the district to have representation of itself that makes demographic sense for the district," she said. "You know, Benedetto is a white guy representing a majority-minority district, and we've seen that it doesn't really fly as much as it used to, and people are tired of it."
Besides Soto, the DSA has already announced an endorsement of Claire Valdez, who is challenging scandal-tarred Assembly Member Juan Ardila in the progressive stronghold of Western Queens. The organization also plans to endorse Huntley, a DSA member, when he formally launches his campaign next month to unseat Zinerman in Assembly District 56. 
Much of Zinerman's district overlaps with the Senate district currently represented by DSA-backed state Senator Jabari Brisport, though it's also located in the congressional district represented by House Minority Leader Hakeem Jeffries, who is no fan of DSA (or Brisport). DSA was already planning to campaign heavily in the district just to protect Brisport from being unseated, so they might as well campaign for an Assembly candidate while they're in the neighborhood. But betting against Jeffries could be a risky endeavor for DSA.
Powered By
NEXT STORY: Public defender Eli Northrup announces Assembly run