News & Politics
Why did Marjorie Velázquez blow it in the Bronx?
The City Council member's unexpected loss could come down to poor turnout, local opposition to affordable housing, a muddled campaign message – or all of the above.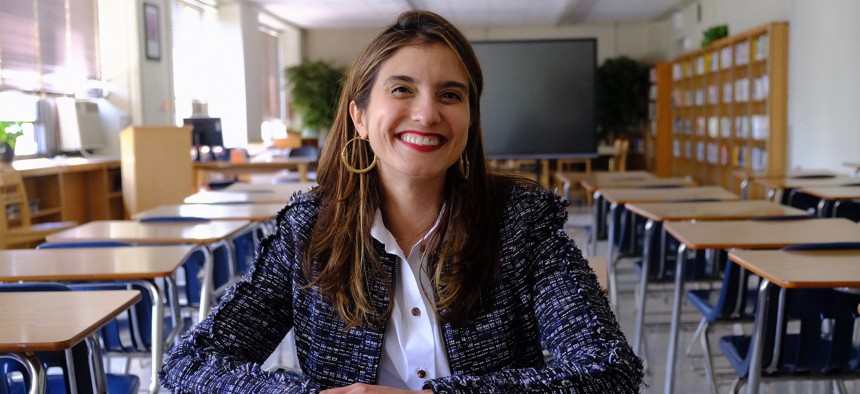 The biggest election night upset to shake the city came in the northeast Bronx where political newcomer Kristy Marmorato beat out incumbent New York City Council Member Marjorie Velázquez, ending a decades-long period in which no Republicans had been elected in the borough. 
Despite what Bronx Democratic district leader John Doyle called "structural advantages" in Velázquez's campaign – including strong support from major labor unions, a surge of fellow Democrat electeds going to the district to campaign, and a fundraising lead – the one-term Democrat fell to Marmorato, a X-ray technician and first-time candidate whose brother and husband are both high-ranking officials in the Bronx Republican Party. 
"She really had every structural advantage here. This isn't a turnout issue. This isn't a not getting your message out issue," Doyle, a City Island resident, said of Velázquez. "The fundamentals of any relationship, business, personal, politics, whatever – is trust. Kristy's team, I think, that was their message."
On Thursday afternoon, Velázquez formally conceded the race. "While this is not the outcome we wanted, I know that if we continue the hard work of organizing for values of inclusion, acceptance, and diversity – this community will ultimately reject fear in favor of hope. … I urge my successor to work for all of District 13 – especially those who've been underrepresented for generations," she said in a statement.
Concerning developments
Democrats who closely watched the race suggested that a controversial rezoning vote during Velázquez's first year in office may have alienated voters. Velázquez originally opposed the Bruckner rezoning – which would bring a partially affordable housing project to Throggs Neck – aligning with some local opposition to the project, including from Bronx Community Board 10. But under pressure from labor unions like the 32BJ SEIU and the NYC District Council of Carpenters, as well as from Mayor Eric Adams and City Council Speaker Adrienne Adams, Velázquez eventually came around to support the project. Marmorato, meanwhile, emphasized her opposition to the project throughout her campaign and said Velázquez's support of the development was a contributing factor to her decision to run in the first place. 
"They were ready for the change. They feel like there's no more local control in the community," Marmorato said during an interview with NY1 Wednesday. "They don't feel like they have a say in what's going on in their neighborhoods and they're just fed up with it."
After changing her position on the rezoning, Velázquez didn't do enough to persuade her constituents of why she took that vote, several people said. "Flip-flopping on the rezoning instead of articulating clear goals made it worse," said one Democratic strategist.
"When you're in campaign mode, it's very hard to do what's called the long-form education," added Democratic consultant Camille Rivera. "It's either you were for it, or you're not."
Some residents also worried that Velázquez would end up supporting a potential casino proposed at Ferry Point Park – a proposal that Marmorato said she rejected, calling for a more family-friendly boardwalk and restaurants instead.
"There's been massive protests in this district about all these different development projects and Kristy honed it down to local control," Doyle said. "When you have a mobilized constituency around an issue and one candidate is telling them what they want to hear and the other candidate isn't really saying much of anything, who are you going to vote for?"
Some Democrats also suggested that Velázquez focused too much on attacking her opponent and not enough on touting her own record and what she could bring to the district. (Democratic candidates who lost to Republicans on Long Island have faced similar criticism.)
Velázquez's campaign had pointed to endorsements Marmorato received from several prominent individuals with close ties to former President Donald Trump. A recent televised debate on BronxNet turned especially nasty as both women went at each other over their personal connections. When Velázquez said that she hadn't won her seat "because my brother is there, or because my husband wanted me to," Marmorato cut in, telling her to "knock if off" and adding that the Velázquez's husband, Jeff Lynch, had previously worked under former Mayor Bill de Blasio and Council Member Jimmy Vacca.
"It's 2023. If people are still just relying on this name-calling of MAGA, the one thing that they have against Republican candidates, I think that that's a weak argument to have," one Democratic City Council member said.
Lack of enthusiasm
Democratic political consultant Trip Yang said that Marmorato's success came down to margins and turnout. While the Republican's campaign turned out large numbers of supporters in homeowner-heavy areas like Country Club and Locust Point, the district's more Democratic-friendly neighborhoods didn't show the same level of enthusiasm for Velázquez, he said. 
Turnout during the off-year election was dismal across the board.  With 98% of scanners reporting in District 13, only about 700 votes separated Marmorato's lead from Velázquez's 5,863 votes. In an area where about 60% of voters are registered democrats, Velázquez lost with roughly 47% of the vote.
Maps produced by the Center for Urban Research at the City University of New York Graduate Center, based on unofficial election data, show that Marmorato and Velázquez won roughly the same number of election districts – 40 and 42, respectively – but almost all of the districts that Marmorato won saw much higher turnout. Marmorato did especially well in Morris Park, Throggs Neck, Pelham Bay and Schuylerville – all of which saw higher turnout than the neighborhoods like Allerton, Pelham Gardens, Pelham Parkway and Van Nest that made up Velázquez's base.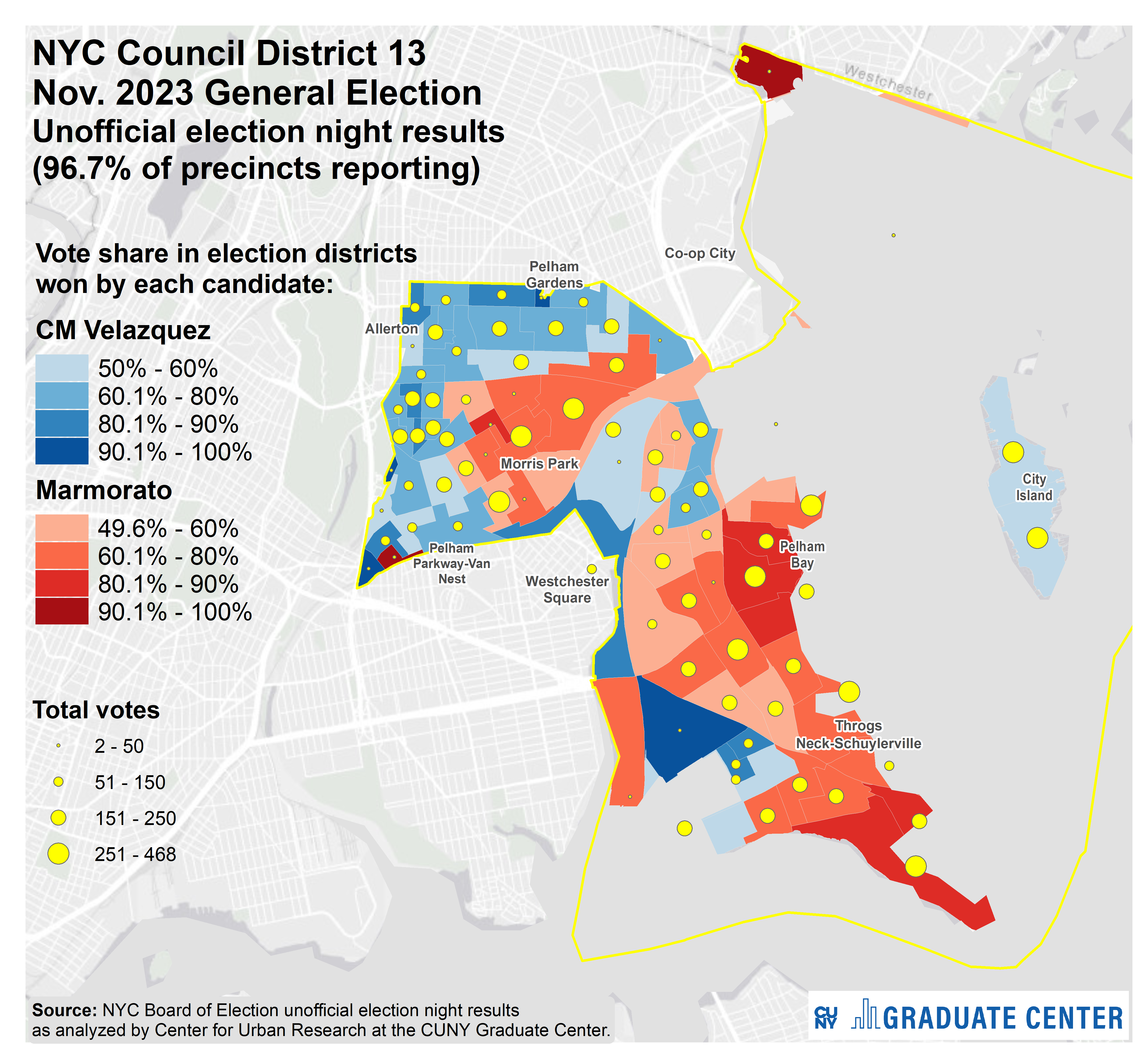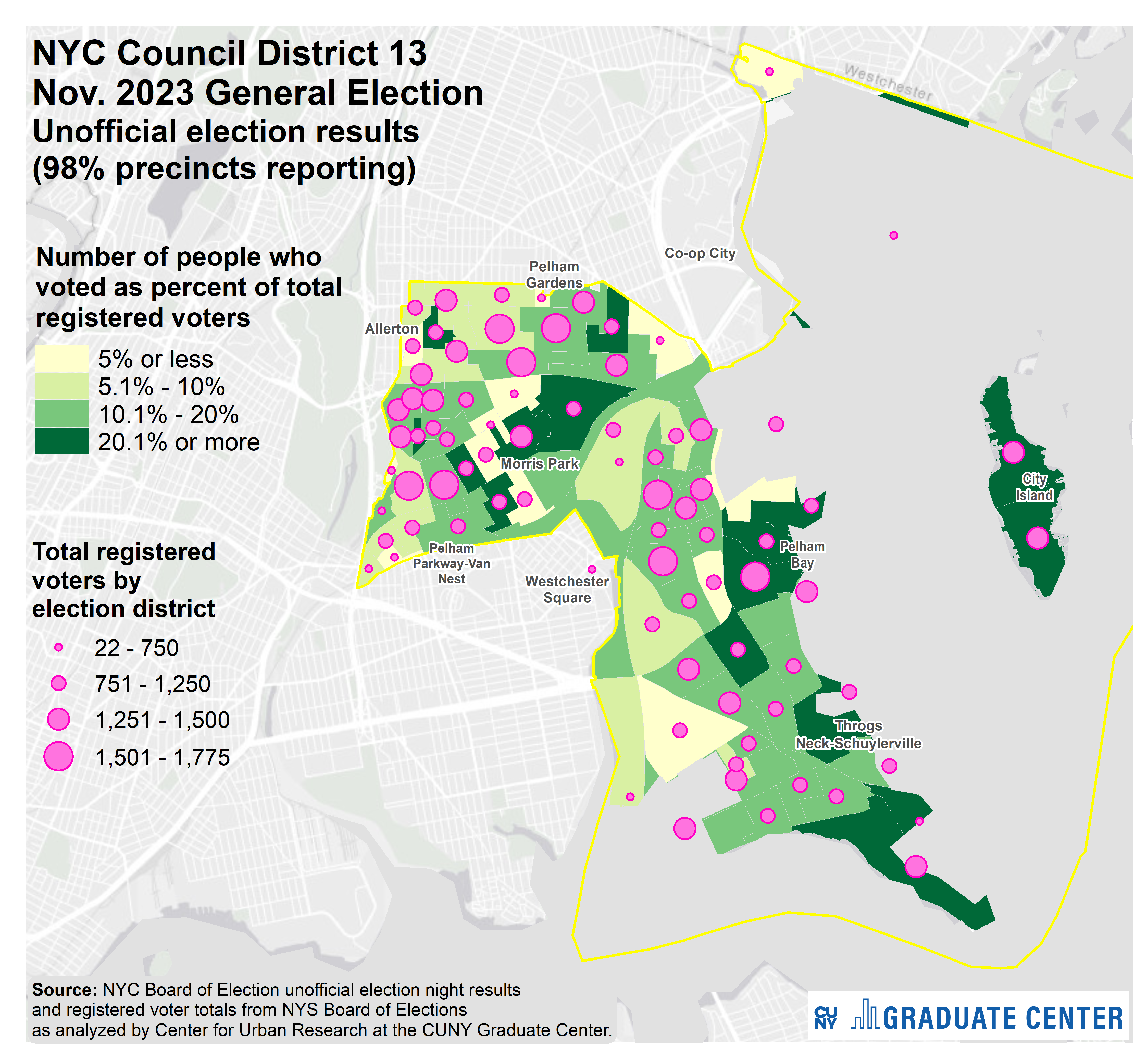 Political consultant Jason Ortiz attributed the outcome to a combination of Republican enthusiasm and a lack of turnout among Latino voters. "I think in Marjorie's case it was a lot of bad luck," he said. "How do you explain the fact that in Bay Ridge, by the percentages, there's this progressive wave for Justin Brannan and then in the same city you have the same dynamics, the same things going on with crime and immigration and there's labor support, and then you have the Democrat losing to the Republican."
Running to the right
The moderate district is fairly mixed politically. While Curtis Sliwa beat Adams by about 1% during the 2021 mayoral election, Gov. Kathy Hochul beat Lee Zeldin with roughly 53% of the vote last year.  
Although Velázquez had run as a progressive with the backing of the Working Families Party in 2021, she sought to portray herself as a moderate while running for reelection.  She initially joined the City Council's progressive caucus, but she left alongside more than a dozen other Democrats in February after the caucus asked members to sign a statement of principles that included a clause pledging to "do everything we can to reduce the size and scope of the NYPD and the Department of Correction." Velázquez's reelection campaign was endorsed by the New York City Police Benevolent Association, and she listed public safety as one of her major campaign planks. But she couldn't compete with Marmorato for the votes of moderates and conservatives.
"This was a tough race and I tip my hat to my opponent for a hard fought campaign, but we won this race because we had the right message and we worked harder than anyone else,"  Marmorato said in a statement. "On the City Council, I will bring common sense solutions to the problems our community is actually facing."
Marmorato's victory won't grow the City Council's Republican ranks beyond its current six members, since incumbent Republican Council Member Ari Kagan lost in southern Brooklyn. Still, Republicans are eager to welcome someone to the body who will speak for a part of the city that's long been without GOP representation.
"She'll definitely be a great council member," City Council Minority Leader Joe Borelli told City & State. "She fit a good model for us. By that I mean we suffer from lower enrollment than the Democrats in New York City so it takes the trifecta of the right candidate, with the right issues, in the right neighborhood. She ticked all three of those boxes."
Powered By
NEXT STORY: How not to defeat Republicans on Long Island