Winners & Losers
Winners & Losers of the past five years
In a special edition of your favorite weekly feature, our list of fame and shame covers the period since City & State's 10th anniversary.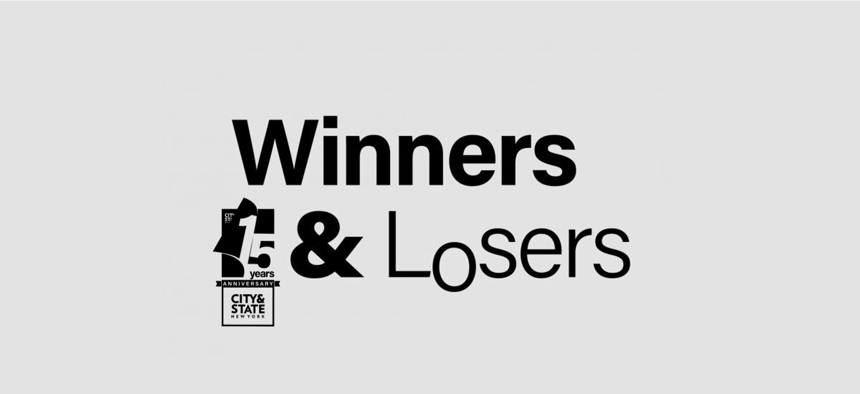 The future appears to be led by women after the rise and fall of various men who tried to channel the #MeToo energy for their own purposes or drowned in the wave that swept women to power at the city, state and federal levels. Many a political brohas gone away. The first female governor in New York's history is going to have plenty of backup at the start of a new era in state politics.
WINNERS
Alexandria Ocasio-Cortez – In 2016, Alexandria Ocasio-Cortez was working as an organizer for Bernie Sanders' presidential campaign; in 2021, Ocasio-Cortez is as much of a hero of the progressive left as Sanders himself. Ocasio-Cortez's meteoric rise was defined by her 2018 defeat of then-Queens Democratic boss Joe Crowley – a win that signaled not just Crowley's end but arguably that of the Democratic Party machine. As progressive first-time candidates have ascended in city and state politics, many cite Ocasio-Cortez's insurgent campaign as the inspiration for their own desire to run. Her wins over her short term and a half in Congress include local ones, such as fighting Amazon's plans to build a new headquarters in Queens. But Ocasio-Cortez is as much of a national figure as she is a New York figure now, and with energy behind the progressive movement going strong, the road ahead of her is wide open.
Andrea Stewart-Cousins – No one other than state Senate Majority Leader Andrea Stewart-Cousins has had the honor of being a winner on City & State's annual Winners & Losers list for the pastthreeyears. It took nearly a decade for Democrats to regain the majority in the state Senate. And once they finally did, Stewart-Cousins became a formidable force in state politics, disrupting Albany's old "three men in a room." She helped deliver what Cuomo dubbed the state's "most productive legislative session" in 2019. Last year, state Senate Democrats managed to cement a supermajority significant enough to be able to override a veto from the governor. With a large conference and a weakened, scandalized governor, Stewart-Cousins managed to push forward plenty of legislative priorities in this year's budget and overruled several of Cuomo's.
Letitia James – Over the course of the past few years, Letitia James went from being New York City's public advocate to the state's attorney general. In 2018, James ran on a ticket with Cuomo after former Attorney General Eric Schneiderman resigned abruptly over allegations that he had abused women. And James became the first Black woman to win a statewide office. Many people who viewed Cuomo as one of James' strongest allies were shocked after she released her report that revealed Cuomo had mismanaged the reporting of nursing home deaths at the onset of the COVID-19 crisis in March. And on Aug. 10, Cuomo resigned following the release of James' report that corroborated allegations of sexual harassment from 11 women.
Sexual Harassment Working Group – Perhaps the winner with the hardest-fought battle is the Sexual Harassment Working Group. The seven female state legislative employees who originally started the group faced or witnessed harassment from state lawmakers of the highest power and influence, and they have spent years lobbying for sexual harassment policy reform in Albany. They initiated high-profile lawsuits against their abusers as well, notably one concerning former state Sen. Jeff Klein. The fall of the head honcho, Cuomo himself, is perhaps the strongest harbinger of the reform for which they have tirelessly fought.
Chuck Schumer – Chuck Schumer has come a long way since 2016, when he first assumed the role of U.S. Senate minority leader, a leadership position that was especially crucial during the Trump administration. Since then, he has been invaluable in driving Democratic unification, and in January 2021, he became the U.S. Senate majority leader, taking the post over from U.S. Sen. Mitch McConnell and gaining critical leverage for Democrats.
LOSERS
Andrew Cuomo – Just when it looked like Cuomo was beating the curse of the third term with some arguably progressive accomplishments and national stardom during the coronavirus pandemic, he hid nursing home data, harassed staff and ruined everything. Longtime allies have abandoned him and his political enemies are more empowered than ever. What a fall for the once all-mighty Cuomo. He could lay low with a $50,000 pension, but Cuomo could also plot a 2022 comeback.
Bill de Blasio – New York City's lame duck mayor has been thriving this summer: playing cornhole, shooting hoops and reveling in the political demise of longtime rival Cuomo. But he hasn't had the smoothest couple of years, which culminated in his ill-advised decision to join a crowded presidential race in 2019. Not only did he fail, de Blasio even fell short of another candidate who was mayor of a city with 1% of the population of New York City. Six months after dropping out of the race – cementing his national reputation as an embarrassment and his local reputation as someone who is uninterested in governing – the COVID-19 pandemic hit the city. De Blasio got dinged on from everything from heading to the gym hours before a statewide lockdown to feuding with the city's health commissioner. And matters only got worse when protests against police brutality began to proliferate last year, with progressives and conservatives alike calling for de Blasio's resignation for defending the NYPD's aggressive response to protesters. If de Blasio does decide to jump into the state's 2022 gubernatorial race, he's got plenty of baggage with him.
Eric Schneiderman – For nearly two decades, Eric Schneiderman was a staple in New York politics, first for over 10 years in the state Senate, and then as state attorney general. But in 2018, The New Yorker uncovered accusations of physical abuse from women who had dated him, causing Schneiderman to resign – and making him the third person who has served as state attorney general in recent years to step down in disgrace at one point or another. A former gubernatorial wannabe, Schneiderman's career in New York politics seems pretty much done.
John Flanagan – Life was good for the Long Island Republican and his former state Senate majority until the "blue wave" of 2018 swept them out of power. Flanagan put on a happy face for a while by suggesting the Democrats could not help but implode. That turned out to be a losing message in the 2020 elections. Luckily for Flanagan, he had already fled the sinking ship by landing a job in the private sector, so no worries about awkward conversations on the third floor of the state Capitol.
Rudy Giuliani – Had the former New York City mayor not joined former President Donald Trump's campaign in 2016, it's possible that his legacy might still be intact. Once known as "America's mayor" for his leadership following the Sept. 11 terrorist attacks, Giuliani is now better known for his involvement in the Trump-Ukraine scheme, which resulted in the president's first impeachment. His shady business dealings and his unhinged press conferences complete with dripping hair dye have also not helped his image. And in December, Giuliani was caught farting (twice!) during a hearing with Michigan state lawmakers. It's hard to think of anyone whose reputation has taken more of a nosedive than Rudy's.