Interviews & Profiles
Antonio Delgado has a new constituency
A Q&A with the new lieutenant governor, campaigning in Harlem.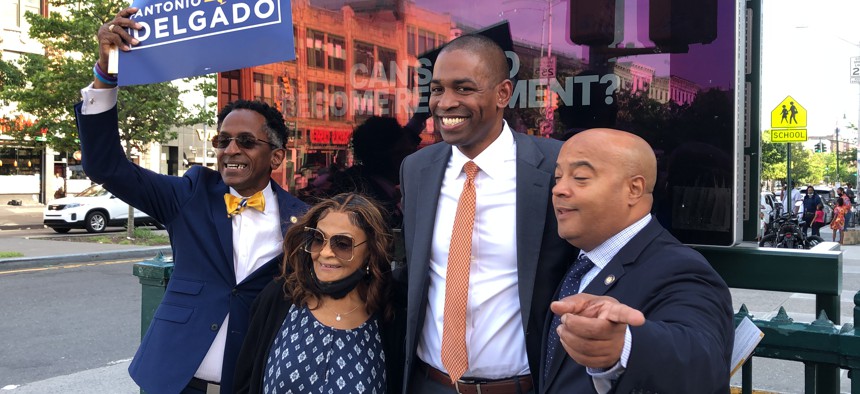 When Lt. Gov. Antonio Delgado was sworn in on May 25, he gained about 20 million new constituents, covering the entire state, after representing just one Hudson Valley Congressional district for the past three and a half years. That's a district where the population was nearly 90% white, and Delgado, who identifies as Afro-Latino, was proud to be the first person of color to represent an upstate Congressional district. 
But Delgado is running in the June 28 Democratic primary now, with a more racially diverse electorate. And Buffalo-based Gov. Kathy Hochul seems to be counting on her running mate to help her in the five boroughs especially, where she lost to New York City Public Advocate Jumaane Williams in the 2018 race for LG. 
So during the Monday evening rush hour, Delgado's campaign brought him to one of the main arteries of Black New York, 125th Street in Harlem, for about 45 minutes of handshakes and conversations. Being a lieutenant, and new to the job at that, almost nobody he spoke with knew who he was. But the staffers, volunteers and politicians who'd gathered to hold signs and hand out flyers were working to change that. 
"What's his name? Lieutenant Delgado!" Assembly Member Al Taylor toldurged on four Black teenage boys as Delgado shifted to get a photo with them.  "Otherwise known as AD," the 45-year-old lieutenant governor said, taking over. "I used to rap. AD the Voice." 
But it wasn't just surface level appeals to hip hop. Delgado had just given them a heartfelt appeal. 
"Young brothers like yourselves?" he said to the teens, "Recognize there are people in power. That look like you. That know who you are. That can relate."
But Delgado himself struggled to relate with a woman who, seeing his name on the sign, tried to speak to him in Spanish. Only English, he said, apologizing. You might assume the name is Hispanic, but it's actually more complicated. "I am Latin American. I do have that. My mother's side," the LG explained. "But Delgado is Cape Verdean."
This campaign stop was in the heart of former Lt. Gov. Brian Benjamin's former state Senate district, though the name of the former lieutenant governor, who resigned in April vowing to fight the federal corruption charges against him, went unmentioned. One voter though, a man in a ball cap who said he's lived in Harlem for 55 years, leaned in close to the newly appointed LG to issue a cryptic warning: "When you're at your most high, the devil'll come out."
After the handshaking, City & State got a brief interview – exactly five minutes, to the second – with Delgado outside his black SUV, before he was driven off to his next event. This interview has been lightly edited.
Have you ever lived in New York City?
Yes. Chelsea, 21st and 8th. Over in DUMBO, Brooklyn. 2011 to 2014. (Delgado initially said 2016. His team followed up later to say he misspoke. He lived in Chelsea from 2011 to 2012 and DUMBO from 2012 to 2014.)
You've been talking to a lot of people here in Harlem. What's the best conversation you've had?
There was a couple that caught my ear. A little girl that I saw that said her favorite subject was math. Actually, two little girls, that I came across. One said she loved math, the other one said she loved science. That was big. I met with a couple of veterans. Talked about supporting our veterans. A lot of good conversations. A lot of good energy.
I feel like you've been keeping a low profile so far as lieutenant governor, not attending debates, not attending community forums. What's your plan for getting your name out? Is it just street corner events like this?
My focus is definitely connecting with the people right where they are. Just like today. It's been a whirlwind, in terms of the timeline, making the transition and making sure that I orient myself. I'm excited to really get out and meet people, connect with people, just like I did when I was in Congress. Meet them where they are. Talk to them, listen to them, engage with them.
Speaking of Congress, what was the motive to leave? The Democrats needed a strong incumbent like you in the Hudson Valley, right?
When I was thinking about what really drove me in Congress, a lot of it was the time I was home. I was able to actually connect with people in a real way. And when I thought about the opportunity to bring that to the whole state, to have that ability to connect – as somebody who has spent time living and working in New York City, but also is from upstate New York – to be able to figure out how to bridge some of these divides and unify people at a time when New York needs to actually lead – lead – on the national stage? I felt like it was an opportunity that I was compelled to engage with. 
Did you have any Democrats try and convince you otherwise? Democratic Congressional Campaign Committee Chair Sean Patrick Maloney?
No.
How'd your name get in the mix? Did you approach the governor's team and say, 'I'd love to be LG'? Did they approach you?
I did not. I did not approach the governor's team. I was approached.
What's your end goal of being lieutenant governor? Do you want to be the governor one day? 
My goal right now is to focus on making sure people can believe again in the integrity of our system. Believe that politics could work for them. That people who genuinely care about people want to serve. And want to make sure that people can believe that democracy can work for them. And as lieutenant governor of this state at this time, with all of the divisiveness and all of the violence, I really want to do whatever I can to breathe more life into that, hope into that, inspiration that I think people are looking for.
Hochul was pretty much sidelined as LG under Cuomo, while Benjamin and Hochul seemed to work more closely together, with her giving him an agenda. Have you been given an agenda yet? What policy areas do you want to work on? 
Yes, as part of my swearing in, and we talked about it in our conversations privately, but also publicly, we stated that one key piece of my role is going to be a federal liaison where I'm working with federal actors, as well as state actors, to figure out how to make sure that the dollars that are coming to the state and the counties and the towns and municipalities actually reach them directly and go to the communities that need it the most. I was responsible for the funding formula in the American Rescue Plan that delivered over $10 billion to state and local governments – all local governments. So I have a track record of making sure that we're empowering our local leaders in our communities in direct fashion. And I want to make sure we're continuing to do that with state government. 
I heard you talking about your Latino heritage to a voter earlier. Many have been a little confused – what's the heritage on your mother's side?
My mother's maiden name is Gomez. Going back to her father, that side of her family is from Latin America. That's where the heritage comes from. Like all New Yorkers, my identity and what I bring to the table has a lot of different components to it. I'm very proud of that. I'm very, very proud of having the ability to think about the ways in which we in our individual selves, are diverse experiences. And when you think about New York being the epicenter of multiculturalism, multireligion, I'm excited to be able to bring my own personal story to the forefront in that way as well.