Eric Adams
5 takeaways from Eric Adams' State of the City
The New York City mayor laid out his "Working People's Agenda" for 2023 at a theater in Queens on Thursday.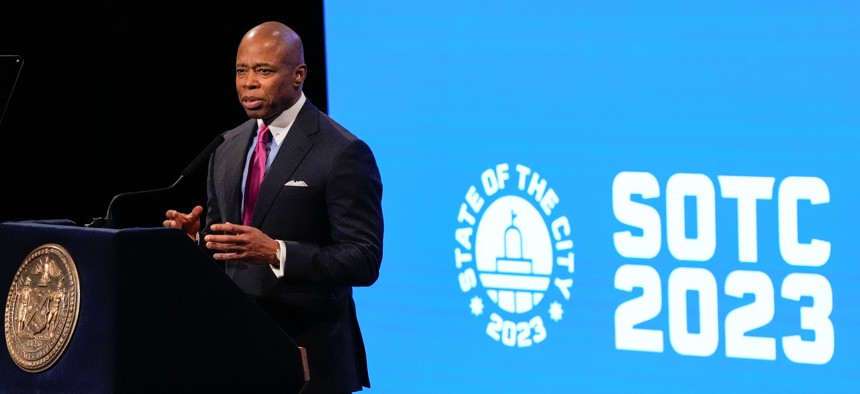 Crime. Jobs. Housing. Rats. New York City Mayor Eric Adams' familiar priorities took center stage at his State of the City speech on Thursday. Gathered at the Queens Theatre in Flushing Meadows Corona Park, Adams addressed top government officials, lobbyists, advocates and activists to set an agenda for the new year, and reminded listeners what the administration accomplished in its first year. 
"The state of our city is strong," Adams said. "As strong as the police officers and first responders who have made this city safer, as strong as the legions of city workers who have laid the groundwork for the future, and, above all, as strong as the working people of this city who make it all possible." Several new initiatives included a plan to rezone parts of midtown Manhattan to help convert office buildings to housing, expand health care to New Yorkers going through the shelter system and provide Section 8 households in parts of the Bronx and northern Manhattan with free broadband internet.
But while many of the themes Adams addressed on Thursday were familiar – stressing a YIMBY approach to building new housing and waging his bitter war on rats with an expansion of curbside composting – Adams' speech, titled the "Working People's Agenda," held some surprises too. Here's what you need to know about Adams' vision for New York City. 
Jobs, jobs, jobs
Adams' Working People's Agenda puts an emphasis on "working." "People used to move where the jobs were, but in today's economy, jobs come to where the talent is," Adams said, before highlighting some new investments in job training and workforce development programs. That included a new "Apprenticeship Accelerator" that will aim to place 30,000 New Yorkers in apprenticeship programs by 2030, with a focus on new opportunities in technology. The program, first reported by the Daily News, would mark an increase, as active apprenticeships in the entire state usually number around 18,000, according to Abby Jo Sigal, executive director of the Mayor's Office of Talent and Workforce Development. And on the heels of a nurses' strike in New York City that stressed just how thin nurses are stretched nearly three years since the start of the COVID-19 pandemic, Adams announced a partnership with CUNY that will assist 30,000 nurses and students with additional training and clinical placements. 
"The economic mobility programs that Mayor Adams announced today are exactly the steps the city should take to build a more equitable economy in New York City," Jonathan Bowles, executive director of the think tank Center for an Urban Future, said in a statement. "By investing in the Apprenticeship Accelerator, the CUNY 2x Tech program (which Adams pledged to expand to more campuses), and programs to connect people with disabilities to high-paying jobs the city is making employment opportunities accessible to all New Yorkers."
Limited focus on asylum-seekers crisis
There were notably few mentions of asylum-seekers in Adams' speech – particularly when compared with how much the mayor has publicly fretted over the over 42,000 migrants who have arrived in New York City since last spring. Over the past seven months, the city has rolled out resources and erected emergency shelters to manage the influx, all while imploring the federal government and state leaders to provide aid. His only mention of the crisis in his speech, which came about an hour in, was to underscore points he's already made about federal and state aid as well as how New Yorkers have "rose to the occasion as they always do" to care for those with the greatest need. 
"We can't continue to shoulder this cost on our own. We are going to need help, we need our Albany partners, we are going to need Washington D.C.," Adams said, returning to a common talking point in recent months. "The asylum-seeker crisis is a national crisis and it should not be just for New York City residents … Not only is it unfair for New Yorkers, but it's unfair for the asylum-seekers. You come here to pursue the American Dream not to live in a nightmare."
In a statement following his remarks, the New York Immigration Coalition accused Adams of excluding "immigrants and asylum-seekers from his vision," saying bold solutions and actions from the city are needed, including increased investment in legal services, bilingual social workers for schools, and long term housing vouchers in his proposed budget for fiscal year 2024.
"By rendering us invisible he failed to acknowledge a large proportion of New York's population and the crucial role our communities have played in keeping New York open for business throughout this pandemic," Murad Awawdeh, the coalition's executive director said.  
Seeking friends in Albany
The mayor didn't waste an opportunity to lavish some praise on Gov. Kathy Hochul, who sat front row at the Queens Theatre on Thursday. "On so many issues, she has been there for our city right from the start," Adams said. It's probably not a bad idea to flatter the state executive given that several items on Adams' agenda require partnership with Albany. Among those is Adams' longtime priority of tightening the state's bail laws, mentioning a need to find "reasonable, evidence-based solutions to this recidivism crisis." Without getting into too many specifics, Adams called for finding ways to expedite the discovery process – a priority for district attorneys like Manhattan's Alvin Bragg, as well as the Bronx's Darcel Clark, who jumped up from her seat in the theater and clapped at the mention. In a new effort first reported by the New York Post, Adams is increasing funding to the backlogged court system and is also calling on the state to inject funds to the city's district attorneys and public defenders. Returning to his focus on job creation, Adams also mentioned seeking state authority to force companies with city contracts to hire local community members. 
Hochul didn't directly address those items in a broad statement released shortly after Adams' speech, but echoed the mayor's appreciation of their partnership. "Our city faces numerous challenges that require bold action and an all-hands-on-deck approach," Hochul said in the statement.
Cracking down on reckless drivers
Adams emphasized that his focus on public safety extends beyond just gun violence and quality of life issues. "We must treat traffic violence the same way we treat other dangerous crimes," he said, announcing that the city will work with Albany to push a new bill to increase penalties for aggressive and law-breaking drivers. Adams referred to the legislation as ROADS – "Removing Offenders and Aggressive Drivers from our Streets" – and said that it would strengthen penalties for serious crashes and impaired driving, and even take the worst offenders off the streets. Spokespeople for City Hall did not immediately respond to questions about the legislation or who in Albany the city is working with to advance it. 
Adams highlighting traffic safety in his speech comes as the city closed out another violent year, with 255 people killed by drivers in 2022. Though a decline from 2021, it's still a 24% increase from 2018, Gothamist reported.
Putting on a show
Adams filled the small theater to the gills, with dozens of private lobbyists from firms like Kasirer and Cozen O'Connor, advocates and activists like LIFE Camp's Erica Ford – who, like all attendees, were given t-shirts emblazoned with Adams' motto of GSD, Get Stuff Done. Also there were elected officials from Hochul and Attorney General Letitia James to Assembly Speaker Carl Heastie and city Comptroller Brad Lander, as well as City Hall officials like Chief Adviser to the Mayor Ingrid Lewis-Martin, who was dancing to Bill Withers in front of the stage before the speech began. 
The State of the City was an opportunity for the mayor to put on a show, and he did. Not just the spectacle, which included high school students performing a showcase of cultural dance styles, but also the content of the speech, which seemed to succeed in giving every discerning listener something to be pleased about. Brooklyn Borough President Antonio Reynoso, a progressive, appreciated that "he mentioned NYCHA, which very rarely happens in these state of the city speeches." While conservative City Council Member Kalman Yeger took a different message."This mayor, for the first time I can remember, said we have anarchy and he'll put a stop to it," Yeger said. Other council members were pleased too, but reflected the more adversarial stance the legislative body may be taking heading into budget season. "Great promises. Now the council will make sure he delivers," said Council Member Rita Joseph. "It was a broad speech. The devil is in the details," added Council Member Gale Brewer, asking, for example, how the city will implement fast charging infrastructure for Adams' pledge to get Uber and Lyft to zero emissions fleets by 2030. 
Adams seemed at ease in his optimistic, 71-minute speech. There was no talk of the city's financial struggles ahead, or reductions to agency spending, and many of his typical quips, with some straying from the script. He called on New Yorkers to devote one hour to serving the homeless. He called Hochul the pilot at the wheel of the state, saying we need to pray for her to land the plane. He projected confidence in his uphill battle against rats – and the city's healthier waterways – promising a cleaner future for New York City, with "more dolphins, fewer rats." And the mayor with a (mostly) plant based diet promised to address food deserts  – "You can't have Whole Foods in Park Slope and junk food in Brownsville!"
That line got a standing ovation.