Policy
Lawmakers decry bail reform rollbacks at Rikers Island surprise visit
While the governor and legislative leaders tussle over bail reform rollbacks in the state budget, lawmakers argue changes will worsen conditions at the jail complex.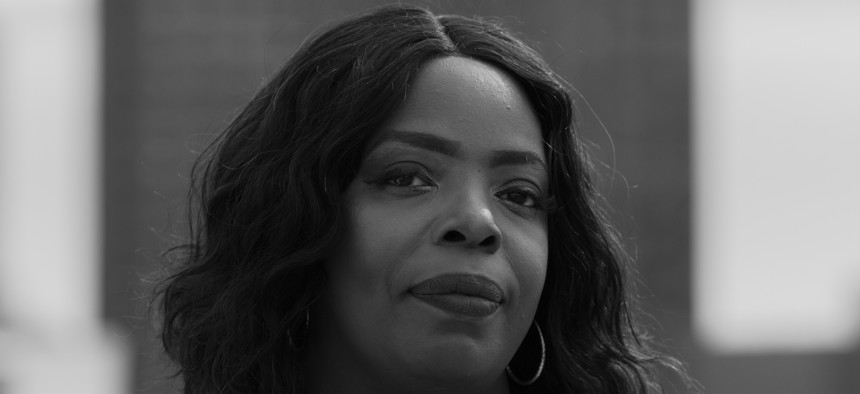 While the fight over bail reform rollbacks continues to dominate budget negotiations between the governor and legislative leaders, several state lawmakers took a trip to Rikers Island on Thursday. The lawmakers denounced the governor's proposed changes to the state's 2019 bail reform law.
"I submit to you that the governor is not wanting to do a rollback, but a wholesale undoing of all that we have fought for as New Yorkers," Assembly Member Latrice Walker said in a press conference after touring jails on the island. "We are going to get changes in our criminal justice laws that have never taken place in our state. This is a wholesale violation of constitutional rights."
As part of her executive budget, Gov. Kathy Hochul proposed removing the "least restrictive means" standard for judges to allow them more discretion when considering bail in serious offenses. Both legislative chambers rejected the governor's proposal with their one-house budgets. The governor has remained firm in her bail reform stance and claims her proposed bail reform changes will not criminalize poverty or increase pre-trial detention.
Walker – who was the lead sponsor of the 2019 bail reform law and went on a 19-day hunger strike in opposition to the governor's proposed rollbacks to bail reform during last year's budget negotiations – announced her plans to do another hunger strike this year, starting on Sunday. "This is what I will submit to do to speak on behalf of these people who are not criminals, but who have been accused and charged with a crime and are waiting for their day in court," Walker said.
For years, officials have sounded the alarm about the deplorable conditions of the jail complex. Last year, Gothamist published a report with detailed evidence of the conditions, including photographs of a detainee who spent about 24 hours in a shower cage, detainees being forced to sleep near human feces and instances in which detainees were left to attempt emergency medical care to stop a drug overdose.
Along with Walker, several lawmakers at the press conference stood in opposition to the governor's proposal while asserting it would worsen the conditions at the jail complex – including state Sens. Kristen Gonzalez, Nathalia Fernandez and Jabari Brisport as well as Assembly Members Zohran Mamdani, Marcela Mitaynes, Phara Souffrant Forrest and Tony Simone.
The lawmakers spent two hours examining the jail complex and recounted their conversations with detainees – many of which have been waiting for months (and even years) – to go to trial. A recent report by the federal monitor working to help address the issues plaguing Rikers Island found detainees spent an average of 115 days locked up at the jail complex in 2022, which is four times the national average.
Mamdani said he spoke with several detainees who've been waiting for 2-4 years for a trial and lack "basic necessities" – including toiletries and garbage bags – while in the jail complex. The Assembly member asserted the governor's proposal would ultimately make conditions worse at the jail complex and take the state back to 1971 – which was the last time the state's bail law had been changed before the 2019 reforms.
"What they mean, in plain language, is a sentence of death for many New Yorkers because they will send more New Yorkers to Rikers Island. We will have blood on our hands If we allow these changes to be implemented in our state budget," Mamdani said.
Last year, 19 incarcerated people died on Rikers Island or local hospitals (the largest number in the jail's history) and since the start of this year, there has been one reported death to date.
While the governor, Senate Majority Leader Andrea Stewart-Cousins and Assembly Speaker Carl Heastie have been deeply engrossed in budget negotiations – mostly centered around bail reform – the trio ultimately did not come to an agreement in time for the April 1 state budget deadline thus leaving the governor to approve a ten-day budget extender.
There's been speculation that the Legislature – particularly in the Assembly – may concede to concessions to bail reform, but rank-and-file members have expressed confidence in their leadership. Last week, Walker also denied there were any concessions in a press release.
The Assembly member continued to call on her fellow lawmakers to fight against rollbacks at the press conference. "We're asking our colleagues to hold strong … we don't have to do this," Walker said.