Immigration
New York City shelters are backlogged because of a lack of long-term housing
The Adams administration is struggling to place new asylum-seekers because few people are exiting emergency centers.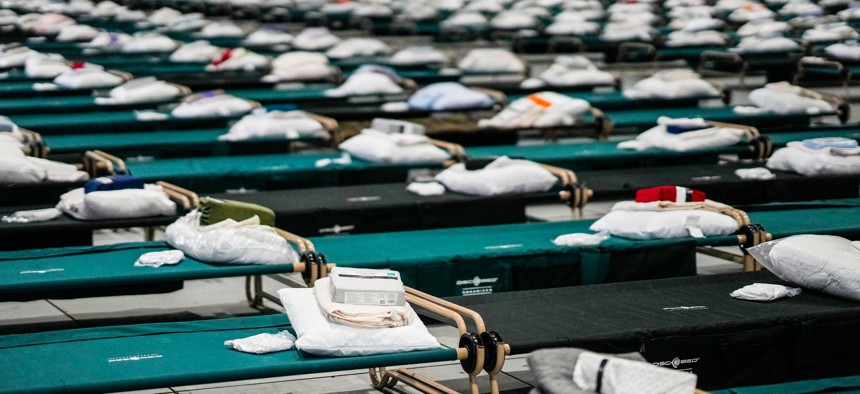 Of the roughly 60,000 migrants who've arrived in New York City since last spring, about 37,500 people remain in the city's care as of May 10. These new arrivals are spread across the city in a myriad of hotels turned shelters, emergency centers, and city-run and privately operated shelters. With the pandemic-era Title 42 border policy ending May 11, New York City Mayor Eric Adams suspended portions of the city's right to shelter law and is sending migrants to hotels outside the city. But there is a problem looming on the horizon – one advocates and elected officials share, as the city attempts to shift from emergency mode to a steadier state of operations: Many asylum-seekers are not being prepared to move into longer-term affordable housing.
That issue stretches beyond the federal government's reluctance to expedite work permit authorizations and the backlog of asylum-seekers who've applied. While a steady stream of income would certainly help many families and individuals, a general lack of affordable housing in the city and a lack of communication in some instances about how migrants can transition into more permanent housing have contributed to a more systemic problem, according to immigrant advocates.
"New York City can't control the flow of individuals into the state or into the city. We don't control immigration laws, we can't stop Gov. (Greg) Abbott from chartering buses, but we can be doing a lot better to just coordinate the work," said Theo Moore, New York Immigration Coalition vice president of policy and programs. "It really needs to start with regular conversations between the mayor's office between city agencies and with community-based organizations and social service organizations."
The influx of asylum-seekers may have exacerbated and exposed underlying systemic issues, but homelessness has long been a major challenge in New York City. Tens of thousands of New Yorkers – the majority of whom are families – live in city-run shelters.
Much of the city's response over the past year has centered on emergency, short-term actions. Officials have opened a blitz of emergency shelters, worked with community organizations to distribute food and clothing, launched an Asylum Seeker Resource Navigation Center, enrolled children in public school and much more. But there's also a growing sentiment that the city's reliance on the shelter system to house asylum-seekers won't be sustainable. Adams underscored this idea on May 5 when he announced that because the city was running out of space to shelter migrants, he would launch a program starting at two hotels in Orange Lake and Orangeburg to temporarily shelter some willing single men seeking asylum.
If the plan moves forward, the pseudo-shelters would join the roughly 120-plus hotel shelters that the city is already paying for. That's in addition to the seven Humanitarian Emergency Response and Relief Centers like the now-dismantled facilities at the Brooklyn Cruise Terminal and Randall's Island parking lot. Given the sheer volume of new arrivals and the fact that the city's shelter system was already strained before buses began arriving a year ago, the emergency shelters have been a vital resource for thousands of people as they've set out navigating a new city.
Still, many homeless and immigrant advocates felt that the city has been disproportionately investing in the hotel shelters and other emergency housing instead of bolstering pathways for migrants to obtain permanent housing, such as expanding a vital housing voucher program to undocumented immigrants. They believe that not doing so will cause further problems down the road, compounding an already bottlenecked system in which New Yorkers have been staying in city shelters for longer stretches of time than they had previously. Even before the influx of asylum-seekers, people were staying in shelters run by the Department of Homeless Services on average longer than 500 days. That number has grown in the past year.
According to a March report from New York City Comptroller Brad Lander's office, the average cost for a family each day in one of the city's newly contracted hotels is $339.
"Short-term we just think that the city is spending way too much money on temporary solutions," Moore said. "The cost of hotels and these HERRCs cost exponentially more than it would actually cost to honestly just give someone money and have them rent an apartment."
Adams has acknowledged the need for a longer-term vision and said that his "No. 1 goal" is to help asylum-seekers become "self-sufficient as soon as possible." In March he unveiled a plan that outlined strategies and needs that the city will consider in the coming months and years to provide shelter, health care and other assistance to migrants. Relocation, as well as a commitment to explore short- and long-term housing options, were also included, although details on the latter were scant.
City officials have largely blamed the federal government for not doing more to address asylum-seekers' long-term needs and have increasingly sounded the alarm about the expiration of Title 42 on May 11, a pandemic-era border policy that has stopped many asylum-seekers from entering the U.S. The city did not respond to several requests for comment.
In a move aimed at helping more New Yorkers exit the shelter system into permanent affordable housing, Adams significantly expanded eligibility for CityFHEPS, the city's rental assistance program, in November. Advocates and a coalition of New York City Council members, including Immigration Committee Chair Shahana Hanif, want to see the voucher program expanded to undocumented immigrants.
Still, some politicians feel progress has been slow. In a follow up to his March report, Lander said the city has yet to make strides in implementing the longer-term approach outlined in Adams' blueprint like supporting asylum-seekers' paths to jobs and permanent housing.
"Right now, we are spending over 99% of our resources on temporary shelter measures, and less than 1% towards helping new arrivals build new lives that will contribute to our city's cultural and economic vitality," Lander said in a statement on April 19.
Advocates and council members have also urged the city to bolster funding for asylum-seeker legal services, arguing that doing so will help reduce the shelter population. 
Hanif and Lander sent a letter to Adams on May 10, calling for a new investment of a t least $70 million in immigration legal services.
"By facilitating asylum applications and work authorization, this funding would help the City significantly reduce the shelter length of stay, redeploy existing shelter space for people newly in need or newly arrived, reduce the number of people otherwise in the shelter system, and save significantly on the costs of operating shelters," Hanif said in a statement.