Budget
The fiscal year 2024 New York City budget, by the numbers
The $107 billion budget deal is the largest in city history, but features spending cuts.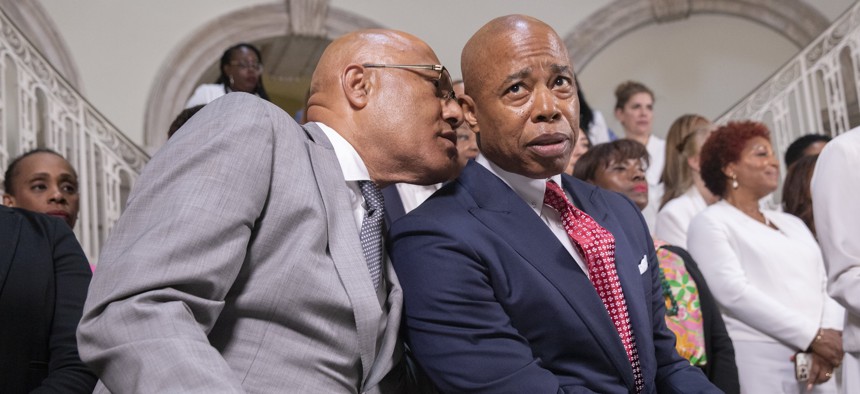 New York City Mayor Eric Adams and the City Council unveiled a $107 billion operating budget – the largest in city history – for fiscal year 2024 Thursday, marking the end of a tumultuous negotiation process that's been complicated by what Mayor Adams called "great challenges and unexpected crises." 
The agreement comes a mere day before the budget's July 1 deadline – a sharp change from last year's $101 billion deal, which Adams and City Council Speaker Adrienne Adams shook hands over on June 10. There were a number of sticking points, as Mayor Adams' administration proposed across the board agency cuts to offset new spending on housing and serving asylum-seekers, as well as new labor contracts with city workers. 
Here are some highlights from the deal.
$107 billion: The total expense budget, which will be the biggest agreement the city has implemented upon adoption. That's about $6 billion more than the $101 billion agreement that was struck and adopted last June.
$4.7 billion: The total savings achieved between fiscal years 2023 and 2024. Adams said this was achieved without laying off any employees, cutting school budgets, and reducing funding to programs or services. The latter isn't exactly true, as some services have been negatively affected by previous cuts and understaffed agencies. 
$4.35 billion: How much the city has projected it will spend providing shelter, food, clothing and other services to asylum-seekers through the end of fiscal year 2024. This is a figure that Adams has repeatedly pointed to throughout negotiations as one of the big reasons cuts were necessary.
Over 81,000 people: The number of asylum-seekers that the city has helped care for since last spring costing billions of dollars. 
$8 billion: The total allocated to the city's reserves. That includes $4.58 billion in the retiree health benefits trust, $2 billion in the rainy day fund, $1.2 billion in the general reserve, and $250 million in the capital stabilization reserve.
$5.1 billion, $6.8 billion, $7.9 billion: The respective budget gaps between anticipated revenue and expected spending in fiscal years 2025, 2026 and 2027.
78%: The amount of city employees now working under new labor agreements. The city has settled labor deals over the past few months, and the increased pay and benefits included have been a major source of new costs – $16 billion over the next four years, a spokesperson for the mayor said. 
$36.2 million: Restored funding for New York City public libraries. The reversal is a big win for City Council leaders and library officials who've for months warned that Adams' budget cuts would have sprawling ramifications on the cherished institutions, like Sunday closures for some branches and the shuttering of other services.
$0: The cut to individual schools' budgets. The Adams administration promised to hold public school budgets harmless, meaning no school will begin the coming academic year with a lower budget than it did at the beginning of this school year regardless of potential enrollment declines. Still, while Adams said there is "no desire" to do so, he added that there are no guarantees that budgets won't be reduced in the typical mid-year budget updates.
$4 billion: Capital funding for affordable housing next fiscal year – up from $2.2 billion this year – reaching a goal that City Council leaders and housing advocates have made fighting for a priority amid the influx of asylum-seekers and the city's looming housing crisis.
$46 million: Increased funding for city-supported lawyers, who provide public legal services in civil and criminal cases, including the city's Right to Counsel law for low-income tenants facing eviction. Council Members had sent a letter to Adams in mid June requesting at least $195 million in increased funding.
$32.4 million: Restored funding for the City University of New York – which was the focus of complaints after the mayor proposed some $41 million in cuts. 
$95 million: Funding to expand eligibility for the Fair Fares program, which provides half-priced MetroCards to low-income New Yorkers. The budget grew funding by an additional $20 million.
$16 million: Renewed funding for PromiseNYC, a subsidized child care program for 600 children whose parents' immigration status makes them ineligible for other state and federally funded child-care services. The $10 million initially put forward by the city to fund the program was expected to dry up at the end of the month, and advocates have pushed hard to renew the programming.
$15 million: Additional spending to convert nearly 1,900 vacant, early childhood education seats into extended day seats, which are better suited for working families. for this year – some of it by shifting out year funding
$7 million: Restored funding for senior meals provided through the city's Department of the Aging.
26: The number of City Council votes needed to pass the budget. They're expected to vote on Friday. A handful of the 51 members are expected to vote against the budget to protest the cuts.