Housing
Maria Torres-Springer: New York has 'really failed' on housing
At the Rebuilding New York Summit the deputy mayor called for action, lamenting state government gridlock on legislation to spur housing development.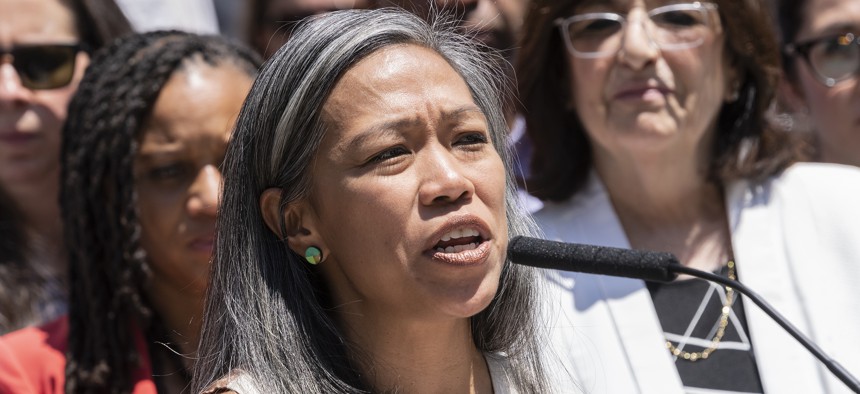 Maria Torres-Springer, the city's new deputy mayor for housing, economic and workforce development, touted action the city has taken and lamented state government gridlock amid what she described as the state and city's longtime failure to meaningfully address New York City's housing crisis.
Torres-Springer has a robust portfolio. Her role as deputy mayor for economic and workforce development was recently expanded to include housing after Jessica Katz – Mayor Eric Adams' chief housing officer – announced she'd be stepping down from the role in May.
"For decades, I think we as a region, as a state, as a city, have really failed to address the shortage of affordable housing with the urgency that this crisis deserves, the reality of which harms our most vulnerable neighbors in chronic and heartbreaking ways," Torres-Springer said, addressing listeners at a City & State's Rebuilding New York Summit Wednesday morning. 
New York City's lack of affordable housing is no secret. It's one of the most expensive places in the country to live, and rising rents and homelessness have driven housing to the top of many New Yorkers' minds. The arrival of more than 70,000 migrants since last April has only exacerbated long-standing issues, straining the shelter system and leaving the city scrambling to find places for new arrivals to stay. Gov. Kathy Hochul and lawmakers' repeated failure to reach an agreement on a housing proposal during the 2023 legislative session only exacerbated concerns about the crisis.
In December, Adams unveiled a "moonshot" goal of building 500,000 homes over the next decade along with 111 recommendations that could streamline residential development in the five boroughs by cutting red tape. The overarching strategy? Build, build, build. Torres-Springer reiterated much of Adams' rhetoric Tuesday, explaining that the city has implemented 16 of the recommended actions as of this morning with many more to come. She pointed to the proposed rezoning around the new Bronx Metro North stations and the newly announced plan to conduct a study of over 300 blocks in Jamaica, Queens, to explore opportunities to build affordable housing as examples of ways the city is advancing its goals.
"We believe that because this is a citywide problem, that every neighborhood has to take part in growing our housing stock," Torres-Springer said. 
Toward the end of the Legislative session, Torres-Springer and Katz traveled to Albany for a final housing push, meeting with committee chairs and various lawmakers to urge them to support several of the city's top housing-related legislative priorities, including measures that would make it easier to convert vacant offices into housing and temporarily revive the expired 421-a affordable housing creation incentive program. Still, the 2023 legislative session concluded June 10 without lawmakers passing any housing policies. 
Torres-Springer said the Adams administration is disappointed that lawmakers failed to pass comprehensive housing legislation, but cautioned listeners against giving up.
"Now that fight must continue, and we have to put an end to the finger-pointing and hand-wringing and instead replace that with real action," she said. "In the meantime, we'll do what we set out to do from the very beginning and that's to use every weapon in our arsenal and be a 'City of Yes' in what is too often an environment of no."
She said the city will explore all city-owned land for housing opportunities, eliminating "red tape that too often gets in the way of progress," and deploying every tool to facilitate affordable housing development and protect tenants. That also means bringing elected officials and advocates together to recommit to addressing the housing crisis – even without immediate legislative action. 
"The fact remains that we cannot solve our affordability crisis in the city or house our neighbors without building new housing stock," Torres-Springer said.
Powered By
NEXT STORY: Report: Funding cuts threaten services for asylum-seeking kids in NYC