Policy
New York City Council adopts budget, but not without criticism
The City Council voted to adopt a $107 billion budget for fiscal year 2024 by a vote of 39-12, following difficult negotiations with Mayor Eric Adams.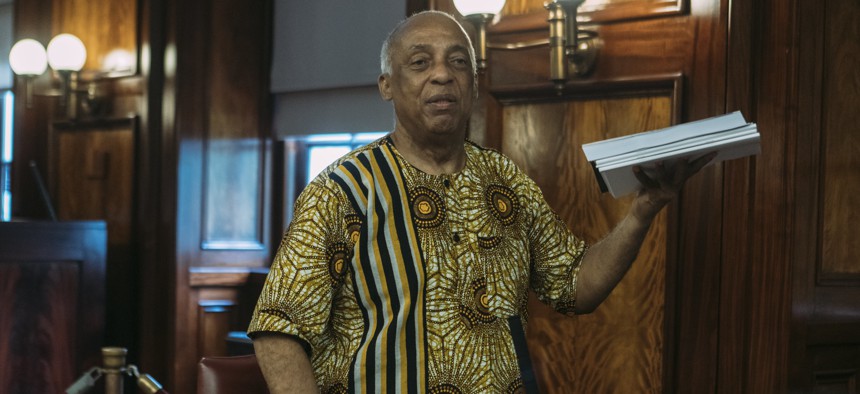 The New York City Council voted to adopt a budget for fiscal year 2024 by a vote of 39-12 despite many of those voting in favor – even Speaker Adrienne Adams – expressing some disappointment with the final result. 
The council approved a package of bills for a $107 billion expense budget, along with revenue, contract and capital budgets. The budget bills passed just before the deadline, as the city's fiscal year begins July 1.
Council Members Alexa Avilés, Charles Barron, Tiffany Cabán, Carmen De La Rosa, Jennifer Gutiérrez, Shahana Hanif, Ari Kagan, Chris Marte, Sandy Nurse, Chi Ossé, Lincoln Restler and Kristin Richardson Jordan voted against the budget, with most of them rejecting the level of spending cuts. Kagan, the lone Republican to vote against the budget, declined to explain his vote.
The vote came one day after Mayor Eric Adams and Speaker Adams shook hands on a budget deal for the upcoming fiscal year that the speaker said stopped short of being perfect. The mayor's initial executive budget proposal had included another round of cuts at nearly all city agencies, which he justified by citing the need to pay for new costs including labor contracts and housing migrants, while preparing for an uncertain fiscal future. The City Council fought to reverse many of those cuts, but most of the reductions – $4.7 billion worth, according to the mayor – were baked into the final budget that the council voted to adopt on Friday.
With many progressive groups calling for council members to vote against the budget, Speaker Adams defended her decision to reach a compromise with City Hall, noting that a late budget could have harmed the city's bond rating and its ability to borrow. "Advancing a non-negotiated budget (that the mayor would veto) could also put everything we've gained in this fight at risk," she added.
The speaker highlighted would-be cuts that the council was able to reverse through negotiations with the mayor, including funding for public library systems, meals for seniors and public higher education. The final budget also preserves most of the funding for the Department of Education, which at $31.5 billion will be kept roughly level with funding for the current school year – a big jump from the $30.6 billion figure initially proposed by Adams in April.
Even as Speaker Adams celebrated the reversals of some of the proposed cuts, she didn't exactly hide her disappointment with the final budget on Friday – or during the announcement of the deal with Mayor Adams on Thursday. Some noticed a more muted handshake between the speaker and mayor during the Thursday address. "I've never seen a more reluctant handshake by a speaker in my life," Barron said Friday, while explaining his vote against the budget and urging his colleagues to follow suit. "I think she only gave him three fingers, she didn't even give him the whole hand." Barron, a Black radical socialist and reliably outspoken member of the council, lost reelection to community organizer Chris Banks earlier this week. 
While many members acknowledged that some funding had been restored, those like Barron who voted against the budget cautioned against celebrating the reversal of cuts they said never should have been on the table in the first place.
"When this body should have been devoting our energy to serving our neighbors, we've been forced instead to defend them against an executive who is on a campaign of fear-mongering and division," Ossé said. "Malcolm X said that if you stick a knife nine inches into my back and pull it out six inches, that is no progress. I'm not thanking this mayor for those six inches."
"The austerity that the mayor forced through is too disruptive for me to endorse," Hanif added.
Council members who opposed the budget also complained about getting budget documents without much time to review them. "This budget was given to us 10 minutes ago," Barron said at an initial vote of the Finance Committee on Friday morning. Cabán, who also voted no, said the documents' late arrival meant she didn't have nearly the time needed to "adequately scrutinize" the budget before being called to vote on it. Budget documents weren't uploaded online for public access until after Friday's vote was already over. As of 3:30pm on Friday, only two documents detailing funding in the capital and expense budgets had been uploaded. A city spokesperson said that some documents wouldn't be uploaded until Monday. 
Even some of those who ultimately voted in favor of the budget expressed disappointment with the final result. "From the moment the preliminary budget was released, we knew this would be a difficult cycle," Council Member Selvena Brooks-Powers said before casting her vote to approve the budget.
There are political incentives for progressive members to vote against the budget. A coalition of progressive organizations, including the Working Families Party and Make the Road New York, called on members to vote no ahead of the vote, and lavished those who did with praise on Twitter.
Council members who voted no on the budget can expect less favorable treatment from the speaker's office – but subtly. Last year, the six council members who voted against the budget had their names left off the Schedule C budget allocating discretionary funding, even as the nonprofits they submitted to the speaker still got money. In general, though, Adams is not seen as a particularly punitive speaker, and the members who voted no last year have still been able to get bills passed into law. 
Those voting against the budget this year left a less oppositional impression than last year, as the speaker herself expressed her own dissatisfaction with the final result.
"While the council's focus this year was to restore cuts to essential services, our city must shift away from this harmful budgeting approach," Speaker Adams said at the council meeting. "We must move forward through the lens of expanding what New Yorkers need, not on what they can do without."