This Week's Headline
A new governor in town and school plans coming into focus
Rounding up the week's political news.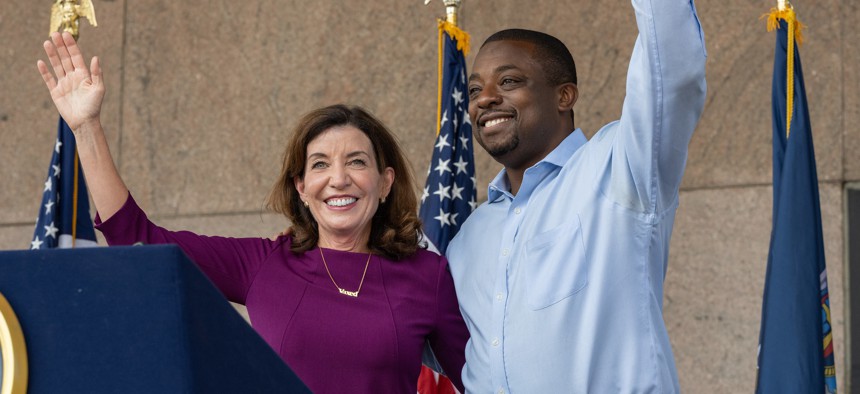 It was National Dog Day this week, so of course New York's (now former) first dog was in the news. Just… not in the best way. As ex-Gov. Andrew Cuomo was moving his things out of the Executive Mansion, he reportedly left his dog Captain behind. Cuomo reportedly asked around to see if anyone wanted to keep Captain, whom he adopted as a puppy in 2018. The former gov denied the reports and said that the pooch is a beloved part of the family. But the negative Captain press didn't stop there, as reports also came out the pup was aggressive and nipped at staff. Whatever Captain's future may hold, hopefully it's at a good forever home.
A new governor
New York officially has a new governor after former Gov. Andrew Cuomo submitted his resignation and Gov. Kathy Hochul got sworn in. Hochul is the first woman to lead the state as governor, a historic moment for both her and New York, especially after Cuomo left amid allegations he sexually harassed female staff. Hochul has promised to bring about a change to the culture in Albany and has pledged that her administration will be far more transparent than her predecessor's. Early appearances and public addresses marked an immediate shift in tone compared to Cuomo as she emphasized collaboration with the Legislature and local partners around the state. An early demonstrable change came the first time she released COVID-19 numbers when Hochul included the higher number of deaths reported to the Centers for Disease Control and Prevention in addition to the lower number that Cuomo had long reported as the state total. The difference is about 12,000 deaths. Hochul also announced her pick for lieutenant governor, state Sen. Brian Benjamin, a Democrat from Harlem known for his staunch support of criminal justice reforms. The selection balances out her ticket with a liberal, downstate person of color to contrast her as a moderate, white upstater. 
School plans coming into focus
With the school year fast approaching, plans for returning to the classroom are finally beginning to get rolled out. Hochul, in one of her first announcements as governor, said that she is instructing the state Department of Health to issue a mask mandate for schools that applies to anyone who enters the building. It comes after Cuomo resisted issuing such an edict. Hochul said that further state guidance would come soon, but said that she wants to work with local districts to put in place vaccine and testing mandates for teachers throughout New York. The city recently imposed such a mandate, except without the weekly testing option that is in place for other public employees. The decision sparked anger and protests among some teachers in the city. New York City Mayor Bill de Blasio also finally laid out school safety protocols and plans for remote learning when students are forced to quarantine, questions that educators and parents alike had been seeking an answer to for weeks. The schools will randomly test 10% of unvaccinated students every two weeks, and only unvaccinated students with close contact to a positive COVID-19 case will have to quarantine for 10 days.
A chaotic JCOPE meeting
A new governor isn't the only change happening in Albany. With Cuomo out, it seems that the state's ethics watchdog, the Joint Commission on Public Ethics, is ready to get to work too. In a chaotic and rebellious meeting, commissioners appointed by Legislative leaders and Cuomo voted to make two referrals to the state attorney general's office to investigate a 2019 leak of private information to Cuomo, and the widely criticized inspector general probe into that leak. At the time, Cuomo somehow found out how the commissioners voted in a private session on an investigation into his former top aide Joe Percoco, and expressed his displeasure at the actions of some appointees to Assembly Speaker Carl Heastie. The decision to refer that incident to the state attorney general came after a split body couldn't go into executive session as several commissioners bemoaned the lack of transparency that has plagued the commission for years. The meeting also happened just one day after a lengthy state Senate hearing on ethics about the dysfunction that plagues JCOPE that included testimony from a former commissioner who resigned in protest over how the 2019 leak was handled. Commissioners eventually did go into executive session, but at least part of it was captured on a hot mic, allowing those who tuned into the public portion of the meeting to hear parts of the private conversations, including about a potential investigation into the former governor.