New York State
Gov. Kathy Hochul has had a heck of a New York honeymoon
The new governor gave herself a month and a half to remake the Second Floor of the state Capitol – but the real tests are yet to come.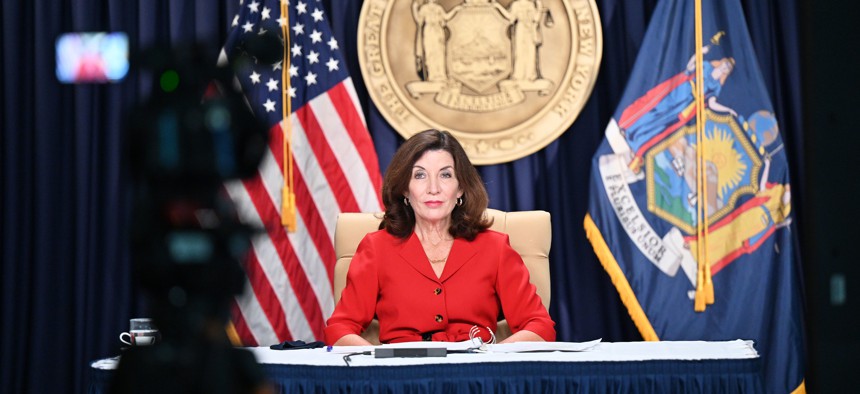 Gov. Kathy Hochul faced a big problem when she officially took office on Aug. 24: Her new administration was filled with loyalists of former Gov. Andrew Cuomo. Yet, at the same time, she could not just fire state officials en masse if she wanted a smooth transition of power at a time when problems like climate change and COVID-19 endanger people across the state. So she gave herself 45 days to get rid of people implicated in the various scandals that led to Cuomo's downfall. 
That process, which wraps up Thursday, has led to the resignations of numerous officials. This includes Department of Health Commissioner Dr. Howard Zucker and Larry Schwartz, a longtime Cuomo croney who announced that he will vacate his seat on the board overseeing the Metropolitan Transportation Authority as soon as a replacement can be confirmed by the state Senate. "You've already seen major changes to the second floor," Hochul told reporters Thursday. "It is unrecognizable to people who are used to seeing individuals who were there in the past." 
Her 45-day purge of Cuomo lackeys is part of a wider effort by Hochul to show how she is a different type of governor than the man she loyally served for years. She has played nice with local officials and legislative leaders long antagonized by Cuomo while signaling that she will put the brakes on his pet projects like the much-criticized AirTrain to LaGuardia airport in New York City. The Hochul way of getting things done is also winning her fans across the political spectrum, with progressives praising her policy moves while deep-pocketed donors on the political right are opening their wallets to her campaign as she gets ready to run for a full term in office next year. 
Hochul has come a long way since Cuomo announced his resignation on Aug. 10. She has distanced herself from him by showing how much she was out of the loop while she was his lieutenant governor. "It is no secret that the governor and I weren't close," she told Spectrum News after she officially came to power on Aug. 24. "He had his own tight inner circle. I created my own space." She even confirmed that he wanted to drop her from his ticket earlier in the year as he got ready to run for a full term in office. The DeCuomofication process – if you will – has only expanded from there. 
"It certainly has been an amazing transition."
A significant amount of Hochul's success comes down to just being nicer than the other guy. "She just has a very different approach, which is less imperious and less bullying than Cuomo, and that difference is substantive too because it matters in how policy is formed and decisions are made," John Kaehny, the executive director of the good government group Reinvent Albany, said in an interview. She has eaten cookies with New York City Mayor Bill de Blasio, a longtime target of Cuomo's wrath, and invited county leaders for a "refreshing" breakfast at the Executive Mansion. "It certainly has been an amazing transition," state Senate Majority Leader Andrea Stewart-Cousins told Gotham Gazette last month. When Hochul visits legislators' districts, she makes a point of sharing the limelight with state lawmakers much more than Cuomo ever did. "Every day, you are making good things happen," Assembly Health Committee Chair Richard Gottfried of Manhattan gushed at a Thursday press conference where Hochul signed a package of bills into law aimed at helping people overcome addiction. 
Hochul has also moved fast with implementing state programs that were delayed under Cuomo. "She has feasted on low hanging fruit," Blair Horner, executive director of the New York Public Interest Group, a good government watchdog, said in an interview. This includes making key appointments toward setting up a statewide market for legal weed as well as accelerating the disbursement of COVID-19 relief programs for undocumented immigrants and tenants across the state. The state Department of Health has also begun implementing new workplace protections against COVID-19 after stalling by the previous administration. "Hochul has made a good faith effort to address the eviction crisis, distribute relief to undocumented workers, and deliver on long overdue reforms to the criminal justice system, all of which mark a serious break from the Cuomo agenda," Sochie Nnaemeka, director of the New York Working Families Party, said in a statement. Progressives are celebrating Hochul's willingness to consider proposals like the decriminalization of sex work. 
The political left in New York City has an outsized voice in Democratic Party primaries, which might be one reason why Hochul has brought people into her administration who appeal to them. Her nomination of Dr. Mary Bassett as state health commissioner has been particularly celebrated by the left. "She is somebody with the strongest progressive public health values," state Senate Health Committee Chair Gustavo Rivera of the Bronx, a vocal supporter of policies like single-payer health care, told City & State in September of the Bassett nomination. Her appointment of Brian Benjamin as lieutenant governor gave her a new in with Black voters downstate while her appointment of Amit Bagga, who unsuccessfully ran for New York City Council last year on his support for defunding police, as deputy secretary for intergovernmental affairs punctuated how new types of left-leaning voices are entering state government. 
"The tough part of the job is not yet upon her."
Hochul has benefitted from good timing to some extent. If she had come to power when a critical mass of state legislators first called for Cuomo to resign back in March, she would have faced an impending April 1 deadline to pass the state budget. Getting sworn in over the summer also gave her a few months to develop her policy positions before lawmakers return to Albany for a new session next January. Former Gov. David Paterson was not so lucky when he suddenly got sworn in as governor in mid-March 2008 after his predecessor resigned over a prostitution scandal. 
"Paterson got jammed from day one," political consultant Hank Sheinkopf said in an interview. "Hochul has had a pretty clear ride." Avoiding a fight with public sector unions over vaccine mandates also helped her prevent unforced errors. "Her positioning on vaccine mandates showed signs of strength and were very authoritative," political consultant Basil Smikle, a former executive director of the state Democratic Party, said in an interview. Paterson by contrast spent his first weeks as governor making gaffes about his past drug use and affairs because he thought it was better to bring it up himself than wait for others to bring such matters to public attention. 
There have been a few problems in Hochul's first weeks though. Her willingness to keep longtime Cuomo loyalists like state Budget Director Robert Mujica has disappointed some progressives, who have also criticized her nomination of Adrienne Harris as Department of Financial Services superintendent because of industry ties and past comments on regulation. Republicans have criticized Benjamin and Bagga's past support for defunding the police. Newly installed Secretary to the Governor Karen Persichilli Keogh's husband works for the same lobbying firm as family members of her predecessor, and Hochul's own husband is employed by a company with business before the state. Good government groups have criticized the administration for not fully detailing how it will handle potential conflicts of interest. "In terms of her own personal issues with ethics and transparency, it remains a mixed bag," Kaehny said of Hochul's nascent efforts at making state government more accountable. 
She is going to face some big tests in the coming months. Prominent Democrats like state Attorney General Letitia James and New York City Public Advocate Jumaane Williams are getting ready to launch primary challenges against her. Budget negotiations and the 2022 legislative session will test her ability to work well with the state Legislature and local governments. "I would say it's a good start, but this is a sprint not a marathon," political consultant Camille Rivera said of Hochul's first weeks in office. "There's a lot of pressure on her to separate herself from Cuomo." Progressives want Hochul, a longtime political moderate, to move leftward while moderate Democrats are hoping that she maintains the relatively centrist policies championed by her predecessor minus his heavy-handed ways. But the summer months are the slow season in Albany, so any success she has had thus far has to be kept in proper context.  "It's only 45 days," Horner said. "The tough part of the job is not yet upon her."
With reporting by Rebecca C. Lewis.