Politics
Why Queens Assembly Member Brian Barnwell isn't seeking reelection
He's tired of politics and mad that bail reform didn't go farther – and now his allies have picked former COS Steven Raga for the ballot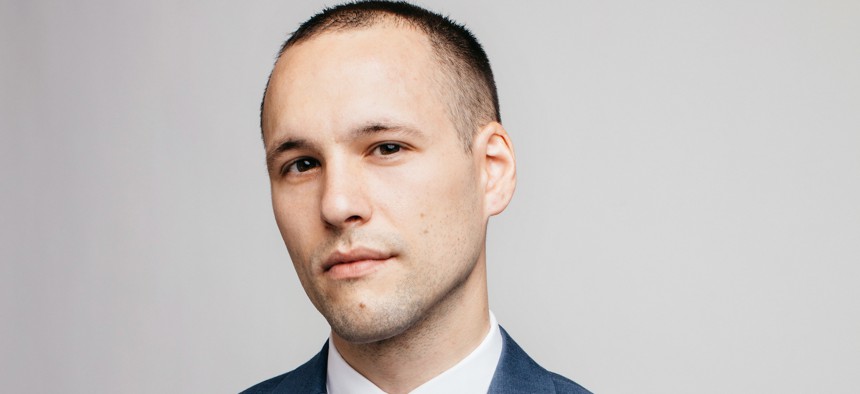 At 35 years old, Assembly Member Brian Barnwell is one of the youngest legislators in Albany. And he's already retiring – because he says he's tired of politics.
Barnwell announced Tuesday he wouldn't be seeking reelection after serving out the end of his term – but the news was quickly overshadowed by another Albany Brian B after former Lt. Gov. Brian Benjamin resigned and announced he was suspending his campaign, following his arrest. 
So two days later, the Democrat who represents a western Queens district stretching from Astoria to Middle Village explained to City & State that the debate over bail reform was his final straw. 
"We see all the gun problems around the city and the country," he said. "One of my biggest things was getting the ability to have illegal possession of a firearm in its own right … be considered for bail. Doesn't mean the bail gets set. Judge has discretion. But to not even allow that to be a case? To me, this is absolutely ridiculous."
Adjustments to what crimes would be bail eligible was one of the hottest topics in the state budget this year. Gov. Kathy Hochul and state legislative leaders ended up striking a deal that made more gun crimes bail eligible, but not criminal possession of a firearm.
Barnwell also expressed his frustrations with other aspects of the job, such as constituent services. "I handle all my constituent's cases," he said. "These agencies don't want to do their job. Do you know how many times I had to report NYCHA mold and heat and didn't get it resolved?"
Corruption charges are commonplace in Albany, but Barnwell insisted he's not quitting because he's in any legal trouble. "It's a boring story," he said with a laugh. "It's really nothing. Just fed up with people playing politics. I like to solve problems, and playing politics is not my thing."
But Barnwell has created a situation for others to play politics. The Woodside resident had already submitted petitions to get on the Democratic primary ballot. He declined his spot on Monday, leaving his committee to fill vacancies to replace his name on the primary ballot with someone else's. Barnwell declined to share any names, and said he wanted nothing to do with picking his would-be successor. But District Leader Melissa Sklarz told City & State that the committee has chosen Steven Raga, executive director of local nonprofit Woodside on the Move, and Barnwell's former chief of staff. Raga ran in the crowded City Council District 26 primary last year, finishing in a distant 13th place. Raga, who did not immediately respond to a request for comment, is Filipino-American, and the newly drawn Assembly District 30 is 50% Asian. Barnwell is white. Raga will face off in the June 28 primary against Ramón Cando, a Democratic district leader in Elmhurst and member of Laborers Local 78. Cando is an ally of controversial former state Sen. Hiram Monserrate, who is challenging Assembly Member Jeffrion Aubry in a nearby district. 
Barnwell said he'll serve out the rest of his term, until Dec. 31, but isn't sure what he'll do after that. "I'm a lawyer by trade, so I can obviously do that," he explained. "We'll see. Maybe spreading the gospel. I'm a Christian. I'm Catholic. It is important to me, so maybe."
Barnwell was first elected in 2016, defeating longtime incumbent Margaret Markey in a primary upset. But Barnwell says the spark he felt then is gone. "When I first ran, I knew I wanted to run. It was an 18 year incumbent, I had to work hard," he said. "Now it's the same thing. I know it's time to walk away."