Campaigns & Elections
After a rough June primary in New York, insurgent progressive candidates are doubling down
Following up with voters and preemptive defense from attack ads – not moderating leftist views – are part of the strategy.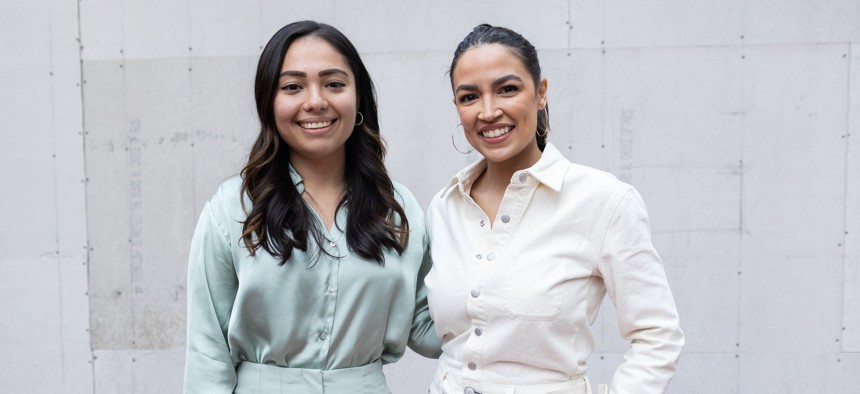 For many progressive challengers hoping to defeat more moderate opponents, the June Democratic primaries were a huge disappointment. Incumbents won the day, from Gov. Kathy Hochul and Lt. Gov. Antonio Delgado on down to Assembly members like Erik Dilan and Michael Benedetto.
But that was just round one. Now, the progressive movement in New York City and its suburbs sees the August primaries as an opportunity to win after taking lessons from the June campaigns. But more moderate Democrats and the outside groups supporting them are once again expecting to see the successes they found in the early summer, betting that perceptions of high crime levels will keep voters from choosing candidates who would like to reduce policing budgets. One thing everyone seems to agree on: Turnout will be low. 
Not backing off
After seeing the June results, "there are two pivots we could have taken," explained Andrea Guinn, communications director to Democratic Socialists of America-backed state Senate candidate Kristen Gonzalez. "One is to neuter ourselves from the DSA and socialist and progressive movement because those campaigns were wrecked by what's happening with redistricting and massively low turnout." But the Gonzalez campaign is going with the other option, betting that its progressive messaging of straightforward solutions to complex problems will be popular. "Our problems are really simple. The solutions to them are really simple. Things like simply building renewable energy. The only thing standing in the way are the people at the top with power. That's a simple and winning message that people get. We have to lean into it as much as possible. I don't think the problem is the message at all."
That campaign in particular may have reason to be optimistic, given where Gonzalez is running. State Senate District 59 is an open seat, and she's facing off – among other candidates – against former New York City Council Member Elizabeth Crowley, a pseudo-incumbent with lots of money and support. But parts of that district in Western Queens and North Brooklyn overlap with Assembly districts that elected DSA-aligned Assembly Members Zohran Mamdani and Emily Gallagher in 2020. And in June, Democrats in part of the district picked Working Families Party-backed Juan Ardila to an open Assembly seat, defeating three more moderate opponents, including one who had the support of Queens Democratic Party leadership. That was one of the few bright spots for the progressive movement in June. Of the WFP's slate of nine Assembly candidates, just two won. The photos standing with Rep. Alexandria Ocasio-Cortez will last a lifetime, but the leftist Congress member's endorsement didn't seem to be the game-changer some hoped it would be.
The other candidate on WFP's slate to win their primary was Sarahana Shrestha – who was also the only one of the five nonincumbents supported by DSA to win in June. That was a far cry from 2020, when all five DSA-aligned challengers won their primaries. That cycle secured DSA as a force to be reckoned with in local politics. Surprise wins from Ocasio-Cortez or state Sen. Julia Salazar in 2018 might have been flukes, but in 2020, the candidates' more moderate opponents knew what to expect – and still lost. 
Reasons for hope
Shrestha and her team obviously did something right in June, unseating Assembly Member Kevin Cahill in a district including Kingston in the mid-Hudson Valley. All DSA-backed and WFP-endorsed incumbents won reelection too, maintaining progressive seats the movement had already won. The Gonzalez campaign as well as the state Senate campaign of DSA-backed David Alexis have been working closely with the incumbents, as well as Shrestha and her campaign in the aftermath to discuss strategies for messaging, and getting out the vote. Any reason not to despair helps.  
"Just the fact that Sarahana also unseated a Kevin who has been in office for longer than he needs to be there has been heartening," joked Alexis campaign manager Devin McManus. Cahill had served since 1992. Alexis is hoping to take down state Sen. Kevin Parker, first elected in 2002. But he'll need more than just good vibes. State Senate District 21 in Central Brooklyn doesn't have as much of a record of electing progressives as where Gonzalez is running. So after fewer voters came out in the June primary than predicted – far fewer than in 2018 and 2020, when progressives had more successes – McManus said the Alexis campaign is doubling down getting committed supporters to the polls. "One thing we've learned from (June is) that it's going to be incredibly important that we make sure that every single person who wants to vote for David knows how to do it," he told City & State. Like any DSA-supported campaign, that means an army of volunteers knocking on doors. But they're also trying to have the same volunteer follow up with the same voter to build a relationship. And McManus said supporters are "making sure that voters know just how important their individual vote is, because this is likely to come down to the hundreds of votes, or dozens of votes, based on how low turnout is."
Camille Rivera, a political consultant for campaigns including Melanie D'Arrigo in the 3rd Congressional District on Long Island and in Queens, also said the June results firmed up their strategy. "The low turnout proved more than anything that the base support is very important," she told City & State. "And if we were going to expand the base of support, we needed to do it early."
Court cases around redistricting also led to the Congressional primaries being pushed back to Aug. 23. Progressive candidate state Sen. Alessandra Biaggi is hoping to follow in the footsteps of Ocasio-Cortez and Rep. Jamaal Bowman by unseating a powerful Democratic incumbent in Rep. Sean Patrick Maloney. And candidates like D'Arrigo, Brittany Ramos DeBarros and Assembly Member Yuh-Line Niou are each positioning themselves as the most progressive candidate in their respective races, with backing from progressive movement leaders and organizations. 
Anticipating attacks
Candidates running on similar platforms were slammed in attack ads in the June primary, playing off perceptions that New York City is not safe and tying that to progressives support of reducing police budgets to invest in social services and backing of bail laws that keep fewer people in jail pretrial. Candidates like Biaggi have already seen it – the New York City Police Benevolent Association is spending hundreds of thousands of dollars on TV ads saying she "left her community crime-ridden."
"There was a lot of outside money and corporate influence that came in and used that messaging to their advantage," Rivera said. Progressives running in August have known what to expect. Both Gonzalez's and Alexis' campaigns said they have been giving voters a heads up that they might see attack ads and countering the messaging before it even hits their mailboxes. 
But candidates have also learned – long before the June primaries – that "defund the police" isn't a successful slogan in most districts. "We have to make sure that we also understand there are middle of the road voters. Voters who understand there's a social contract and want to be safe," Rivera said.  "Police have to be held accountable for their abuses, but at the same time keep people safe. That's the messaging that I've been recommending to folks."
Of course, subtle differences in messaging can only go so far. "I'm not going to be able to change as a person. And I don't think that I'm going to change me," Niou told City & State, when asked if she was concerned after seeing the results earlier in the summer. "I don't think the losses of June were necessarily because of people not having the same values. I think the losses in June were due to low turnout. Not understanding what was happening with the bifurcation of the elections." 
So Niou said her focus is simple: "You have to educate people about how there is a race, and then we have to get folks to come out for us."
Powered By
NEXT STORY: Adams feuds with Texas and Trump feuds with Tish