New York State
Kathy Hochul is looking comfortable on her anniversary as governor
She has had eye-popping fundraising, a landslide primary victory and a huge budget full of wins.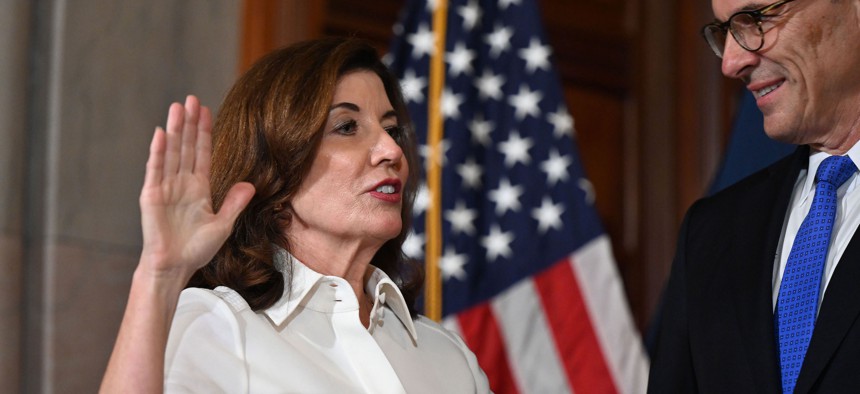 One year ago this week, Kathy Hochul took a new oath of office, stepping up following several turbulent months for her predecessor to become New York's first female governor. After numerous allegations of sexual harassment, multiple investigations and a bombshell report from the attorney general's office, former Gov. Andrew Cuomo stepped down, allowing the lieutenant he tried to dump more than once ascend to new heights. And ascend she has, capping off a historic first year with a landslide primary victory and a comfortable lead in general election polling. 
Prior to Cuomo's fall from grace, few gave much thought to the second-term lieutenant governor, nor to her political prowess. In 2018, Hochul came unexpectedly close to losing the second term to New York City Public Advocate Jumaane Williams despite running alongside Cuomo with his ever-growing war chest. While the governor barely broke a sweat in besting his own progressive opponent, Hochul had reason to worry that she would once again fall to a challenger after just a single term, a repeat of her short-lived congressional career. 
Hochul finds herself, once again, fighting for the chance to maintain her seat of power – but this time, she has spent the past year wielding that power to its full extent in practiced displays of political savvy. Hochul owes her successes to a number of factors, including calculated decision making and plain old luck. But perhaps more than anything else, the story of her first year is one told in a series of dollar signs, with a term characterized by copious amounts of cash.
A fundraising force
When Hochul stepped into her new position as the most powerful official in the state, she raised money at a record pace, even by the high standards of Albany and those set by Cuomo, himself a relentless fundraiser. When she took office, Hochul had under $2 million in her campaign account. Now, heading into her first general election for governor in November, she boasts nearly $12 million on hand, even after spending heavily in the Democratic primary. In the past year, she has raised over nearly $36 million in total, nearly $22 million of which came in just her first five months as governor. "I'll tell you what, I don't think I would have been able to do that," former Gov. David Paterson, who took over when former Gov. Eliot Spitzer resigned in 2008, told City & State. The New York Times reported in June that Hochul hoped to increase that number to as high as $70 million before Election Day. Her Republican opponent, Rep. Lee Zeldin, has about $1.6 million on hand in his gubernatorial campaign account.
Hochul easily outraised Cuomo during the same period prior to the 2018 Democratic primary for governor, which took place in September rather than in June like it did this year. In the roughly comparable yearlong period, Cuomo raised just under $13 million. The over $31 million the ex-governor had on hand at one point remains an unbeaten sum, but even he has never brought in cash at the rate Hochul has managed in just one year. She seamlessly stepped into the financial arena where Cuomo once reigned supreme, successfully winning over the donor class that had long helped to ensure her predecessor could outspend any opponent tens of times over. "She easily dispatched her challengers in the Democratic primary, and she has defied expectations regarding her fundraising," Jake Dilemani, a Democratic consultant with Mercury Public Affairs, told City & State. "Hochul's successes show the power of (her) office coupled with her savvy."
The exact number of fundraisers Hochul has held since taking office is not publicly known – the schedules her office releases don't specify what kind of campaign events she attended, simply that they were "private." But through March, Hochul's schedules indicate that she has had 437 "private events" so far, often back to back with each other. While those include meetings with donors, campaign supporters or staff that don't directly result in money changing hands, the number is a testament to Hochul's dedication to the politics of her position and helps explain her success in bringing in big bucks. 
Hochul's incredible fundraising hauls have not come without their share of scrutiny. Her top donors are a who's who of interests before the state in industries ranging from real estate to gambling. A wealthy supporter who hosted a fundraiser for the governor won a lucrative state contract, giving at the very least the appearance of pay-to-play politics. The state Department of Health, which awarded the contract, told the Times Union that Hochul had no involvement in the bidding process. More broadly, the outlet has also reported on the level of access that top donors have to the governor, thanks in part to her own reliance on lobbyists to help raise campaign cash. But those critiques long predate Hochul in both Albany and American politics at large, with the problem of money in politics one of the oldest unanswered questions plaguing public officials. And the criticisms levied against Hochul have not slowed her fundraising pace, nor affected her ability to dwarf her competitors' spending in the June primary. Nor have they hindered her official government efforts in the state Capitol.
Big budget bucks
Budgets offer a gauge of most governor's success in a year in New York, due mostly to the amount of power and influence they have over the process. Unlike the rest of the year, the governor can take the lead in driving policy as part of the spending plan, which in recent years has included legislation that has very little to do with finances. Particularly under Cuomo, the governor's executive budget often included the most important parts of their agenda so they can dictate the terms under which they will pass. After that April budget deadline, lawmakers take back the lead of the legislative process. 
Hochul is no different, the budget process offering her first real test as governor after a five-month honeymoon before the 2022 legislative session began. Like Cuomo, she presented a packed agenda that she hoped to accomplish as part of the budget, as well as big plans for spending. On the latter, Hochul succeeded. The $220 billion budget was the largest in state history, larger than the $216.3 billion she had initially proposed in January, itself already greater than the record $212 billion plan approved last year. That spending included major Hochul talking points like $7 billion for expanded child care and $31.5 billion in school aid. The $600 million to finance a new Buffalo Bills stadium hardly broke the bank when dealing with such large numbers, but those dollar bills proved among the most controversial of Hochul's time in office. 
In one of two ways she decided to flex her executive power during the particularly opaque budget negotiations, Hochul surprised New Yorkers and lawmakers alike when she announced a billion-dollar deal to build a new football stadium for her hometown team. The state, she said, would foot $600 million, local governments $250 million and the fracking billionaire owners of the Bills, who were threatening to leave New York, the rest of the costs. It caught legislative leaders and their members off guard, angering some, but they approved it nonetheless as part of the larger budget. In the same process, Hochul also managed to settle a five-year financial dispute between the state and the Seneca Nation over casino proceeds. After the state froze the Seneca's bank accounts, those used for official municipal purposes, Seneca leaders agreed to pay hundreds of millions of dollars in slot machine revenue. They had maintained the state had no right to even after court rulings. Hochul then said she would use those funds to cover much of the state's share of the stadium. 
The combination of surprise and hardball tactics have served Hochul well during her year in office, even as she continued to espouse her niceties about a healthier working relationship between herself and her partners in government. "This first year, I think everyone, every player, knew exactly how to sort of manage these relationships very, very well," Basil Smikle, former chair of the state Democratic Party, told City & State. "So she used a strongarm when she needed to, she was more warm and welcoming when she had to be." Hochul employed the same ethos to her other big budget accomplishment: bail reform tweaks. Although Hochul did not get everything she wanted when she struck a final deal with lawmakers after coming in from a comparatively much weaker position than Cuomo in the years before his fall, she held strong on her last-minute bail changes. She introduced them late in the negotiating process, throwing legislative leaders for a loop when the proposal got leaked to the press before they ever got wind of it and refused to pass the budget unless the changes made it in. It forced the hands of state Senate Majority Leader Andrea Stewart-Cousins and Assembly Speaker Carl Heastie, who had repeatedly said they had no appetite to revisit the issue of bail again. But if they wanted the money to flow, Hochul proved they needed to play ball with her. "She's an impatient governor … because she wants to get things done," Paterson told City & State. "She will stick her nose in and take responsibility for it." Although her tactics have left many observers wanting when it comes to her promised government transparency, Hochul has managed not only to masterfully brush aside potentially disastrous situations, but even to turn some around in her favor.
When life gives you lemons …
Hochul's first 12 months certainly had their share of would-be scandals for the governor, had her own savvy and a healthy dose of luck not kicked in. The budget debacle with the Bills stadium and bail – though ultimately both victories – was soon forgotten in favor of a much bigger story. Less than a week after the budget passed, her former lieutenant governor resigned after his indictment and arrest on corruption charges. Brian Benjamin maintained his innocence, but said at the time his legal woes would interfere with his governmental responsibilities. That left Hochul looking like a fool for tapping someone with a questionable ethical background (Media outlets had reported the allegations in questions well before Cuomo had even resigned.) and without a running mate as the June primary loomed. Her honeymoon had long since soured. 
But even that scandal couldn't stick to Hochul after she pushed lawmakers to approve a new bill that would permit Benjamin to remove himself from the ballot and her to get a new running mate. She achieved that without even giving up any leverage – at least it appeared that way publicly. With Benjamin gone and Lt. Gov. Antonio Delgado replacing him, Hochul's wayward No. 2 quickly exited the collective consciousness of New York. 
So late in the election cycle, Delgado had only a month to shift his campaign from a reelection in a largely rural Hudson Valley congressional district to a statewide race against two other candidates. He came in with little if any name recognition outside his district and just a handful of days left to introduce himself to Democrats across the state. But unlike his opponents, Delgado had a secret weapon: Hochul and her fundraising apparatus. After transferring roughly $2 million from his existing campaign account, Delgado managed to raise millions more, which he promptly spent on ads that flooded the airwaves with his name and likeness. Like Hochul, he trounced his two opponents despite the hyper-streamlined campaign. And the governor managed to avoid another potential headache of an antagonistic running mate for November thanks in no small part to the cash at her fingertips. "She's one of these individuals who will throw themselves, or sometimes get thrown into, difficult situations but seems to have a plan," Paterson said. "And her plans so far have worked."
At this point in the election cycle, luck came in to help Hochul even further. National political observers expected the 2022 midterms to deal a blow to Democrats, and New York certainly would not be immune. But the Democratic base was reengaged on the issues of gun control and abortion after a racist mass shooting in Buffalo left 10 dead and federal protections for abortion under Roe v. Wade were stripped away. Just as she wasted no time fundraising, Hochul immediately took the opportunities to cast herself as a leader on hot-button national issues. "She is acutely aware of the power of the office, the influence of the governorship of the state of New York," Smikle said, referencing the way Cuomo used his position to his benefit during the height of the pandemic to become a national figure. "The moment was just the window that she had to make an impression not just on New Yorkers, but on the rest of the country."