New York City
Who's who in Eric Adams' administration
Here's who the new mayor is appointing jobs to in City Hall.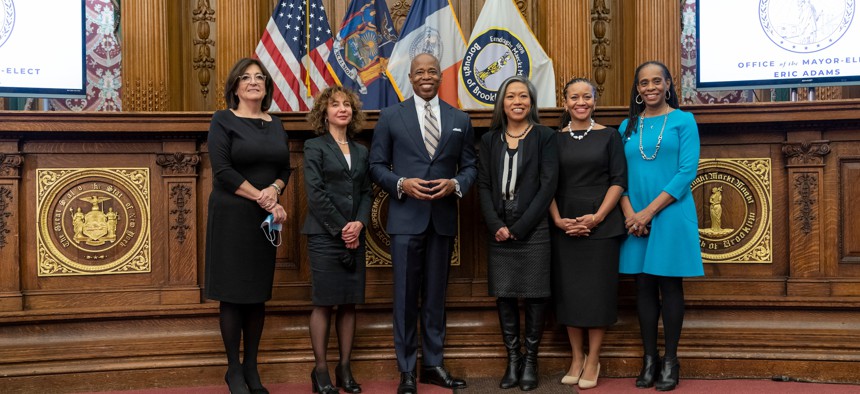 Yes, New York City Mayor Eric Adams is thinking about "emotional intelligence" as he fills out his administration, but he's also thinking about demographic representation. He said for months that he would appoint a woman to lead the New York City Police Department and he did, setting up Keechant Sewell to be the first female commissioner to lead the country's largest police force. The man who narrowly defeated two women in the Democratic primary also announced that five of his six deputy mayors will be women – and five of them people of color. And the leader of the city Department of Correction will be a Latino man, Louis Molina, overseeing a majority Black and Latino workforce overseeing jails where the majority of people incarcerated are also people of color.
Appointing leaders at the top level is taking Adams some time, but that's not out of the ordinary. Former Mayor Bill de Blasio was appointing commissioners well into April when he took over in 2014 – though he was criticized at the time. While many of the new mayor's appointments have been met with cheers, there have been some real hiccups too. Adams apparently had to scale back a security job for his brother, Bernard Adams. Former Council Member Fernando Cabrera seemed to have been pulled from consideration to lead the mayor's Office of Community Mental Health, after he received public pushback for his anti-gay positions. And while Carlo Scissura was expected to lead the city's economic development arm, he too is out of consideration following reporting on what looked to be his unregistered lobbying on city projects. 
Here's who has been appointed to major positions in the Adams administration so far. This list is updated as of Aug. 5.
City Hall Insiders
First deputy mayor: Lorraine Grillo
Grillo has been in city government for nearly three decades, starting at the School Construction Authority in 1993, the agency where she was appointed president by former New York City Mayor Michael Bloomberg in 2010. For a while, she served as commissioner of the city Department of Design and Construction at the same time, before de Blasio named her pandemic recovery czar earlier this year. Her appointment was announced on Dec. 20.
Deputy mayor for economic and workforce development: Maria Torres-Springer
Most recently the vice president for U.S. programs at the Ford Foundation, Torres-Springer previously served in the de Blasio administration as commissioner of the Department of Housing Preservation and Development, president and CEO of the Economic Development Corp. and commissioner of the Department of Small Business Services. Her husband, Jamie Torres-Springer, is president of the Metropolitan Transportation Authority's construction and development division. Her appointment was announced on Dec. 20.
Deputy mayor for health and human services: Anne Williams-Isom
While she is now the James R. Dumpson endowed chair in child welfare at Fordham's Graduate School of Social Service, Williams-Isom is best known as the former CEO and COO of the Harlem Children's Zone, an anti-poverty nonprofit organization. Before that, she was at the New York City Administration for Children's Services for more than a decade, ending her tenure as a deputy commissioner. Her appointment was announced on Dec. 20.
Deputy mayor for operations: Meera Joshi
Joshi is coming from the federal government, where she's deputy administrator in the U.S. Department of Transportation's Federal Motor Carrier Safety Administration. She was briefly New York general manager at Sam Schwartz consultants before that, but is best known as the former chair and CEO of New York City's Taxi and Limousine Commission. She also has experience at the city Department of Investigation and the Civilian Complaint Review Board. Her appointment was announced on Dec. 20.
Deputy mayor for public safety: Philip Banks
Banks resigned as chief of department for the NYPD in 2014 after a 28-year career. He said the cause was professional differences between himself and then-Commissioner Bill Bratton. But it was later revealed that Banks was under federal investigation for possible influence trading. He was never charged with a crime, but named in court papers as an unindicted co-conspirator. More recently, Banks has been consulting city governments and police departments with his firm CitySafe Partners. His appointment was officially announced on Jan. 7.
Deputy mayor for strategic initiatives: Sheena Wright
Wright is leading Adams' transition committee and is now getting a top job. She's president and CEO of the nonprofit United Way of New York City, and before that, she led the Abyssinian Development Corp. Her reported partner is David Banks, who has been appointed city schools chancellor. Her appointment was announced on Dec. 20.
Chief adviser to the mayor: Ingrid Lewis-Martin
Lewis-Martin has been one of Adams' closest advisers since before he entered the state Senate in 2007. The "tough-as-nails gatekeeper" has worked with him throughout Adams' political career, most recently as deputy borough president of Brooklyn. Her appointment was announced on Jan. 10.
Chief counsel to the mayor: Brendan McGuire
A partner at white shoe law firm WilmerHale, McGuire previously led the public corruption unit for the U.S. Attorney's Office for the Southern District of New York. Back in March, McGuire wrote an op-ed in the Daily News calling on strict anti-corruption standards for the next mayor. McGuire is the son of Robert McGuire, who served as NYPD commissioner under former New York City Mayor Ed Koch. His appointment was announced on Dec. 17.Chief of staff to the mayor: Frank Carone
Frank Carone, a giant in Brooklyn politics and close adviser to Adams through the campaign, is coming on as chief of staff to the new mayor. Carone, a lawyer, has developed a reputation as a political power broker and is expected to serve in a similar capacity as de Blasio's longtime chief of staff Emma Wolfe, the Times reports.
First deputy chief of staff to the mayor: Dawn Miller
Previously chief of staff at the Taxi and Limousine Commission, Miller was more recently in the private sector as vice president for policy and partnerships at Coord , a street space management tech startup. 
Deputy chief of staff to the mayor: Madeline Labadie
Labadie is also coming from the TLC, where she worked for seven years, most recently as director of strategic initiatives. Before that, she was a political coordinator for the Hotel Trades Council. 
Deputy chief of staff to the mayor: Ryan Lynch
Previously a director with the Tri-State Transportation Campaign, Lynch joined Adams at Brooklyn Borough Hall back in 2014, rising up to becoming the then-borough president's chief of staff.
Deputy chief of staff to the mayor: Menashe Shapiro
A top staffer on Eric Adams' mayoral campaign – known for defending the candidate on Twitter – Shapiro is an attorney and longtime political consultant who previously worked on Michael Bloomberg's presidential and 2009 reelection campaign. 
Deputy chief of staff and senior emergency adviser: Molly Schaeffer
Staying on from de Blasio's City Hall, Schaeffer is going to focus on COVID-19 and "public safety" for Adams. Schaeffer had been with de Blasio since his first election as mayor, previously serving as a policy adviser at DOE, then DOHMH and deputy chief of staff to the deputy mayor for operations.
Senior adviser to the mayor: Stefan Ringel
Ringel is one of Adams' longest-tenured aides. He started at Brooklyn Borough Hall under the previous borough president, Marty Markowitz, and worked for Adams as communications director, then senior adviser, and worked on his mayoral campaign as well. Before that, Ringel worked comms for then-Council Member Jumaane Williams.
Senior adviser to the mayor and director of scheduling: Gladys Miranda
Miranda is one of Adams' closest aides, and he thanked her in particular on election night. She held the same title working for Adams at Brooklyn Borough Hall, where she first started in 2007 under then-Borough President Marty Markowitz. 
Senior adviser for workforce development: Jose Ortiz Jr. 
Since 2018, Ortiz has been chief executive officer of the New York City Employment and Training Coalition, an interest group for more than 200 workforce development organizations in the city. Before that, he worked at workforce nonprofit Pursuit and the 92nd Street Y. 
Senior adviser for external affairs to the mayor: Tiffany Raspberry
A top adviser on Adams' campaign and transition team, Raspberry has been a political consultant and lobbyist for nearly two decades, recently representing clients including Success Academy charter schools and tobacco company Reynolds American. 
Senior adviser and director of public service engagement to the mayor: Andrea Shapiro Davis
A longtime City University of New York leader who most recently served as interim vice chancellor for university advancement, she previously worked as a senior adviser to former Mayor Bloomberg, whose City Hall she worked in for all 12 years. 
Senior adviser to the mayor: Joel Eisdorfer
Eisdorfer has been a lobbyist with his firm, New York Capital Group, where he represented real estate developers, among others. Before that, he worked as a top aide to Adams when he was borough president and a state Senator before that. According to Hamodia, Eisdorfer is the first Hasidic Jew on the mayor's senior staff.
Senior adviser for severe mental illness: Brian Stettin
Brian Stettin, the longtime policy director at the Treatment Advocacy Center, will serve directly under Deputy Mayor for Health and Human Services Anne Williams-Isom, working on the city's in-patient psychiatric programs and Assisted Outpatient Treatment programs, and serving New Yorkers with severe mental illness. Stettin's appointment marks a return to New York government; he previously served as counsel to the Health Committee of the New York Assembly, among other roles. His appointment was announced on July 11th.
Chief administrative officer: Mir Bashar
Mir Bashar's promotion puts the former senior director of budget and financial planning under de Blasio in charge of day-to-day finances, budget, contracts and administration. He has been working in similar roles at City Hall since Rudy Giuliani's administration. Bashar's appointment was announced on July 15.
Special counsel to the mayor: Ama Dwimoh
Dwimoh is a veteran of Team Eric Adams, having served as special counsel and chief of compliance to Adams when he was Brooklyn borough president. Dwimoh took a brief break from brough hall to run for Brooklyn district attorney in a failed bid in 2017.
Chief of staff to the first deputy mayor: Jeff Rodus
Rodus comes from CMW Strategies, where he was a lobbyist representing clients such as the Brooklyn Museum and the Building Trades Employers Association. Before that, he was a top City Council staffer under Speakers Christine Quinn and Melissa Mark-Viverito.
Chief of staff to the deputy mayor of operations: Jimmy Oddo
The borough president of Staten Island from 2014 to 2021, Oddo said that deputy mayor of operations was his "perfect job." Now the Republican will be the deputy mayor's right hand.
Communications director: Maxwell Young
Young is now chief public affairs officer and senior vice president at Everytown for Gun Safety. Before that, he worked in communications for the Metropolitan Transportation Authority, The Rockefeller Foundation and U.S. Sen. Chuck Schumer.
Press secretary: Fabien Levy
Levy comes from Attorney General Letitia James' office where he was press secretary and senior adviser. Levy did communications for a variety of political campaigns and government offices over the last 15 years including a stint working for now-Gov. Kathy Hochul when she was serving in Congress. 
Special assistant to the mayor: Rachel Atcheson
Rachel Atcheson will serve as senior assistant – and unofficial food diarist – to Adams, as well as the at-large director of the SUNY Downstate Committee on Plant-Based Health and Nutrition. Atcheson previously worked on animal welfare issues in the mayor's office. 
Senior adviser for mayoral security: Bernard Adams
The mayor received a waiver from the Conflicts of Interest Board to hire his brother. To get around the normal rules against benefiting close family members, Bernard Adams will receive a salary of just $1 a year. The NYPD will still oversee the mayor's detail, but Bernard Adams will serve as a senior adviser, based in the mayor's office. Bernard Adams is a retired NYPD sergeant who more recently worked at ​​Legalshield, a multilevel marketing firm, and as an administrator at Virginia Commonwealth University's office of parking and transportation. 
Agency Heads
Department for the Aging commissioner: Lorraine Cortés-Vázquez
Lorraine Cortés-Vázquez, who sits on the Metropolitan Transportation Authority board and on the board of trustees for the City University of New York, has been Department for the Aging commissioner since 2019. Adams announced her reappointment on March 31. She previously served as secretary of state under Govs. Eliot Spitzer and David Paterson and worked at the AARP and the Hispanic Federation.
Department of Buildings commissioner: Eric Ulrich
A New York City Council member for more than 12 years representing parts of the Queens and the Rockaways, Eric Ulrich was a public supporter of Adams' mayoral campaign despite being a Republican who had said he planned to vote for Donald Trump in 2020. Ulrich ran for New York City public advocate in the 2019 special election and came in second. He was initially named a senior adviser to the mayor on Jan. 5 and served in City Hall until he was named Department of Buildings commissioner on May 3.
Business Integrity commissioner and chair: Elizabeth Crotty
A defense attorney in private practice, Crotty ran for Manhattan district attorney in 2021, finishing sixth in the eight-way primary. She was previously an assistant district attorney in the Manhattan District Attorney's office and a litigator at Kreindler & Kreindler. 
Administration for Children's Services commissioner: Jess Dannhauser 
New York City's child welfare system will fall under the leadership of Dannhauser, the former president and CEO of Graham Windham, a social services nonprofit for children and families. Dannhauser previously worked at ACS in several positions, including associate commissioner for performance measurement, monitoring and improvement.
Department of Citywide Administrative Services commissioner: Dawn Pinnock
Already the acting commissioner since November, Pinnock will officially get the commissioner title in the Adams administration. She was previously the DCAS executive deputy commissioner, and before that, worked for New York City Transit and NYCHA.
Department of City Planning director and City Planning Commission chair: Dan Garodnick
Most recently president and CEO of the Riverside Park Conservancy, who brought lawn-mowing goats to the greenspace, Garodnick is best known for representing much of the east side of Manhattan in the New York City Council from 2006 until 2017. In that position, he helped negotiate the purchase of Stuyvesant Town and Peter Cooper Village. 
Department of City Planning executive director: Edith Hsu-Chen
While the City Charter mandates that the DCP director and CPC chair are the same person, Hsu-Chen will also have a leading role at City Planning. Hsu-Chen has been with DCP since 1997, when she started as an intern, and most recently served as the agency's Manhattan director.
Department of Consumer and Worker Protection commissioner: Vilda Vera Mayuga
Most recently deputy secretary of state for economic opportunity, Mayuga has served in government for years, previously as chair of the New York State Industrial Board of Appeals, deputy commissioner for worker protection at the state Department of Labor, an assistant attorney general in the Civil Rights Bureau, an agency attorney at the Fire Department of New York and a paralegal specialist at the U.S. Attorney's Office for the Southern District of New York.
Department of Correction commissioner: Louis Molina
Molina was most recently chief of the Las Vegas Department of Public Safety in Nevada, but before that, the former NYPD detective served for about a year as the chief internal monitor and acting assistant commissioner in the DOC's compliance unit, which monitored the use of force in city jails.
Department of Cultural Affairs commissioner: Laurie Cumbo
Cumbo represented parts of Brooklyn in the City Council from 2014 through 2021, and endorsed Adams on the day he formally launched his campaign. Before that, she founded and led the Museum of Contemporary African Diasporan Arts. Cumbo has long been expected to get this position, but she has a history of politically divisive comments, and she faced criticism and internal dissent from the mayoral transition committee after making what some thought were racist, anti-immigrant statements during a vote on a bill to allow non-citizen voting. 
Schools chancellor: David Banks
Banks has been helping Adams' transition, but is best known as the founding principal of Eagle Academy for Young Men, a network of public schools geared toward low-income Black and Latino boys. His reported partner is Sheena Wright, who has been appointed deputy mayor for strategic initiatives. 
Department of Environmental Protection commissioner and chief climate officer: Rohit Aggarwala
The former director of long-term planning and sustainability under Mayor Michael Bloomberg, Aggarwala was most recently a fellow at Cornell's Urban Tech Hub and has advised the Adams administration on how the city can enhance its use of technology in government services. The commissioner for the last four years, Vincent Sapienza, will be staying at DEP, serving as chief operations officer. 
Department of Finance commissioner: Preston Niblack
Niblack has been outgoing New York City Comptroller Scott Stringer's deputy comptroller for budget for about five years. He previously worked in the City Council finance division, and did a stint in the private sector at lobbying firm Manatt, Phelps & Phillips.
Health commissioner: Dr. Ashwin Vasan
A mental health specialist and primary care physician, Vasan is currently the CEO of Fountain House, a national nonprofit that provides services to people with mental illness. He also practices internal medicine at New York-Presbyterian Hospital and is an assistant professor at Columbia University's Mailman School of Public Health.
Vasan will replace Dr. Dave Chokshi beginning March 15. Chokshi, referred to as "the city's doctor," was appointed in August 2020 and has served as the public face of the agency through some of the darkest days of the COVID-19 pandemic.
Department of Homeless Services administrator: Joslyn Carter
Carter has been DHS administrator since 2017, and will remain on the job. A licensed clinical social worker, she has worked at DHS for nearly two decades, and before that worked for both Kings County Hospital and the American Red Cross. 
Housing Preservation and Development commissioner: Adolfo Carrión Jr. 
Back to city politics after some time away, Carrión was a New York City Council member, Bronx Borough President from 2002 to 2009, the director of the White House Office of Urban Affairs under President Obama and the regional administrator for the U.S. Department of Housing and Urban Development. More recently he worked in private real estate development, first for the Stagg Group, then forming his own development and consulting firm, Metro Futures. 
Department of Emergency Management commissioner: Zach Iscol
Adams announced on Feb. 17 his former challenger in the Democratic mayoral primary will lead the agency. Iscol, a Marine veteran who ran on a moderate platform, dropped out of the mayoral race and backed Adams while running his own campaign for comptroller. His mother, Jill Iscol, is a former adviser to Hillary Clinton, who described Iscol during his comptroller campaign as someone who "comes at everything from the mind-set of 'how do we bring resources and assets together to solve problems and address inequities.'" Iscol also served as deputy director of the Javits Center during the pandemic. 
Human Resources Administration administrator: Lisa Fitzpatrick
Fitzpatrick has worked at HRA for more than 37 years, starting as an eligibility specialist and most recently serving as program officer for the Medical Assistance Program and the Family Independence Administration.
Department of Investigation commissioner: Jocelyn Strauber
A partner at law firm Skadden, Arps, focusing on government enforcement and white collar crime, Strauber was previously co-chief of the Terrorism and International Narcotics Unit for the U.S. Attorney's Office for the Southern District of New York. Strauber will have to be approved by the City Council, since the DOI acts independently from the mayor. 
Corporation Counsel: Sylvia Hinds-Radix
Hinds-Radix will lead the city's law department. She was first elected as a judge in 2004, most recently serving as associate justice of the state appellate division, second department. She started her career in legal services for District Council 37, and she was the one who swore Adams in as mayor on Jan. 1.
Parks and Recreation commissioner: Sue Donoghue
Going from one park to all parks, Donoghue was previously the president and park administrator for the Prospect Park Alliance, a position she had held since 2014 where she oversaw some parks department employees. Before that she was a senior adviser and assistant commissioner in the Department of Parks and Recreation and worked on former Mayor Bloomberg's PlaNYC sustainability blueprint.
NYPD commissioner: Keechant Sewell
The first woman to lead the department will be the former chief of detectives in the Nassau County Police Department. Sewell is originally from Queens and has been in policing for 25 years. 
Department of Probation commissioner: Ana Bermúdez
De Blasio appointed Bermúdez as commissioner at the beginning of his first term, and eight years later, Adams has reappointed the attorney to lead DOP. Bermúdez, a lesbian, is one of the Adams administration's highest profile LGBTQ appointees, and worked at The Children's Aid Society and the Center for Alternative Sentencing and Employment Services' Court Employment Project before joining DOP.
Department of Sanitation commissioner: Jessica Tisch
Adams appointed Jessica Tisch – the former commissioner of the Department of Information Technology and Telecommunications – to lead the Sanitation Department on April 18, confirming long-swirling rumors that Tisch planned to stick around with this administration. Early reports of Tisch's appointment initially prompted a lament from the Uniformed Sanitationmen's Association president that Adams was "letting somebody very good get away," referring to former Commissioner Ed Grayson. While it was never announced by the Adams administration, City & State first reported that Tisch had been leading the City Cleanup Corps since the beginning of 2022 in what appeared to be a "try out" for the sanitation job. Adams praised Tisch as a "Get Stuff Done leader" when her appointment as commissioner was officially announced on April 18.
School Construction Authority president and CEO: Nina Kubota
Kubota has been with SCA since 1998, and took over the top spot in April 2021 when de Blasio appointed Grillo to lead the city's pandemic recovery. She'll remain in her position in Adams' administration. 
Department of Small Business Services commissioner: Kevin Kim
Previously commissioner of the New York State Liquor Authority, Kim was more recently a partner at law firm Yoon LLP, specializing in liquor license law.
Department of Social Services commissioner: Gary Jenkins
At DSS, Jenkins will oversee both the Human Resources Administration and the Department of Homeless Services. He was already serving at the HRA as administrator since September 2020 and has been with that agency his entire career, starting more than 30 years ago in 1989.
Transportation commissioner: Ydanis Rodriguez
The term-limited City Council member who always seemed to be by Adams' side on the campaign trail will lead the Department of Transportation, after eight years providing oversight as chair of the City Council's Committee on Transportation. Before taking office, he was a teacher and activist.
Department of Design and Construction commissioner: Thomas Foley
Acting Department of Design and Construction Commissioner Thomas Foley is officially staying on as head of the department, which he joined in 1998 as an engineer-in-charge. Foley has led the department – which oversees the city's capital construction projects – since October, when former Commissioner Jamie Torres-Springer left for a job at the MTA.
Department of Youth and Community Development commissioner: Keith Howard 
Howard is currently an associate deputy commissioner at the New York City Department of Transportationwhere he manages the Vision Zero programEarlier in his career, he served in a number of watchdog and investigatory roles in city government,, working as an inspector with theDepartment of Consumer and Worker Protection, a special investigator for the  Joint Commission on Integrity in the Public Schools, and an investigator for the CCRB His appointment was announced on June 15th. 
Other Offices
Chief Efficiency Officer: Melanie La Rocca
Commissioner of the Department of Buildings since May 2019, La Rocca will now be taking on a newly created role in the Adams administration known as "the efficiency czar." Before DOB, she worked under Grillo at the SCA and was chief of staff to former City Council Speaker Christine Quinn.
Chief Housing Officer: Jessica Katz
Katz has been the executive director of the research and advocacy organization Citizens Housing & Planning Council since 2018, and before that, was an assistant commissioner at HPD. Katz will have a portfolio similar to previous deputy mayors for housing, overseeing agencies including HPD, HDC NYCHA and more.
Chief Medical Examiner: Jason Graham
Jason Graham has served as acting chief medical examiner since December 2021 and his appointment to lead the Office of Chief Medical Examiner was announced April 20. He has been working at the agency since 2006 and has led its response to the opioid epidemic. Graham is a physician and also chairs the Department of Forensic Medicine at the New York University Grossman School of Medicine.
Chief Technology Officer: Matt Fraser
Fraser will be taking on the newly expanded role, which will oversee the Department of Information Technology and Telecommunications as well. He's currently the NYPD deputy commissioner of information technology and did a private sector stint before that as director of consulting services at Gartner.
Civilian Complaint Review Board interim chair: Arva Rice
Rice has sat on the CCRB since June 2021. She is the president and CEO of the New York Urban League, a Black empowerment nonprofit organization. Rice is only an interim appointment, replacing former Chair Fred Davie, who had previously announced he would be stepping down. Adams has the power to make an interim appointment on his own, while a full chair is jointly appointed by both the mayor and the speaker of the City Council. 
Conflicts of Interest Board chair: Milton Williams Jr.
Adams nominated former federal prosecutor Milton Williams Jr. to lead the city's Conflict of Interest Board on Aug. 5. Williams, who has more recently worked as a partner at Walden Macht & Haran, will need to be confirmed by the City Council before taking the reins at COIB.
Economic Development Corp. president: Andrew Kimball
Industry City CEO Andrew Kimball is now leading the New York City Economic Development Corp., where he'll aim to carry out Adams' "Rebuild, Renew, Reinvent" blueprint for economic development. Before leading Industry City, Kimball served as CEO of the Brooklyn Navy Yard Development Corp., another major economic development project in the city.
Health + Hospitals president and CEO: Mitchell Katz
Mitchell Katz has been leading the city's public hospital system since 2017. Adams renominated him to stay in the position and the H+H board approved it on March 31. Before coming to New York, Katz served as director of the Los Angeles County Health Agency. He is also a practicing primary care physician.
Housing Development Corporation president: Eric Enderlin
Enderlin has led the country's largest municipal housing finance agency since 2016, and will be staying on under Mayor Adams. Before that, Enderlin worked at HPD and NYCHA.  
Commission on Human Rights commissioner and chair: Annabel Palma
Adams reappointed Palma as chair of the Commission of Human Rights, a position she's held since October 2021. Prior to serving as chair, Palma represented a Bronx district in the City Council for 12 years, and was later a deputy commissioner in the Department of Social Services and chief equity officer for the Test & Trace Corps. Her reappointment was announced on June 6.
Mayor's Office of Animal Welfare director: Alexandra Silver
Alexandra Silver was tapped to lead the office, which was created in 2019. Silver previously served as community outreach & engagement manager at Animal Care Centers of NYC. Silver's appointment was announced on July 15.
Mayor's Office of Appointments director: Lisa Lashley
Lashley most recently worked in community engagement for the New York City Council. She has served as counsel in the state Senate, a trial attorney for the New York City Transit Authority and an assistant district attorney in Brooklyn. 
Mayor's Community Affairs Unit: Fred Kreizman
A longtime veteran of the Mayor's Community Affairs Unit under former Mayor Michael Bloomberg, Fred Kreizman will now head up the office himself. Kreizman is returning to city government now after working at Capalino as managing director.
Office of Faith Based and Community Partnerships director: Gilford Monrose
Monrose is the lead pastor at Mt. Zion Church of God Seventh Day in East Flatbush, and was previously Adams' faith director in the borough president's office. This newly created office is housed within the Mayor's Community Affairs Unit.
Office of Faith Based and Community Partnerships senior adviser: Fernando Cabrera
LGBTQ advocates were outraged when reports emerged that Cabrera – who as a council member made headlines in 2014 when he expressed support for Uganda's anti-gay and anti-abortion practices – was being considered to lead the mayor's Office of Community Health. In appointing Cabrera, a pastor, Adams referenced an apology Cabrera made on Facebook and said he has "heard and accepted" it. Cabrera is the second pastor appointed by Adams who has a history of anti-gay and anti-abortion views (see Erick Salgado).
Mayor's Office of Climate and Environmental Justice executive director: Kizzy Charles-Guzman
Charles-Guzman has more than a decade of experience working on environmental policy under both Mayors Bill de Blasio and Michael Bloomberg. Most recently, she served as deputy director at the Mayor's Office of Resiliency, where she helped implement the "Cool Neighborhoods NYC" initiative aimed at tackling climate change in communities that are vulnerable to extreme heat.
Mayor's Office of Community Mental Health: Eva Wong
Adams tapped Eva Wong, coming from the Center for Early Childhood Health and Development at NYU Langone Health, to lead his Office of Community Mental Health, a relatively newly codified office with a wide-ranging mandate to help reduce substance misuse and close gaps in access to mental health care, among other things. Wong previously led programs and engagement at University Settlement, a nonprofit delivering social services to low-income New Yorkers. Her appointment was announced on July 11th.
Mayor's Office of Contract Services director: Lisa Flores
Longtime city government veteran Lisa Flores will lead the Mayor's Office for Contract Services, New York City's procurement office. Flores currently serves as deputy comptroller for contracts and procurement and will be returning to MOCS, where she previously served as deputy director.
Mayor's Office of Criminal Justice director: Deanna Logan
Previously general counsel and deputy director in the office, Logan will now be leading the MOCJ. Before she joined the mayor's office in 2019, Logan supervised the Rikers Island Prosecution Bureau in the Bronx District Attorney's office. She has also worked in the Department of Correction, the Manhattan DA's office and the New York Stock Exchange. 
Mayor's Office of Ethnic and Community Media executive director: José Bayona
Bayona will be the first one to lead this newly created office, though he previously held a similar role under de Blasio, as director of community and ethnic media and deputy press secretary in the mayor's office. Bayona was a spokesperson on Adams' mayoral campaign, and before entering government, was a journalist at the Daily News, NY1 and El Diario.
Mayor's Office of Equity commissioner: Sideya Sherman
Sideya Sherman was previously the executive director of the city Taskforce on Racial Inclusion and Equity as well as executive vice president for community engagement and partnerships at the New York City Housing Authority. Before that, she was a project director and senior planner for the Municipal Art Society of New York. She will lead the newly created office, which oversees the Commission on Gender Equity, the Pay Equity Cabinet and other initiatives. The appointment was announced May 3.
Mayor's Office of Intergovernmental Affairs director: Roberto Perez
Perez was appointed to lead de Blasio's Community Affairs Unit in Feb. 2021, but before that he was senior executive director of intergovernmental affairs at the Department of Education under former Chancellor Richard Carranza.
Director of city legislative affairs: Jessica Carrano
Carrano comes from Red Horse Strategies, the lead firm on Adams' 2021 campaign. Before her five years at Red Horse, Carrano worked as Long Island political director, then state elections director for the Working Families Party. 
Director of state legislative affairs: Christopher Ellis
Most recently associate vice chancellor for workforce development initiatives at the State University of New York, Ellis was previously special assistant to the state chief information officer and director of the office for technology and a senior legislative fiscal analyst for the Assembly Ways and Means Committee. 
Director of federal legislative affairs: Crystal Price
Crystal Price, the former deputy director of federal legislative affairs under de Blasio, takes a step up with her appointment as director. She will manage the federal priorities of all city agencies, reporting to Carone. Price's appointment was announced on July 15.
Mayor's Office of Immigrant Affairs commissioner: Manny Castro
Castro is coming from outside government as the executive director of Queens nonprofit New Immigrant Community Empowerment. Before that, Castro was an organizer with the New York Immigration Coalition.
Mayor's Office of Immigrant Affairs assistant commissioner: Erick Salgado
Adams' decision to hire the Brooklyn pastor, despite his long track record of anti-gay and pro-life views, drew calls for the mayor to walk back the appointment. Salgado is one of two new appointees with a history of anti-gay sentiments (see Fernando Cabrera). Salgado said in a statement that he has "evolved" and vowed to lift up "LGBTQ+ immigrants."
Mayor's Office for International Affairs commissioner: Edward Mermelstein
Luxury real estate attorney Edward Mermelstein will head up the city office tasked with international diplomacy. Mermelstein donated to Adams' campaign but is a Republican and has worked with another New York real estate figure, former President Donald Trump.
Office of Administrative Trials and Hearings commissioner and chief administrative law judge: Asim Rehman
Previously the deputy commissioner for legal matters and general counsel at the Department of Correction, Asim Rehman is moving over to the city's administrative law court, where he'll report to Chief Counsel to the Mayor Brendan McGuire. Rehman has also served in the Law Department and the office of the inspector general of the NYPD. Announced March 29, he is the first Muslim and South Asian American to lead the Office of Administrative Trials and Hearings.
Office of Labor Relations commissioner: Renee Campion
The mayor reappointed Campion as commissioner, a position in which she's served since 2019, when she became the first woman to lead the office. Campion has been with OLR for the last 20 years and before that, worked at a union, Doctors Council SEIU. 
Office of Management and Budget director: Jacques Jiha
Adams is asking Jiha to remain in the role he's held since October 2020 . Before that, he served as de Blasio's finance commissioner.
Mayor's Office of Media and Entertainment commissioner: Anne del Castillo
Leading the Mayor's Office of Media and Entertainment since 2019, Adams asked Anne del Castillo to stay on as commissioner. She joined the agency in 2014 and previously served as COO and general counsel, among other positions. She was previously a vice president at nonprofit media organization American Documentary. Her reappointment was announced Feb. 23.
Mayor's Office of Operations: Dan Steinberg
The mayor's governmental operations office will be led by Dan Steinberg, who comes with experience in management and analytics. Steinberg previously served as chief of data analytics for the NYC Vaccine Command Center.
Mayor's Office for People with Disabilities commissioner: Christina Curry
Christina Curry, the longtime executive director of the Harlem Independent Living Center and a veteran of various boards and committees serving disabled and Deaf communities, is now leading Adams' Office for People with Disabilities. Curry's appointment was announced on July 26.
Mayor's Office of Policy and Planning director: Sherif Soliman
Currently de Blasio's finance commissioner, Soliman will be moving to a new role. He'd previously served as a top aide to deputy mayors in the de Blasio administration and as director of state legislative affairs.
Mayor's Office of Risk Management and Compliance: Marjorie Landa
Marjorie Landa will be the first to lead the Mayor's Office of Risk Management and Compliance, an office Adams is creating to reduce fraud and waste across city agencies, starting with the budgets of the Department of Education, the Department of Correction and the New York City Housing Authority. Landa comes from the city comptroller's office too, where she serves as deputy comptroller for audits and investigations. 
NYC & Company president and CEO: Fred Dixon
Dixon started leading the city's tourism arm at the beginning of the de Blasio administration and will stay on under Adams. He's been with NYC & Company since 2005, and before that worked in a similar role in Nashville.
New York City sheriff: Anthony Miranda
Anthony Miranda allied with Adams in the early 2000s, when he led an organization for Latino NYPD officers while Adams led an organization for Black officers. A retired NYPD officer and co-founder of the National Latino Officers Association, Miranda also previously served as chief of police and director of security for the New York City Administration for Children's Services. Miranda also ran and lost in the 2020 Democratic primary for Queens borough president and the 2021 Democratic primary for City Council District 20. His appointment was announced on May 3.
Public Design Commission executive director: Sreoshy Banerjea 
Sreoshy Banerjea is a former vice president of urban design for NYCEDC, prior to her public service she worked as an architectural associate with Rafael Vinoly and Dattner Architects. Banjera will report to Deputy Mayor for Economic and Workforce Development Maria Torres-Springer. Her appointment was announced June 10. 
Taxi and Limousine Commission chair: David Do
David Do now leads the equivalent agency in Washington, D.C.'s city government, as the director of the Department of For-Hire Vehicles. Before that, he was director of the D.C. Mayor's Office on Asian and Pacific Islander Affairs. Do's nomination was announced on April 28 and Do was confirmed by the City Council in May.