2022 general election
Nicole Malliotakis versus Max Rose: Take Two
Two years after the Republican flipped the Staten Island Congressional seat, Malliotakis may be safe – but Rose is used to being the underdog.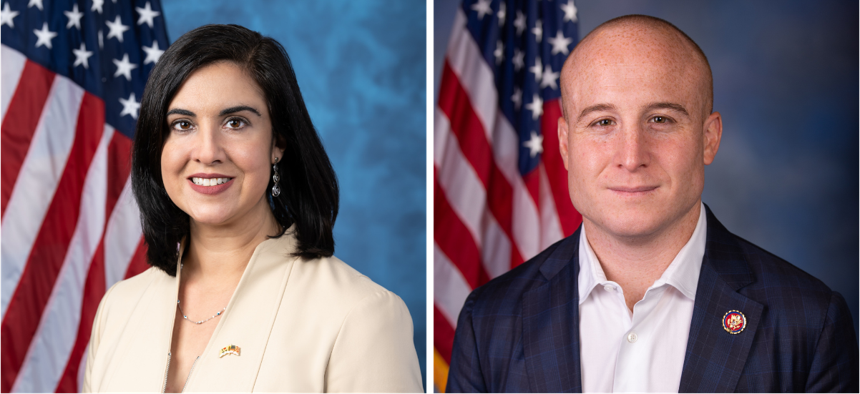 Former Rep. Max Rose has come full circle. Four years ago, the U.S. Army veteran beat the odds by becoming only the second Democrat to win the Staten Island congressional seat in nearly four decades. Today, he's an underdog again, vying for a political comeback in the closely watched House race against Rep. Nicole Malliotakis.
The 11th Congressional district, which encompases all of Staten Island and a slice of Southern Brooklyn, has been represented by five different members since 2009. It's also the only New York City district to have voted for former President Donald Trump in both 2016 and 2020. In short, Rose faces an uphill battle against the Republican Malliotakis who defeated him after one term by six points. Though a Spectrum News/Siena College poll from Oct. 6 shows that the margin between him and his opponent isn't necessarily insurmountable – 6% with a margin of error of 5.2% at the time it was taken – nearly every outlet or organization that's rated which party will win seats in November has Malliotakis pegged as the likely victor. The Democratic Congressional Campaign Committee hasn't been investing much into the district, or running any TV ads, suggesting that party insiders don't think he has much of a chance.
But Rose, a centrist Democrat who describes himself as someone able to forge bipartisan solutions, has pulled off the upset before – it's how he got into Congress – and he's more or less kept up with Malliotakis in fundraising, even without any outside spending from groups like the DCCC. Throughout his campaign, he's often gone on offense, describing his opponent's voting record as extremist, pointing to her continued support of former President Donald Trump and slamming her positon on abortion and the fact that she was one of 147 Republicans to vote against certifying the 2020 election results. And it's not just the big stuff. Just last week, the Daily News reported that Rose accused Malliotakis of violating ethics rules by using her official government podium at a campaign event. One of his supporters reportedly plans to file a formal complaint. 
Like many competitive contests playing out across the country, crime and the economy are likely to be keystone issues in the upcoming election, which now looms a little over two weeks ahead. The Spectrum News/Siena College poll found that 41% of voters in the district cited the economy as their top issue, 21% selected crime, 16% selected threats to democracy, and 8% pointed to abortion. While Rose has acknowledged that these top two issues are among the most important to voters, he's also poured a lot of energy and resources into contrasting his stance on reproductive rights with his opponent's.
"Affordability, safety and choice are all critical issues, but they really boil down to the central issue of freedom. I believe in this country, I'd give my life for this country – I nearly did," Rose said in an interview with City & State, referring to his military service "I believe that in this nation people deserve the freedom from skyrocketing prices, they deserve freedom from crime, and they certainly deserve the freedom to make their own reproductive health decisions."
Rose has repeatedly challenged Malliotakis' stance on abortion, even unfurling several television advertisements centered on the issue – one of which suggested the representative is in favor of banning abortions without exceptions, even when the mother's life is in danger. While Malliotakis has said it doesn't accurately characterize her personal views, since she supports exemptions in cases of rape, incest or where pregnancy threatens the life of the mother, she argues that people in the district are far more concerned about public safety and their ability to put food on the table than they are abortion. She's focused the bulk of her campaign on these things. In an interview with City & State, Malliotakis criticized Rose for being on "the wrong side of public safety issues" and for honing in on abortion. (That "public safety" focus might have been key to her success in 2020. Malliotakis hammered Rose for joining a peaceful Black Lives Matter march – which some conservatives considered to be insulting to the police.) 
"He doesn't want to address inflation. He doesn't want to address our open border. He doesn't want to address crime, which are the top three issues that people care about in the district," Malliotakis said this month. "He wants to talk about an issue that doesn't affect one woman in New York, because we already have the most extreme law in the country." 
Malliotakis has received endorsements from a slew of law enforcement, fire and building trades unions, including the Police Benevolent Association, the Uniformed Firefighters Association, the Correction Officers' Benevolent Association, and the Mason Tenders District Council – endorsements that are likely to go a long way with Staten Island constituents in particular. Rose has garnered the backing of a host of Democratic elected officials including Reps. Katie Porter and Ritchie Torres, New York City Comptroller Brad Lander, the United Federation of Teachers, and New York City Mayor Eric Adams. 
In recent years, sweeping national issues like abortion, public safety, immigration and the economy have largely overshadowed local topics in Congressional races as these contests have become increasingly nationalized, according to Richard Flanagan, a political science professor at the College of Staten Island. While he acknowledged that abortion is a topic that resonates with New York voters, he cautioned that New York is already such a pro-choice state that it might not turn out to the galvanizing issue that Democrats are hoping for. Crime however, is likely to be a big factor and that's an issue that's been cornered by Republicans and Malliotakis, he said.
"I don't think Democrats have been handling it very well. I think that there's a certain glib response – not from Rose –  but from other Democrats," Flanagan said. "I think Rose is pulled down by other Democrats, who are rather glib and say 'it's not the 1970s.' I think that's dismissive of people's fears."
With Democrats currently holding a slim, eight-vote majority in the House, New York has become perhaps the most important congressional battleground in the country. The 11th district leans red now, but earlier this year, it seemed like an easy pickup opportunity for Democrats, after the redistricting committee drew the lines in a way that included the deep-blue bastions of Sunset Park, Park Slope and Gowanus in Brooklyn. Hopes were thwarted after New York's Court of Appeals ruled the maps unconstitutional, and the district was redrawn in a way that favored a Republican – especially in a midterm environment like 2022.
Still, turnout could be a deciding factor if Rose manages to pull an upset. There are 189,629 active Democrats and 118,864 active Republicans registered in the district, according to the latest state Board of Elections data. Independents are also a key swath of voters, though according to the Siena/Spectrum News poll Malliotakis leads this population 62-25%.
Siena College pollster Steven Greenberg cautioned against giving earlier polling too much weight as things are moving quickly. 
"They were a snapshot in time earlier in the campaign. There's certainly been an active campaign on both sides and the question is how much that campaigning has changed the race," he told City & State.
Malliotakis made some polarizing decisions during her first term. Shortly after taking office, she voted against certifying presidential election results in Arizona and Pennsylvania, subscribing to the conspiracy theory that Biden's win was illegitimate claiming irregularities in  election results and days later, voted against impeaching Trump. Malliotakis' close ties to Trump have continued to be a point of controversy. While she hasn't talked about the former president much recently – perhaps due to his unpopularity with many centrist Republicans and independents  – her campaign website does tout that she has his "complete and total endorsement."
But Malliotakis' district has been held by a Democrat before, and she has not always aligned with her most conservative House colleagues. She was a rare Republican who voted for the infrastructure package in 2021. She has also voiced some support for new gun regulations and voted to codify same-sex marriage rights.
When asked whether she feels a need to win over Democrats in the district heading into the election, Malliotakis said these constituents were important to her victory two years ago and remain so now. 
"The pendulum has just swung too far to the left and people across the political spectrum see the need to restore a sense of balance, to have bipartisan representation because that's where you're going to develop the best policy in the middle ground," Malliotakis said. "The people in this district understand that and appreciate that I've provided an alternative perspective in Washington." 
Rose argues that perspective is not in line with New York City and her votes, while "mystifying," are ultimately about currying favor with the Republican party.
Rose himself needs to think about currying favor with voters. "He's won one and lost one, and he won the first one as an underdog. He's back in that underdog spot again," Flanagan said. "I wouldn't count him out by any stretch."