Courts
Senate Judiciary Committee votes to advance Rowan Wilson
Members of the committee voted to advance Hochul's latest nominee for a full Senate vote.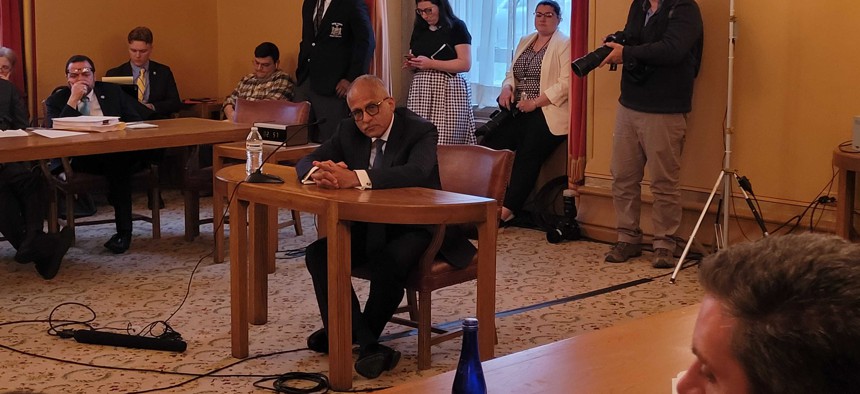 A panel of lawmakers on the state Senate Judiciary Committee voted on Monday to advance Rowan Wilson to lead the Court of Appeals. Wilson, who is currently an associate judge on the Court of Appeals, would be the first Black chief judge in the state's history if confirmed.
Last week, Hochul announced both her nomination of Wilson to helm the state's highest court and her intention to nominate Caitlin Halligan, a former New York solicitor general now in private practice, to replace Wilson as an associate judge. The committee is scheduled to hold a hearing on Tuesday regarding Halligan's potential nomination. Meanwhile, Republicans are considering a lawsuit to challenge whether or not Halligan's nomination is constitutional. 
During the three-hour hearing, Wilson endured lines of questioning centered on his judicial record, including his history of dissents. Hoylman-Sigal began by asking  Wilson about his majority opinion in People v. Regan, a case in which the Court of Appeals ruled 4-2 to vacate the conviction of someone who was found to have committed rape, due to the prosecution's inexplicable delay in bringing charges. That decision has sparked controversy among some sexual assault advocates, including the women's organization National Organization for Women New York City (NOW-NYC). Sonia Ossorio, president of NOW-NYC, was in attendance at Monday's judicial hearing and told City & State that Wilson's decision in Regan should disqualify him from leading the Court of Appeals.
In the case, a woman went to the police hours after the rape had occurred and identified the man who was later convicted. She completed a sexual assault examination and police questioned the defendant, who refused to voluntarily provide a sample of his DNA. Years later, the police obtained a warrant and took a DNA sample from the suspect, which matched DNA taken from the victim. Four years after he had first been interviewed by police, the suspect was finally indicted on a charge of first-degree rape. He was later convicted.  But in his opinion, Wilson argued that the prosecution's years-long delay in obtaining DNA evidence and bringing criminal charges violated the defendant's constitutional right to prompt prosecution.
During the judiciary hearing, Wilson said his decision to vacate the conviction did not come easy. "It's a horrible feeling – and it's not an easy thing to do – but it's a function of how our legal system works," Wilson said. He defended his opinion while acknowledging that the woman in the case did everything right and did not deserve the way police and prosecutors handled her case.
Outside of the hearing room, former U.S. Rep. Carolyn Maloney told City & State that the state Senate should delay Wilson's confirmation until the upper chamber had more time to fully analyze the impact of his ruling in Regan. "He opened the floodgates for other convicted criminals to sue for their cases to be overturned. Justice just became much harder to obtain in New York state," Maloney said. "This is a wake-up call – or frightening call – to rape victims."
In the final vote, all 13 Democrats voted to advance Wilson's nomination to a full state Senate vote, while four Republicans voted against advancing the nomination and one Republican, Staten Island state Sen. Andrew Lanza, voted aye without recommendation. Immediately after the vote, Judiciary Committee chair Brad Hoylman-Sigal released a statement affirming his confidence in Wilson to lead the court. "Elevating Judge Wilson to Chief Judge will significantly improve the standing and quality of the Court of Appeals and courts throughout New York, and I look forward to moving his nomination to the floor of the Senate," Hoylman-Sigal wrote.
Wilson's hearing went considerably smoother than the judicial hearing earlier this year for Hector LaSalle, who was the governor's first pick to lead the Court of Appeals. The Judiciary Committee made history when it initially voted to reject LaSalle in January – leading to a bitter, months-long fight over the nomination between the governor and the Senate that culminated in a Republican lawsuit and the unprecedented rejection of LaSalle in a full Senate floor vote in February. When asked about LaSalle's hearing, Wilson insisted that focusing on the failed nomination would have a "deleterious effect" on the court. 
At a press conference after the hearing, Senate Republicans questioned Wilson's background and ties to the community. "Where are his PTA meetings, going to softball games, watching the kids grow up, playing ball on the block, helping somebody shovel out their car?" asked state Sen. Jack Martins. "Those kinds of things we expect from our jurists because they ground them and they form their core values." Wilson, who grew up in California but has lived in New York since the late 1980s, was also accompanied by his wife and daughter at his hearing. 
Republicans also accused Wilson of engaging in judicial activism with his Regan opinion. "Judge Wilson just created a rule that is now the law of this state," state Sen. Anthony Palumbo said. "We didn't do that in the Legislature, not done in these halls, it was done across the street."
Wilson is widely expected to be easily confirmed as chief judge, particularly since he has served as an associate judge on the Court of Appeals for the last six years. He has also been on several of the Commission on Judicial Nomination's "shortlists" of potential nominees in recent years – though not last year. When asked why he had not been included on that shortlist, Wilson said he was unsure why he was excluded. "Well, I don't know how they went about doing it. I've had my own personal view – which is that I should have been on that list," Wilson said to laughter from senators and spectators.
With reporting by Rebecca C. Lewis
Powered By
NEXT STORY: As George Santos announces reelection campaign, his single donor remains mum