2024 New York congressional battleground
Who's running in NY-22?
State Sen. John Mannion and Air Force veteran Sarah Klee Hood are both looking to unseat Republican incumbent Brandon Williams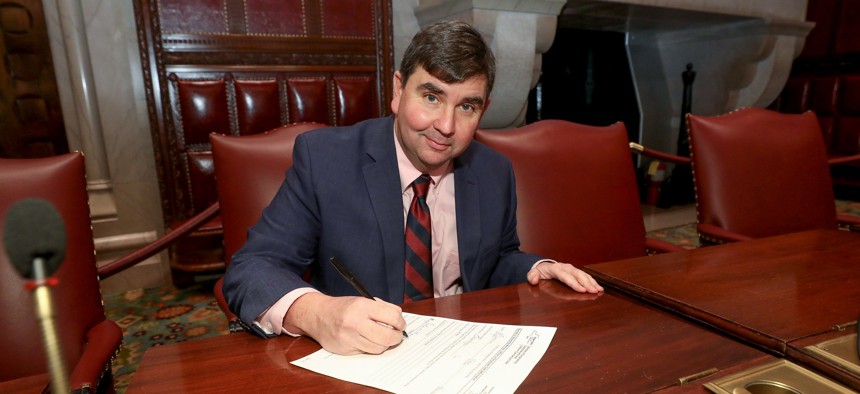 Political observers across the nation tuned in the open race for the 22nd Congressional District in Central New York last year. It was one of the most competitive races in the state in a year when New York's congressional elections tipped the balance of power in Congress toward Republicans. 
In 2024, the seat will not be an open race, but that doesn't mean it will be any less competitive. Already, the district has eyes on it, with observers watching closely to see whether Democrats can flip the seat during a presidential year. And a number of Democrats have already announced their intention to run, which means a primary is likely next summer. Here's a list of everyone who has declared their campaign in the battleground district so far.
Brandon Williams 
The incumbent in the race, Republican Rep. Brandon Williams, got elected in 2022 after former Rep. John Katko, a more moderate Republican, announced his retirement. Although Katko represented what was once the 24th District, redistricting renumbered much of the district to the 22nd. Williams ran in the Republican primary that year as a hardline Trump supporter and critic of the type of bipartisanship that Katko was known to engage in, defeating a candidate backed by Katko supporters. Williams then bested Democrat Francis Conole in an incredibly competitive race that drew national attention.
Williams doesn't technically live in the district; his home is about one mile outside it. Although a representative is not required to live in the district they represent, some constituents have criticized Williams for failing to make good on his campaign promise to relocate to the district if he got elected. He has also received criticism from progressive activists for how he runs his town halls and some remarks he has made during them.
At the start of his first seven months of office, Williams told The Auburn Citizen that he wanted to focus on reducing energy costs and to boost oil production in the U.S. He also notably reintroduced legislation that would block New York from allowing farm workers who work less than 60 hours per week to receive overtime pay. Farm owners and members of the agriculture industry have been fighting for years to prevent farm workers from receiving overtime and other labor benefits and have recently targeted state regulations that will eventually allow farm workers to receive overtime pay for working more than 40 hours per week. The issue is a sensitive one in Central New York, which is home to many farmers.
John Mannion
Democratic state Sen. John Mannion has decided to officially jump into the race, with a formal announcement coming Thursday after weeks of speculation. This would hardly be Mannion's first closely-watched competitive race. When he first ran for state Senate in 2018, he aimed to flip a long-held Republican seat after the incumbent retired. He ultimately lost that race by roughly two percentage points to former state Sen. Bob Antonacci. But Mannion got a second chance when Antonacci left the Senate for a judgeship, and in 2020, Mannion won handily against the Republican in the race. Thanks to redistricting, his most recent race saw him running a largely new district. And the election was a doozy – after several recounts, Mannion managed to hold onto his seat by a mere 10 votes. 
A moderate who has received strong support from the state's teachers union in the past, Mannion is one of a handful of Democrats who have often voted against major progressive legislation. That includes criminal justice reform bills like the Clean Slate Act, which would seal the criminal records of most New Yorkers after a certain amount of time if they stay out of trouble, and the HALT Solitary Confinement Act. He also voted against legislation that enacted a 2-year moratorium on cryptocurrency mining and the Build Public Renewables Act, both of which environmental advocates had pushed for.
Sarah Klee Hood
Also seeking the Democratic nomination next year is Sarah Klee Hood, a town councilor in DeWitt and an Air Force veteran. She was one of several candidates to run in the primary last year, coming in a close second to Francis Conole, who outspent her and received outside support from now-indicted crypto bro Sam Bankman-Fried. Klee Hood is trying again this year and launched her campaign back in April. She told The Auburn Citizen that abortion and women's rights, paid family leave and health care will be among her top priorities if elected. Klee Hood has already racked up several endorsements, including from U.S. Sen. Tammy Duckworth of Illinois and over 50 local Central New York Democratic leaders.
Clemmie Harris
In early June, Utica University professor Clemmie Harris formally announced that he would also run in the Democratic primary next year. Before entering academia, according to his website, he worked as a senior aide to former Gov. David Paterson, where he said he worked to help small businesses and minority-owned and women-owned businesses.
Powered By
NEXT STORY: Ron DeSantis sets his sights on Hamptons fundraiser