News & Politics
Curious who will be governing New York in 5 years? Take a look at the staffers.
Across New York City and state legislative branches, intra-office succession planning is alive and well.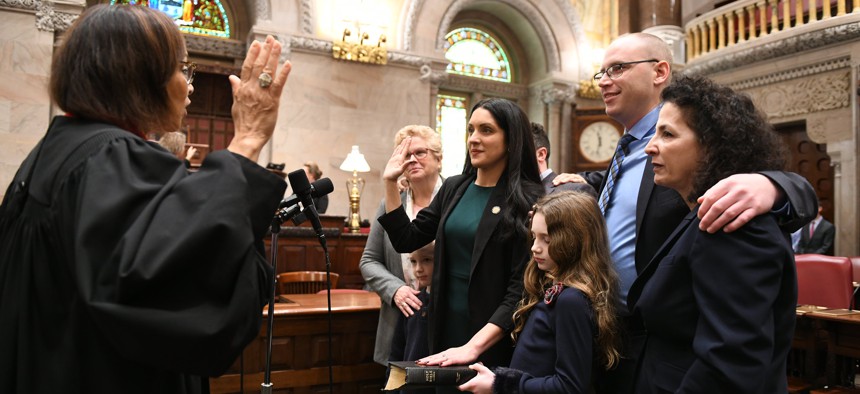 In 2001, when a New York City Council seat opened up in his district in North Brooklyn, then-Assembly Member Vito Lopez encouraged Diana Reyna, his chief of staff, to go for it. Reyna served in the council for three terms before reaching the office's term limits. In 2013, Antonio Reynoso, Reyna's chief of staff, won the Democratic primary to succeed her and represented the district for the next eight years. When it was time for Reynoso to step down at the end of 2021, who did he endorse? Jennifer Gutiérrez, his chief of staff, who represents District 34 today, continuing a two-decade staffer to elected official pipeline. Gutiérrez recalled the first time Reynoso told her she should run to succeed him. She said he hadn't been elected himself: It was 2013, 48 hours after he won his first City Council primary campaign – which she managed. At the time, she wasn't even sure whether she would be working for him full time.
"He said this jokingly, and I think about it now, and I'm like, actually was that serious?" she told City & State. "In his tiny, hot as hell little campaign office … he was like, 'Jen, you're next right?'"
In recent years, election headlines have tended to focus on outsider candidates who break through, such as Alexandria Ocasio-Cortez, Julia Salazar, Yusef Salaam, Jabari Brisport and George Santos. But the reality is that those cases are much rarer than situations like Gutiérrez's. Half of the current New York City Council once worked on the staff of another elected official. Fourteen of the council's 51 members directly succeeded their former boss. That type of succession was also common in the state Legislature, especially in New York City-based seats. Strong relationships in the district, knowledge about campaigns and legislation, fundraising connections and an incumbent's behind-the-scenes support – if not outright endorsement – can give a staffer a major advantage in the race to succeed them or represent an overlapping district. And it's an opportunity for the outgoing incumbent. "The elected official probably wants to create a legacy of having someone that they feel and trust will do the work," said progressive strategist Camille Rivera. And more often than not, they want to maintain influence in the district. "I think a lot of elected officials, especially those who are term-limited, they're not ready to let go," said former state Sen. Diane Savino. "Eight years flies by like that."
Staffer lineages positively abound. In Staten Island's City Council District 50, Republican City Council Member David Carr was chief of staff to former Council Member Steven Matteo, who served as chief of staff to former Council Member Jimmy Oddo, who served as chief of staff to former Council Member John Fusco.
In lower Manhattan, City Council Member Carlina Rivera was legislative director for her predecessor Rosie Mendez, who was chief of staff to her predecessor Margarita López. City Council Member Erik Bottcher was then-City Council Speaker Corey Johnson's chief of staff.
Southern Brooklyn state Sen. Iwen Chu was chief of staff to then-Assembly Member Peter Abbate Jr. East Harlem City Council Member Diana Ayala was deputy chief of staff to then-Speaker Melissa Mark-Viverito.
Is this establishment politics? Yes. Is it exclusive to one side of the ideological spectrum? No. Progressive Brooklyn City Council Member Shahana Hanif worked for and succeeded lefty then-City Council Member Brad Lander, while former Capital Region Republican state Sen. Daphne Jordan was legislative director for her predecessor Kathy Marchione.
"This can be an unspoken truth for a long period of time, and folks can kind of know that someone's chief of staff is interested in that seat," said Brandon West, a former City Council candidate and former president of the progressive organization New Kings Democrats, which has the mission of "bringing transparency, accountability, and inclusionary democracy" to the Brooklyn Democratic Party. "It all can be kind of hush-hush, but obviously you're priming the pump for this person to take over that role."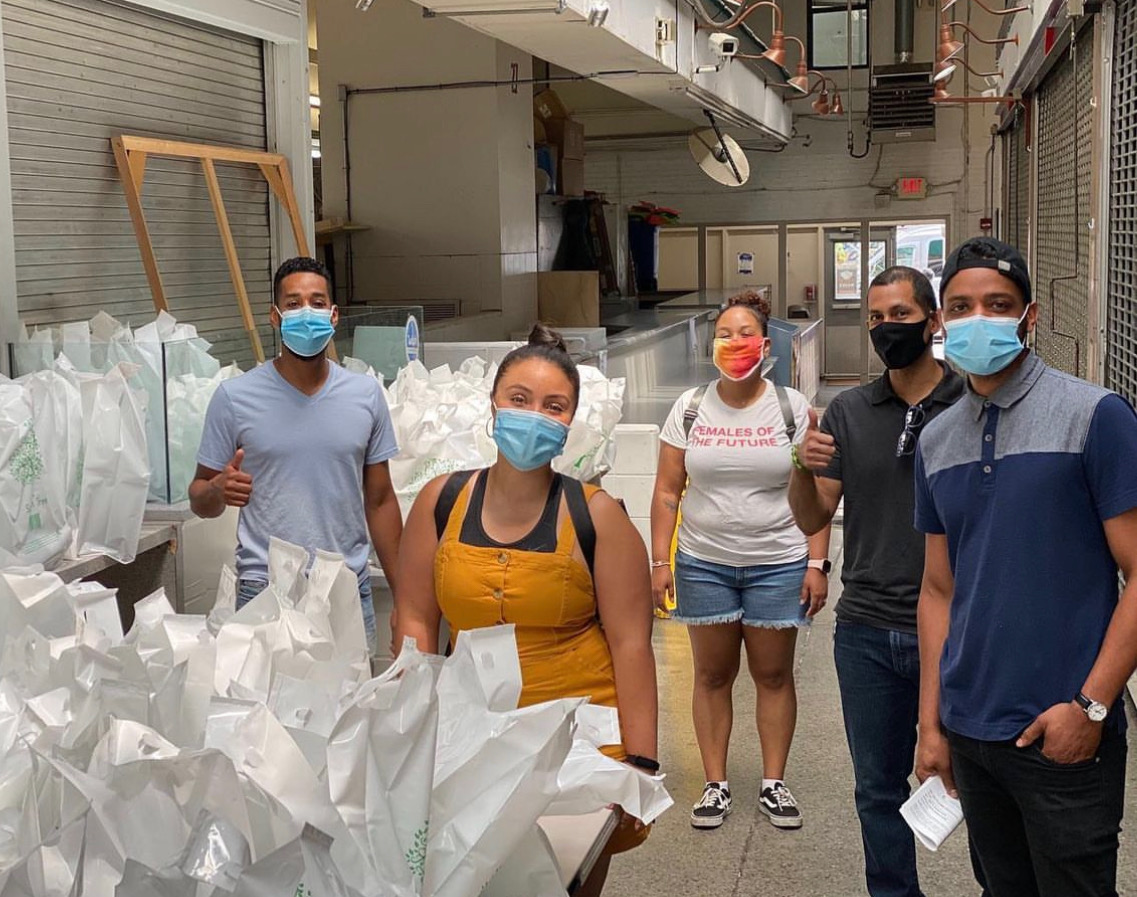 The apprentices
Whether they plan to eventually run for office or not, top staffers serve as prominent surrogates for elected officials in their districts – experience that can make them capable candidates to take over. "If you see a construction site, the carpenters, the plumbers, the electricians, the painters, they all started as apprentices," said Democratic strategist Evan Stavisky, who over the course of 45 minutes rattled off dozens of examples of New York City staffers who became elected officials from memory. "They learned their trade and then eventually became fully capable to practice it, and politics really isn't that different."
Politics is about relationships, and staffers have those in excess: with local party leaders, political clubs, other elected officials, organized labor, tenant associations, community boards, nonprofits and reporters. And they manage constituent services, putting them in direct contact with residents. "You are intimately aware of every issue that is faced by the office to which you're running in a way that someone who's getting it from a newspaper or from sitting in the back of a community board just can't get," said City Council Minority Leader Joe Borelli, who previously worked for his predecessor Vincent Ignizio as chief of staff for eight years. Borelli eventually succeeded Ignizio both in the Assembly and in the City Council. Ignizio, meanwhile, had been chief of staff to two other City Council members: Stephen Fiala and Andrew Lanza. Borelli's former chief of staff in the Assembly, Carr, is also on the council. "I think if people are happy with the service you're providing, they see someone working in your office as a logical successor," Borelli said. Without hesitating, he listed the exact amount of time he had left in office (two years, three months and 24 days) and offered the phone to his chief of staff: "Frank, you running for office?" Frank Rapacciuolo took the phone for a moment: "It's always nice to be considered," he said.
Yuh-Line Niou, who worked for Queens Assembly Member Ron Kim before running for the Assembly in Manhattan, noted that she didn't succeed Kim, but she played a major role leading his office. "I had more policy experience than Ron when I became his chief of staff," said Niou, who previously worked as a staffer in the Washington state legislature. "It was going to be a historic moment, and he also needed somebody who could speak Chinese fluently to his constituents … somebody with policy experience," Niou said, noting that Kim was the first Korean American lawmaker in the state Legislature.
Not for nothing, staffers with incumbent support have the psychological advantage of having a mentor look them in the eyes on a regular basis and say: "You can do this." For women and for people from underrepresented backgrounds, that vote of confidence can be the difference between running or not. "My narrative was like, This is crazy, right? Wouldn't that be the craziest thing if I ran for office? That's crazy. Right?" Gutiérrez said. "And so (Reynoso) was the one that really planted that seed." Savino said she saw her former staffer Jessica Scarcella-Spanton as a possible successor long before she left the state Senate, but Scarcella-Spanton took some convincing. "She had built relationships with so many people on both sides of the (Verrazzano) Bridge as my director of operations that it was a natural fit," Savino said. "You spend a lot of time with each other because you have to … so you get to see which of your staff, if they're interested, would be able to make that transition." Savino, who is now a senior adviser in New York City Mayor Eric Adams' administration, said she continues to be in touch with Scarcella-Spanton on a daily basis.
While going from staffer to elected official presents its own challenges, such as learning to delegate, they have much less catching up to do than someone who has never stepped foot in the labyrinthine state Capitol. "You know how the system works when it comes to even how to submit bills or how to get your bills numbered, or how to build a coalition around an issue," Niou said. "There is a distinct difference in your effectiveness, in how quickly you can start on Day One representing your district in a powerful way.
Built-in advantage
There are many factors that impact how and whether succession will work. The New York City Council's eight-year term limits force more incumbents to consider how to protect their legacies on a regular basis compared to the state Legislature, which does not have term limits. But county party influence is stronger at the state level, where party committees can select nominees for special elections if the incumbent steps down early. In districts where one party dominates, doing so essentially circumvents voters. Party committees don't always choose staffers, but when they do: "That process in itself really sets up a situation where incumbents can really get their staffer a lot of steps forward before the race has even begun," West said.
When Democratic Assembly Member Brian Barnwell declined to appear on the primary ballot last year after collecting the required petitions, he had already appointed his former chief of staff Steven Raga to a five-person vacancy committee, which selected Raga to replace Barnwell on the ballot – without petitioning and with little competition. Barnwell told City & State he stepped down because he was "fed up with people playing politics."
Being a staffer can also help with fundraising, as former campaign staff often will have already met and talked to their boss' main financial supporters. "The donor base is going to be very similar," said veteran political strategist George Arzt. "You know all the people that are donating to your principal before you run." Even with public campaign finance systems set up to help lower the bar, those relationships stack up.
"That can really be used against any other person who might have other capacity or understanding of that neighborhood and community who doesn't have institutional support – and isn't also getting paid to inadvertently build that institutional support on their own," West said.
Lineages are extremely common, but it's hard to generalize about them. Sometimes the elected official and their staffer are running for different offices at the same time, making donor-sharing impractical, as was the case with Gutiérrez and Reynoso, who was running for Brooklyn borough president while she ran for City Council. Sometimes the elected official won't publicly endorse their staffer, but makes calls for them behind the scenes. Former staffers have run against their former boss, as was the case with now-state Sen. Cordell Cleare, who unsuccessfully ran three times for a Harlem City Council seat against her former boss Bill Perkins. Some former staffers see their former boss as a liability rather than an asset, and they seek to distance themselves. A few elected officials vaguely list their experience in their official bios as being a staffer in a legislative body, rather than name the controversial figure. When Gutiérrez was reminded of her three degrees of separation from former Brooklyn Democratic Party boss Vito Lopez, a machine moderate who was accused of sexual harassment, the Williamsburg progressive let out an "oh yuck."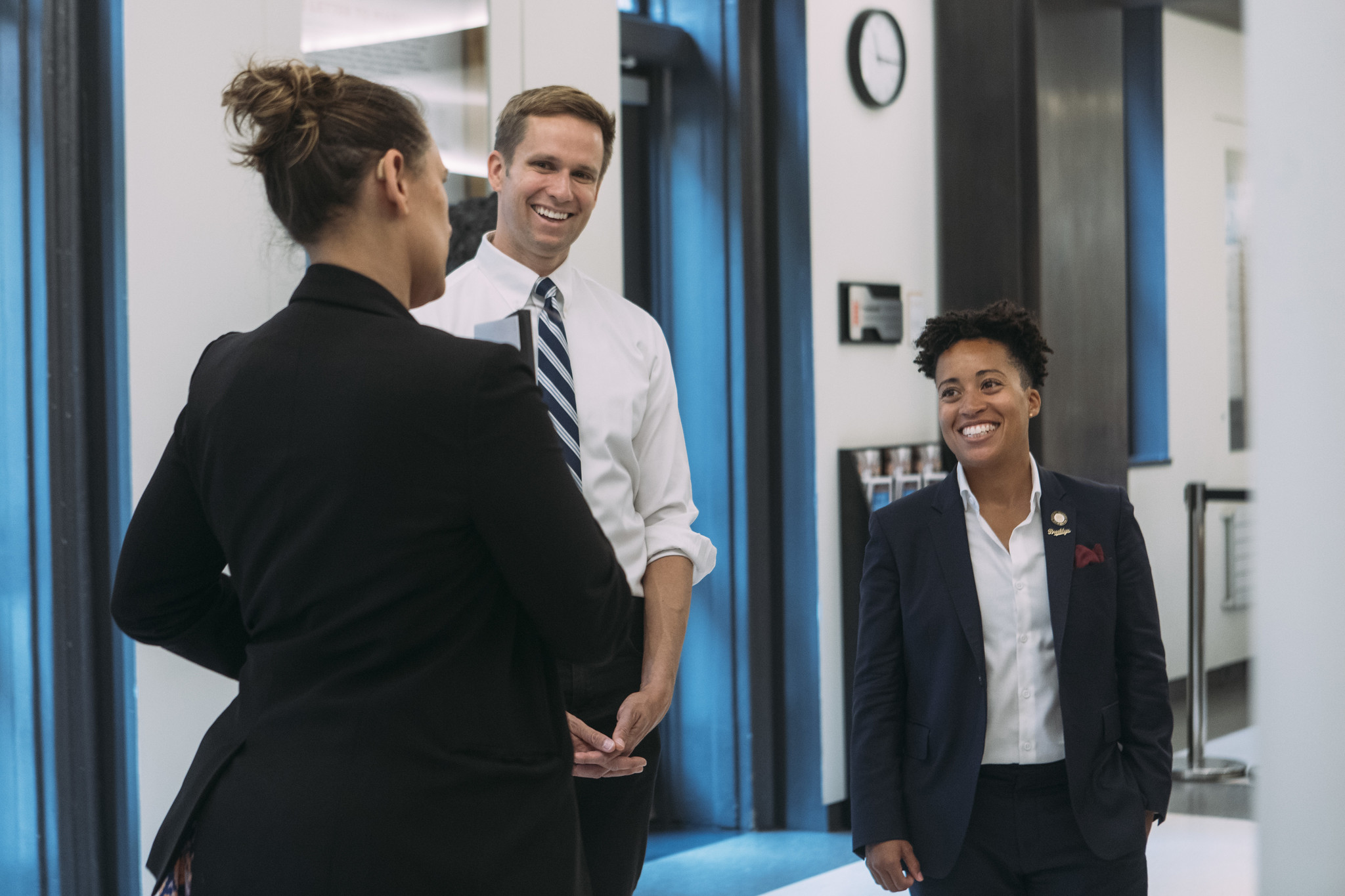 No guarantee
While there have been plenty of successes, the path to elected office is also littered with the failed attempts of former staffers. "(Being a staffer) can be an asset if they are viewed as an extension of the principal, they're close with the principal and if the principal is relatively popular," Democratic strategist Trip Yang said. "But even then, the former staffer who is now a candidate in their own right, they still have to earn that seat. They still have to earn their victory." 
If you're not a card-carrying New York political nerd, you can skip this paragraph. Jumaane Williams endorsed his former staffer Monique Chandler-Waterman to succeed him in his Central Brooklyn City Council district in 2019, but that wasn't enough to secure her victory. (Farah Louis, who won, was also a former Williams staffer.) Then-Council Member Margaret Chin's chief of staff Gigi Li came in third in the first round of ranked choice voting in the Democratic primary to replace Chin in 2021. Jenny Low, a staffer for then-Speaker Corey Johnson, also fell short in that race, losing to Christopher Marte. Then-Brooklyn Council Member Stephen Levin, who had also been a chief of staff for Vito Lopez, was unable to pass his seat along to any one of his three staffers who tried to succeed him in 2021. That same cycle, then-Queens Council Member Daniel Dromm endorsed Shekar Krishnan over his own former chief of staff Carolyn Tran. In 2020, outgoing veteran state Sen. Velmanette Montgomery endorsed then-Assembly Member Tremaine Wright over her own former staffer Jason Salmon. (Wright and Salmon lost to Democratic Socialists of America-backed Jabari Brisport.)
"It does not always work out that cleanly because people in politics have ambition," Yang said. "Human relationships can be tricky sometimes and complicated."
This isn't a nepo baby conversation (looking at you Andrew Cuomo, José M. Serrano, Eric Dinowitz, Scott Stringer, Yvette Clarke). People who run for office need to amass support and create relationships somehow, whether they go the staffer route, the county party route, the community board route, the organized labor route, the DSA route or some combination of those. And everyone said the same thing: The voters ultimately get to decide (unless of course they've been shut out of the process by a county machine hand-picking candidates). 
"Members do feel a certain proprietary ownership over the seat," Savino said. "But it's not ours. We hold it for as long as we're elected. When we leave, you know, you've got to step off the stage."