Power Lists
City & State's most popular power lists of 2021
The Power List list.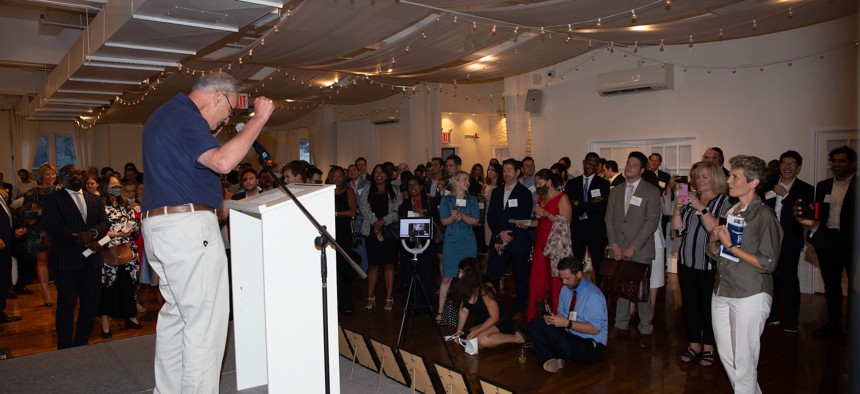 The past year has been marked by so many transfers of power that it's hard to keep track of them all, from a new governor to an incoming mayor to an influx of new members in the state Legislature and the New York City Council – and even a former Manhattan businessman who ultimately had to exit the White House. All these changes shake up the political hierarchy, and one way that City & State tracks who's rising and who's falling is through our annually updated power lists. 
In 2021, City & State published 38 of these lists (excluding our 40 Under 40, 50 Over 50, Above & Beyond and Responsible 100 lists). These lists identify power players in certain geographical areas, various sectors and professions as well as demographic categories, all viewed through the lens of city and state politics and government. We've relied heavily on an advisory board created in 2021 to ensure each list reflects the diversity of New York. We also value reader input: Send feedback to lists@cityandstateny.com or make nominations through our regularly updated form here. 
As 2021 comes to a close, here are City & State's 10 most popular power lists of the year. 
Political Consultants Power 75
There were so many elections at the local, state and federal level over the past year that we felt compelled to add more slots to this list, increasing it from 50 to 75. A team at Red Horse Strategies landed the top spot this year for its work on behalf of New York City Mayor Eric Adams and other candidates. 
The first power list that City & State ever published is also among its most definitive. This year, U.S. Sen. Chuck Schmer came in at No. 1 thanks to his success in delivering COVID-19 relief aid to his home state in his role as Senate majority leader. With Mayor Eric Adams filing out his administration, there will be plenty of new faces here in 2022. 
City & State's annual list of the most influential women in New York politics came out in November, just a few months after Gov. Kathy Hochul made history as the state's first female governor. She unsurprisingly topped the list, with two other trailblazers – state Attorney General Letitia James and state Senate Majority Leader Andrea Stewart-Cousins – right behind. 
Unlike other lists focusing on New York's influential real estate sector, City & State's Real Estate Power 100 highlights not only deep-pocketed developers but also the affordable housing advocates, tenants rights activists and elected and appointed officials who play an equally important role in the industry. Yet Stephen Ross and Jeff Blau of The Related Companies still were first this year. 
The Nonprofit Power 100 is compiled in conjunction with City & State's sister publication, New York Nonprofit Media. Atop the list was Sheena Wright, then the president and CEO of United Way of New York City and now the incoming New York City deputy mayor for strategic initiatives. 
State Attorney General Letitia James, state Senate Majority Leader Andrea Stewart-Cousins and Assembly Speaker Carl Heastie went 1-2-3 on this list, which reflects the rising influence of Black New Yorkers in city and state politics. 
Although Andrew Yang's promising New York City mayoral bid fell short, other Asian Americans in New York – notably Rep. Grace Meng, Assembly Member Ron Kim and state Sen. John Liu – flexed their political muscle through the year. 
Not long after Mercury took the top spot on this public relations list, Rachel Noerdlinger made history as the firm's first Black female partner. She'll soon be heading on to new pursuits – which will be detailed in the 2022 edition coming out in January. 
Construction was one of countless industries impacted by the coronavirus pandemic. With government playing a key role in keeping the sector going, two key officials, the Port Authority's Rick Cotton and the Metropolitan Transportation Authority's Janno Lieber, topped this list. 
City & State has long tracked government efforts to award more contracts to firms owned by women or people of color, and this year marked the publication of our first MWBE Power 50. State Chief Diversity Officer Julissa Gutierrez came in at No. 1.